Which radio is right for me? Hytera DMR range walkthrough – Part 1
Hytera's range of Digital Mobile Radio (DMR) terminals distinguishes itself by the breadth of products on offer. There really is a radio for everyone here from light, compact radios largely designed for indoor use, to rugged water, dust, vibration and shock proof radios for outdoor use, to the ultra-rugged, intrinsically safe radios for use in explosive environments.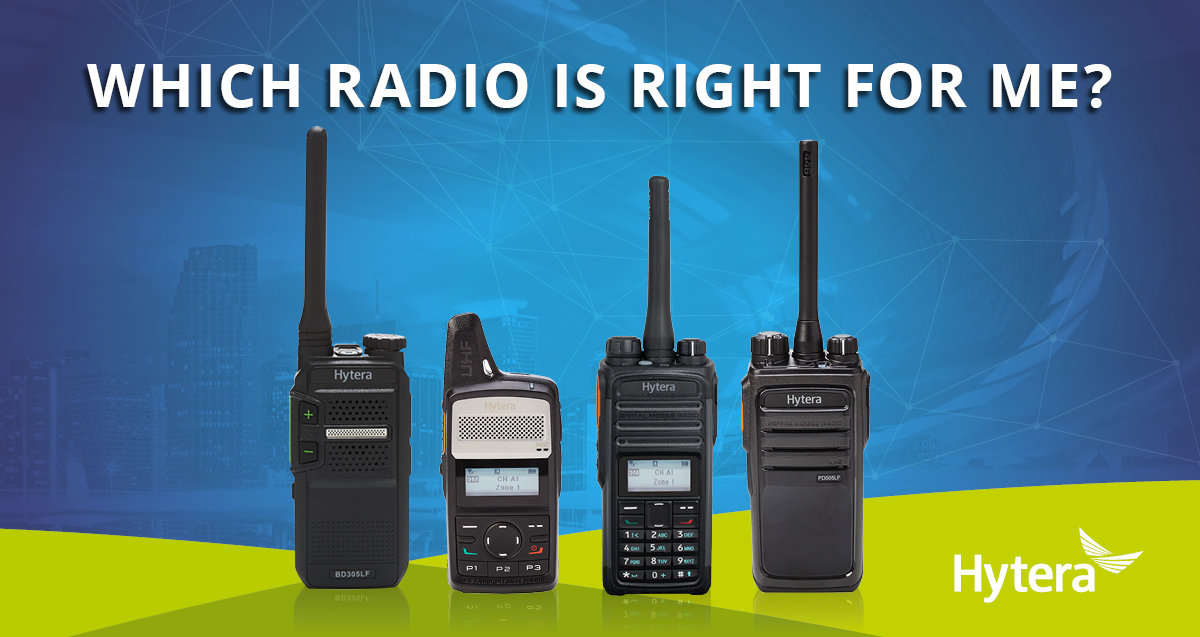 Customers can choose radios with different form factors, feature sets, environmental certifications and with varying degrees of ruggedness. They are designed to last, while being easy to use. Dual mode functionality means they provide a smooth migration path from analogue to digital.
These radios support clear audio and most support background noise cancellation technology. They provide a range of voice calls from individual to group to broadcast, along with text messaging.
Depending on the model, a range of workplace enhancement and safety features such as lone worker, man down, emergency alarm and GPS positioning can be supported. So, here's a brief introduction to the Hytera radio terminal portfolio starting with handhelds.
BD3 Series
The BD305LF is our basic, entry-level licence free handset. The perfect digital radio for simple communication requirements, compact and lightweight, this simple push-to-talk device is ideal for customers requiring PMR446 licence free comms straight out of the box.
A long battery life and robust housing (IP54 rated) ensure you will have reliable communications by your side shift after shift. The BD305LF also supports both analogue and digital modes to make it simple to migrate from old analogue two-way radios.
Available with a range of optional earpieces, charged via micro-usb or desktop charging unit, the BD305LF is a flexible digital radio, ready to respond when you need it.
PD3 Series
If you are just looking for a compact, grab and go digital two-way radio then Hytera's PD3 Series is a good starting point. The radios are ideal for use in areas such as retail, hospitality and education, where the discreet size, but still impressive audio quality and a good basic feature set are much appreciated.
The PD355 is the simplest radio in this series, but it is worth going into its feature set in some detail, as that sets out the basic functionality common to the full Hytera range.
The PD355 is a small, compact (123 x 55 x 23mm) device weighing just 160g and with an internal antenna, which makes it ideal for carrying in a pocket. It operates in the UHF frequency range (400-440MHz and 430-470MHz).
The radio is for use with analogue conventional or DMR Tier II digital systems, but not trunking systems. It can be configured to work with Hytera DMR SmartDispatch and DMR SmartOne application manager.
The PD355 has a 12-hour battery life in digital mode, so it will easily last a normal working day. No specialist kit is required for charging, as this is done via a micro USB port. The radio is certified IP54 against dust and water intrusion.
The radio has a small display window capable of supporting three line, 64 character monochrome texts. The quick text messaging is pre-programmed via the Customer Programming Software and stored in the quick text menu ready to send to contacts.
The PD355 comes with a large push-to-talk (PTT) button and a partial keyboard with four programmable buttons. It can detect and switch between analogue and digital modes and roam between sites on multi-site conventional systems to ensure seamless communication.
Other services include the Radio Register Service, which allows a dispatching application to see when a radio is switched on or off. The Radio Check facility allows other radio users to check if a radio is available. The stun/unstun feature means you can disable or enable the radio remotely should the device be lost, stolen or misused.
If the latest Hytera firmware is installed the radio can support alert call, remote monitor, priority interrupt, work flow and basic encryption. The pre-programmed emergency mode raises an alarm with top priority to a base station or to other radios, identifying the ID of the person issuing the alarm.
Next up in the range is the compact and ever popular PD365. The main difference here is that it has an external, but integrated snub antenna to provide better coverage and the same high-quality audio thanks to its audio processing technology and small but powerful speaker. This model also supports wireless charging via the optional wireless charger and battery casing set.
Another variant, the PD375 has a unique broad band integrated antenna, thus supporting a frequency range from UHF 430-480MHz. Unlike the PD365, it does not support wireless charging.
The final two radios in the series, the PD355LF and PD365LF, are PMR446 license free DMR Tier I versions of the PD355 and PD365. They are therefore best suited for personal and recreational use and for small businesses or organisations operating on a very local basis. The PD355LF will operate for up to 18 hours in digital mode and the PD365LF for 12 hours.
PD4 Series
The PD4 series offers three conventional (not trunking) digital hand portables in a larger (c.112 x 54 x 28mm), more traditional two-way radio form factor. Typical end user environments might include manufacturing, facilities management or education.
The PD405 and PD415 have similar properties with some variations. Neither has a display unit or keypad, but both will support a 16-hour battery life in digital mode and come with two pre-programmable buttons.
Both models have a wider frequency range than the PD3 series. The PD405 supports: VHF (136-174MHz); UHF1 (400-470MHz); and UHF3 (350-400MHz), while the PD415 also supports UHF2 (450-520MHz). The PD405 is IP55 rated and the PD415 IP54 rated.
The other key difference is that the PD415 comes with an integrated RFID reader. When used with Hytera Patrol System and tags (optional), the PD415 can provide an excellent asset tracking solution for users in the security or service industries.
The PD485 provides a more sophisticated variant on the two previous models as it has a display and full keypad, while the PD485(G) variant adds a Bluetooth (good for wireless audio accessories) and GPS option.
It too supports a 16-hour battery life and provides messaging to individuals or groups and one-touch call or messaging. It operates in the UHF (350-470MHz) and VHF (136-174MHz) frequency ranges. It has three programmable buttons and is IP54 certified.
PD5 Series
The PD5 Series is targeted at a similar end user base as the PD4 Series, but they can be used with Hytera SmartXPT extended pseudo trunking, but not full DMR Tier III trunking systems.
Hytera Smart XPT enables you to use limited spectrum resources more efficiently by dynamically assigning channel resource without needing a dedicated control channel.
The PD505 is a lightweight, robust radio with no display or keypad. It has a 16-hour battery life, is IP54 rated, and comes with emergency mode and an additional safety function in the form of the lone worker feature. It operates in: VHF (136-174MHz); UHF1 (400-470MHz); and UHF3 (350-400MHz).
The radio has one programmable button and supports basic encryption (10, 32 & 64 character keys) and has a longer text messaging facility of up to 256 characters (via Quick Text only). There is also a PMR 446 licence free variant, the PD505LF.
The PD565 has a similar feature set as the PD505, operates in the same three frequency range, but comes with a display and partial keypad with six programmable buttons.
Stay tuned for part 2 next week which looks at our premium handset and mobile radios. If you would like to enquire about any of the handsets mentioned please speak to an authorised Hytera partner.