Highlights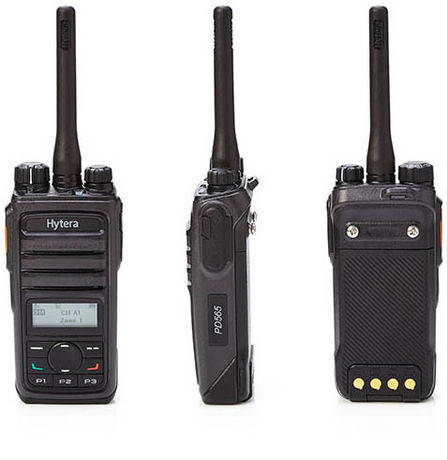 One Touch Simplicity
Use the pre-programmable keys to send text messages to individuals or groups, initiate voice calls and navigate the menu options on-screen
Safer Workforce
The emergency mode and lone worker features offer additional safety
Maximise Channel Capacity
Hytera patented Pseudo-trunking technology dynamically utilizes the two timeslots available on a DMR frequency to make efficient use of your channel capacity
Rugged and Reliable
IP54 rated against dust and water, certified to meet US military standards of impact, temperature and humidity
Long Battery Life
Operating time of approximately 16 hours in digital mode
Functions
Quick Text Messages
Pre-programmed via the Customer Programming Software and stored in the quick text menu ready to send to contacts.
Radio Check
Allows other radio users to check if a radio is available.
Stun / Unstun
You can disable/enable the radio remotely, ideal if a device is lost, stolen or being misused.
Roaming
This feature allows the radio to switch between sites on Multi-site Conventional and XPT systems, ensuring seamless communication.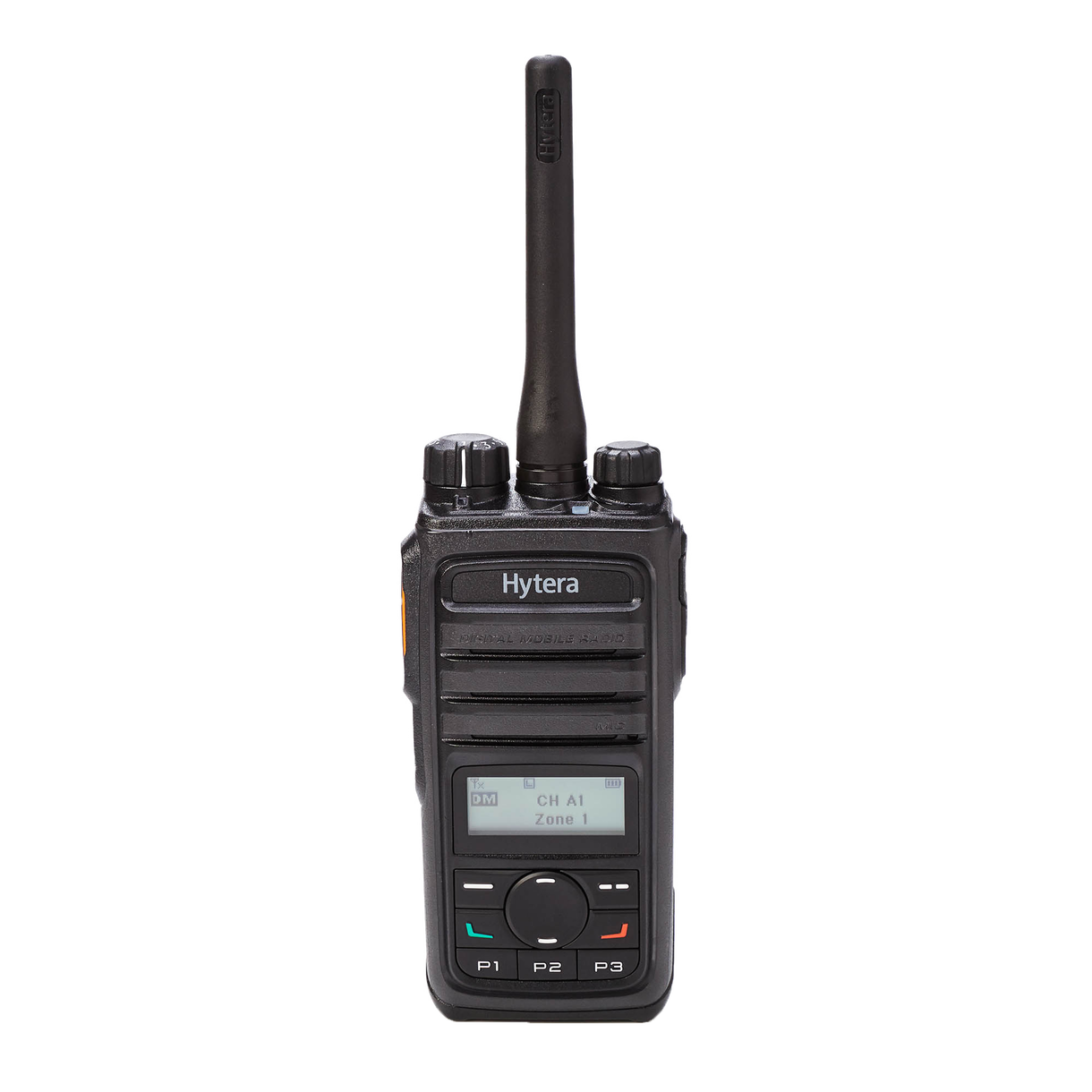 RRS
Radio Register Service, allowing a dispatching application to see when a radio is switched on or switched off.
Emergency Mode
Raise an alarm with top priority to a base station or to other radios with the pre-programmed emergency mode, identifying the ID of the person issuing the alarm. Also receive emergency notifications.
Pseudo Trunking
Using pseudo-trunking, a Hytera patented technology, slots can be shared to improve capacity usage with transmissions either direct to handset or to repeater.
XPT
Hytera XPT (Extended Pseudo Trunking) enables you to use limited spectrum resources more efficiently, dynamically assigning channel resource without needing a dedicated control channel.
Battery
Antenna
Charger & Power
Mounting
Carrying
Audio
Cables
Related products that work with the PD565
Technical Specifications
General
Frequency Range

VHF: 136-174MHz UHF1: 400-470MHz UHF3: 350-400MHz

Channel Capacity

512 (32 zones with 16 channels per zone)

Digital Protocol

ETSI-TS102 361-1,2 & 3

Battery Life (5-5-90 Duty Cycle)

1500mAh, Analogue 11h, Digital 16h

Dimensions(W×H×D)

115 x 54 x 30mm

Weight

Approx 280g (1500mAh Li-ion)

Display

3 line monochrome

Keypad

Partial Keypad

Programmable Buttons

6
Environmental Specifications
Dust & Water Intrusion

IP54 Standard
Features
GPS

NO

Telemetry

NO

Option Board

NO

Intrinsically Safe Option

NO

Bluetooth Audio

NO

Alert Call

YES

Remote Monitor

YES

Priority Interrupt

YES

IP Site Connect

YES

5 Tone Signalling

YES

2 Tone Signalling

YES

HDC1200 Signalling

YES

DTMF (Phone Patch)

NO

Intelligent audio

YES

VOX

YES

Priority Scan

YES

GPS SMS

NO

Vibration

NO

Lone Worker

YES (requires latest firmware)

Mandown

NO

Digital Encryption

Basic encryption as standard (10, 32 & 64 character keys) Advanced encryption NO

Multiple Key Encryption Decode

YES

Multilanguage Menu

YES

Power on & off user logo programming

NO

Voice Interrupt

Yes(TX Interrupt for voice call, emergency call, remote dekey, text message.)

No of Contacts (Conventional)

Digital 1024 Analogue 2-Tone 32 Analogue HDC1200 N/A Analogue 5-Tone N/A

Text Messaging

256 characters (via Quick Text only)

MPT1327 / 1343 Trunking

NO

Tier 3 Trunking

NO

Over-the-Air Programming

NO

Analogue Only Version

Not Available

Wireless Charging

NO

RFID Reader

NO

Mixed Mode Operation

NO

Data Services via Bluetooth

N/A