Discover your ideal body worn camera solution
Modern bodycams are smaller, lighter and increasingly sophisticated in the type of features they now support including; full HD video quality, infrared, night vision, integration with wearable equipment and even the ability to stream live footage to other devices. A feature which is especially possible when combining a Hytera Bodycam with a Hytera PDC760 Multi-mode Advanced Radio or utilising the new Hytera VM780 Bodycam which has built-in LTE.
Bodycams are typically used by police, fire and ambulance services, but they are also issued to prison staff, private security officers, healthcare workers, railway workers, traffic wardens and parking attendants, any workers who may face abuse and the threat of violence in their jobs.
Choosing the correct Bodycam for your requirements is essential, but with the full range of Hytera solutions there is a product to meet all needs and budgets.
VM780 Bodycam with Wi-Fi and Data
The VM780 takes RVM (Remote Video Microphone) Bodycams to the next level with the most advanced range of features available, including; a 2.8" touch display, powerful battery life supporting up to 8 hours continuous recording and 3G/ 4G & Wi-Fi for real time transmission anywhere, GPS built-in and PoC application compatibility.
216° rotatable lens
One of the most notable features of the VM780 bodycam is the 216 º rotatable HD camera. It allows users to easily adjust the angle and capture pictures or videos in an optimal view, without removing the camera from the gear.
High-level data security
Hytera adopts AES-256 encryption in the body worn camera for high-level data security. All footage recorded by the camera is encrypted and only accessible to authorized users. The video is tamper-proof with automatic tags of time stamp, device ID, and user ID upon recording.
Push-to-talk radio functionality
Hytera LTE body worn camera VM780 also serves as a Push-to-talk over Cellular (PoC) radio. Over 3G, 4G, or WLAN networks, VM780 allows users to make voice calls simply by pressing the push-to-talk (PTT) key. Thanks to the advanced noise reduction technology, the camera picks up the voice while filtering the ambient noise.
Improve situational awareness with GPS and live data streaming
With the dual-stream technology, VM780 saves the same video locally, while streaming live video to the control center over 4G/LTE networks. This enables dispatchers and responders to share the same information in real-time, making responses faster.
Other VM780 features
1080p HD Video
256 Bit Advanced Encryption
3G/ 4G/ Wi-Fi & Bluetooth built-in
PoC application compatible
IP67 and MIL-STD-810G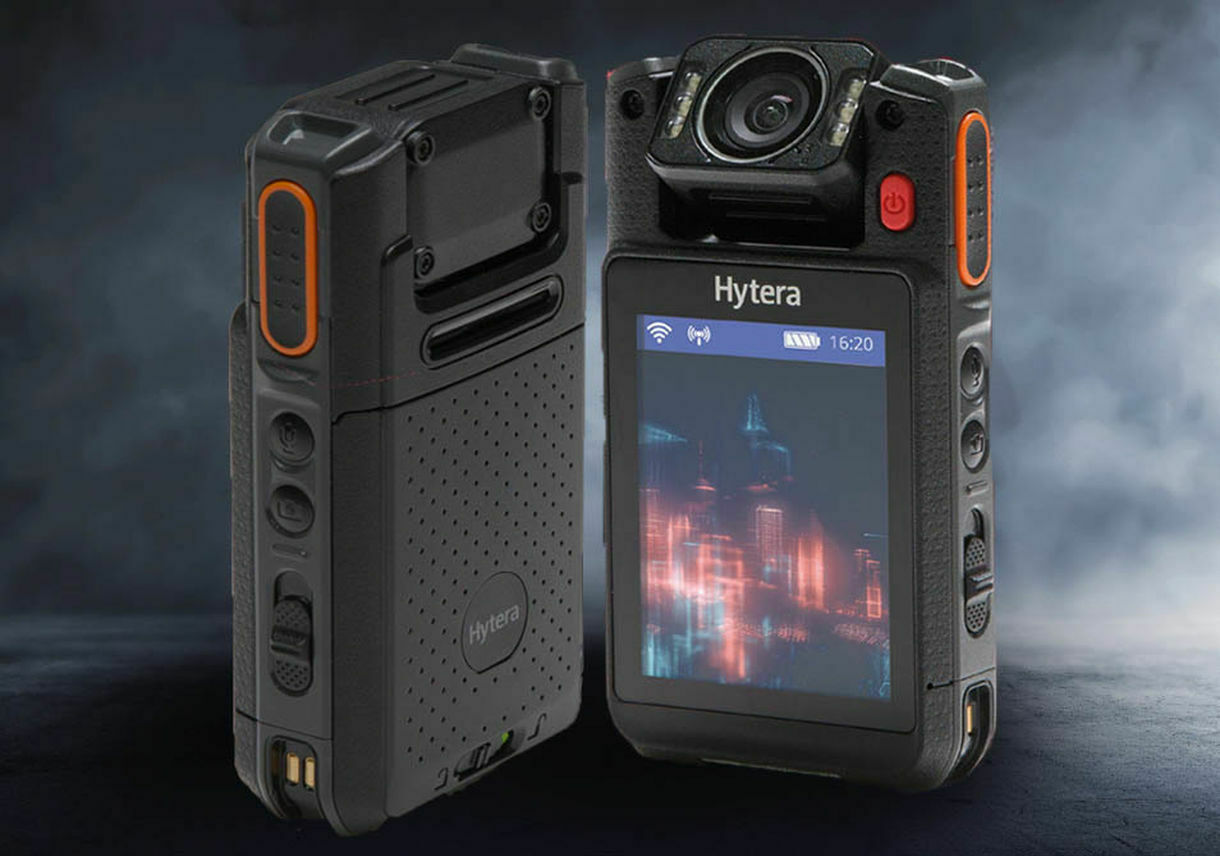 VM685 Waterproof Bodycam with rotating lens
The VM685 gives users more flexibility, with features including a 180° rotatable lens and powerful battery life supporting up to 8 hours continuous recording. The VM685 also increases security by incorporating 256 Bit Advanced Encryption.
Bodycam with 180° Rotatable Lens
The lens of the VM685 remote bodycam can be rotated vertically by 180°, which enables optimal angle of view and flexible wearing positions for the users to capture critical events. Based on preference and scenarios, the users can wear the VM685 with the display facing in or out.
Professional RVM (Remote Video Microphone)
When connected to a two-way radio, the VM685's audio and video recording functionality can be used as a Bluetooth/wired Remote Video Microphone (RVM) to eliminate the needs for officers to carry multiple devices. It displays radio information synchronously, allowing users to operate more conveniently.
Evidence collection to Digital evidence management solution
Hytera provides a complete solution to manage the body worn cameras and digital evidence from the field to the court. This solution includes the Mobile Device Management (MDM), Integrated Device Station (IDS), and Digital Evidence Management (DEM).
Low light operation and infrared recording of bodycam footage
Operated via one-touch in all light environments, the infrared LED supports low light recording with the LCD display included on the rear of the bodycam for optimum playback capabilities.
Other VM685 features
2.4" Display
1080p HD Video
256 Bit Advanced Encryption
Wi-Fi & Bluetooth built-in
IP67 and MIL-STD-81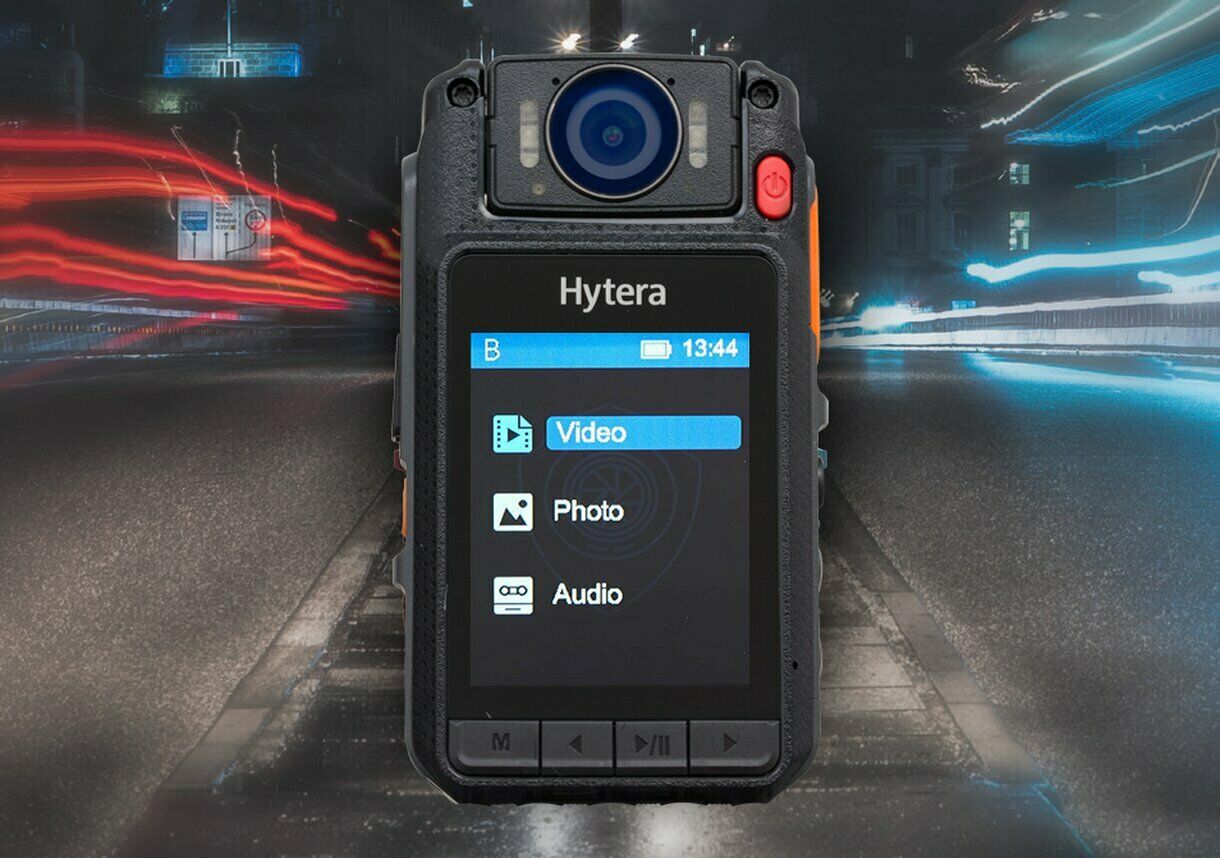 VM580D 4G Bodycam
Compact Bodycam size & friendly UI
The VM580D Bodycam's 20mm ultra-thin body and ergonomic design make it easy to wear even for a whole day. The 2.0-inch touch screen and minimalist User Interface (UI) enable more convenient and simpler operation of the camera, playback and streaming capabilities. The large PTT button, separate alarm button and instant SOS feature ensure the safety of law enforcement personnel.
1080P with infrared night vision
Video recording is the most important and fundamental function of body worn cameras. The VM580D can film 1080P videos with infrared night vision. This highly sophisticated bodycam can even meticulously distinguish facial features and profiles very clearly at a distance of 5 to 10 meters in the dark. The 110° ultra-wide lens is equipped with a distortion reduction algorithm to accurately collect more details at the scene.
All-time positioning through bodycam GPS
VM580D supports outdoor positioning configurations, such as GPS, GLONASS and AGPS, and indoor Bluetooth positioning. Even in places such as garages, tunnels and shopping malls the location of frontline personnel can be tracked in real time, which helps end users to complete tasks more conveniently and efficiently.
Built in radio providing PTT to Broadband and Radios
Combined with Hytera's Push-to-Talk over Cellular (PoC) solution HyTalk Pro, the VM580D can realize PTT communication over multiple types of networks including radio and Broadband. Dual microphones enhance the voice effect with no distortion improving sound quality and audio playback capabilities for clear and effective communication.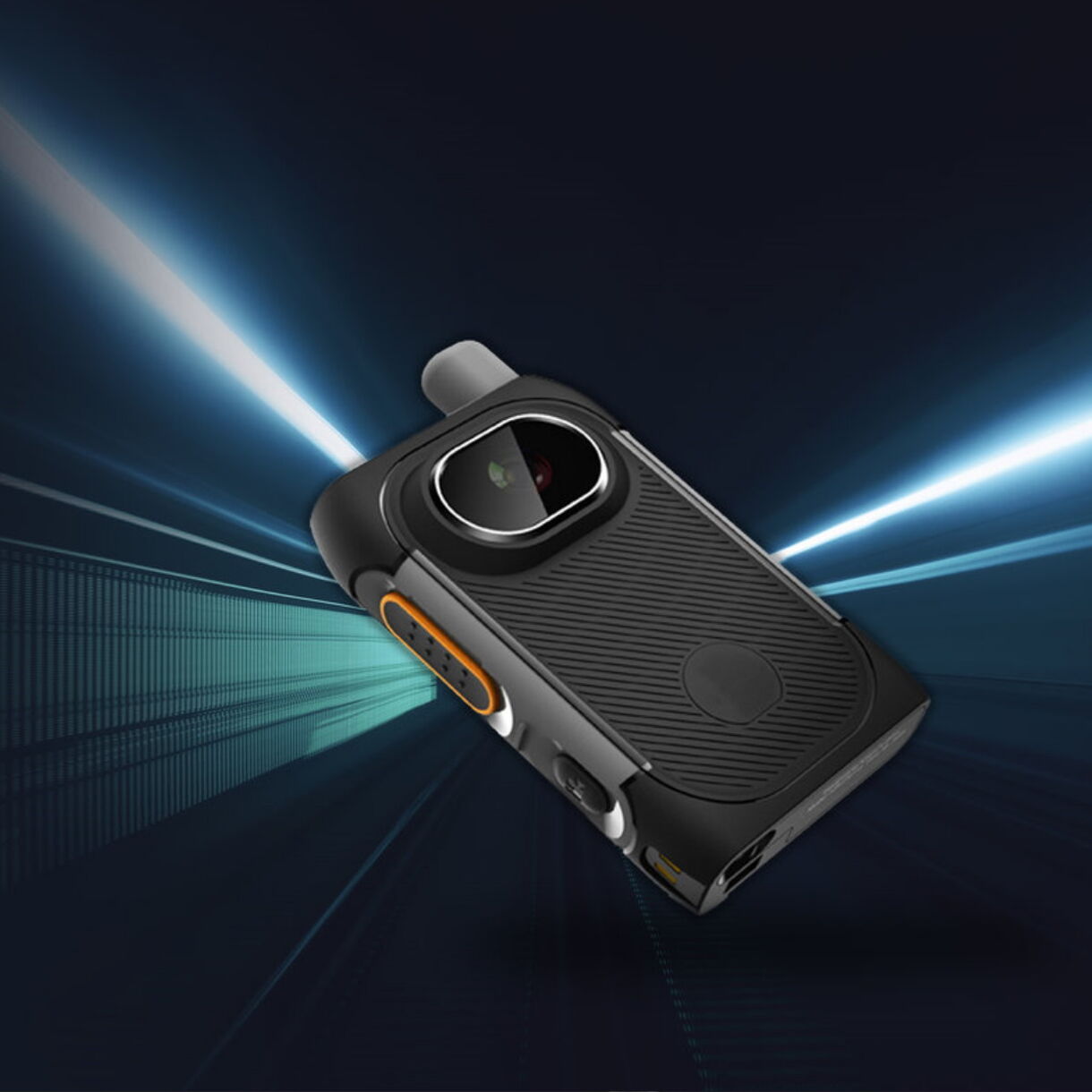 VM550D Bodycam with video display
The VM550D offers body camera and remote speaker microphone capabilities in a compact, lightweight package including Full HD video, with the added bonus of a 2" display allowing users to playback and review captured video instantly and Night Vision for use in low light environments.
Compact, Slim, and Lightweight
The VM55OD lightweight bodycam weighs just 145g, and is easily held, clipped or placed in your pocket. This makes it an ideal companion for evidence collection throughout your shift
HD footage recording
The VM550D is equipped with a 1080p resolution HD camera which also supports stills of 16 megapixels. The HD footage captured by the bodycam is the perfect balance of detail and storage
7 hour battery life and replaceable bodycam battery
The VM550D provides over 7 hours battery life for continuous recording and 8 days in standby mode, with removable battery to ensure you never run out of power on shift. The internal backup battery provides continuous recording whilst the main battery is being swapped.
Reliable, rugged, water and dust resistant bodycam
The VM550D bodycam is compliant with MIL-STD-810G military specification and IP68 water and dust ingress protection, and passes the 2m drop test, ensuring outstanding performance even in harsh environments.
Other VM550D features
2" Display
139° diagonal lens
7+ hours continuous battery life
Wi-Fi & Bluetooth built-in
IP67 and MIL-STD-81G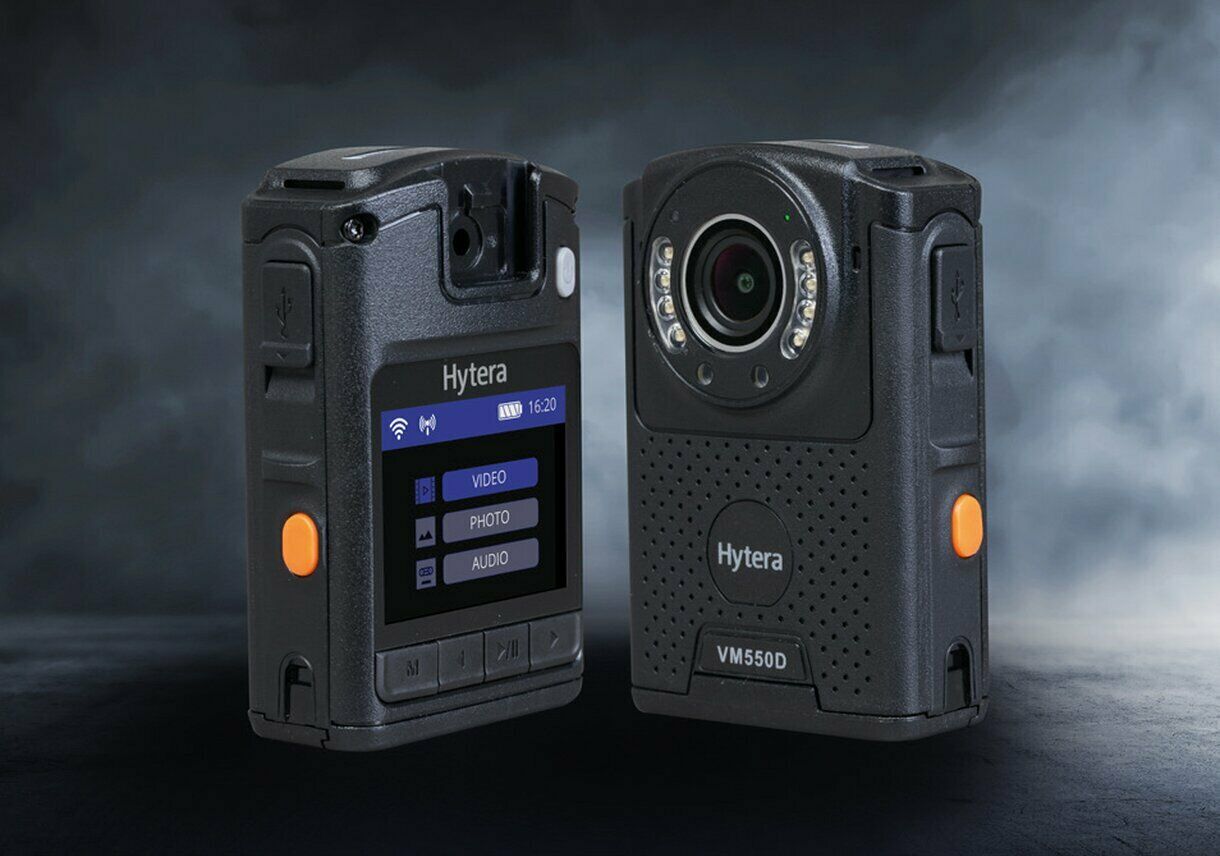 Use Bodycams to determine the facts
When engaging with the public during activities such as law enforcement, medical care, retail service and public transport provision, it is not uncommon for officers to face confrontational behaviour or disputes from the public. In the time of social media, anyone can broadcast any event at any time and share their personal comments on any controversies.
In an effort to promote law enforcement transparency, deter violence and increase trial efficiency, public safety has advocated or legislated the use of technologies such as body-worn cameras. Providing staff with bodycams can help diffuse situations, record key events exactly as they took place and supplement other video, audio and eyewitness records.
Bodycam Usage:
50% of global law enforcement agencies have body worn cameras
A 2016 study showed Police equipped with body-worn cameras received 93% fewer complaints from the public
2021's latest figures show there are 929 million connected wearable devices globally.
Body worn cameras are typically used by police, fire, and ambulance services, but they are also issued to prison staff, private security officers, healthcare workers, railway workers, traffic wardens and parking attendants or any workers who may face abuse and the threat of violence in their jobs.
Studies have shown that body worn cameras can help to deter verbal abuse and aggression, as people often calm down if they know they are being filmed. As such, they provide an additional means of protection for front-line staff and lone workers both in the moment and against fraudulent complaints.
Our Body worn camera range
Bodycam and Evidence Collection Software
Smart Mobile Device Management
Smart MDM collects and stores digital evidence from the RVM's via Multi-Unit Charger. With intuitive Graphic User Interface (GUI), you can review, manage and share data simply and efficiently from your pc.
Digital Evidence Management
Digital Evidence Management platform collects and stores the digital evidence on a secure network. Easily find data by tagging an evidence file and find it later through a key word search. For extra data security, manage customised permissions to different users.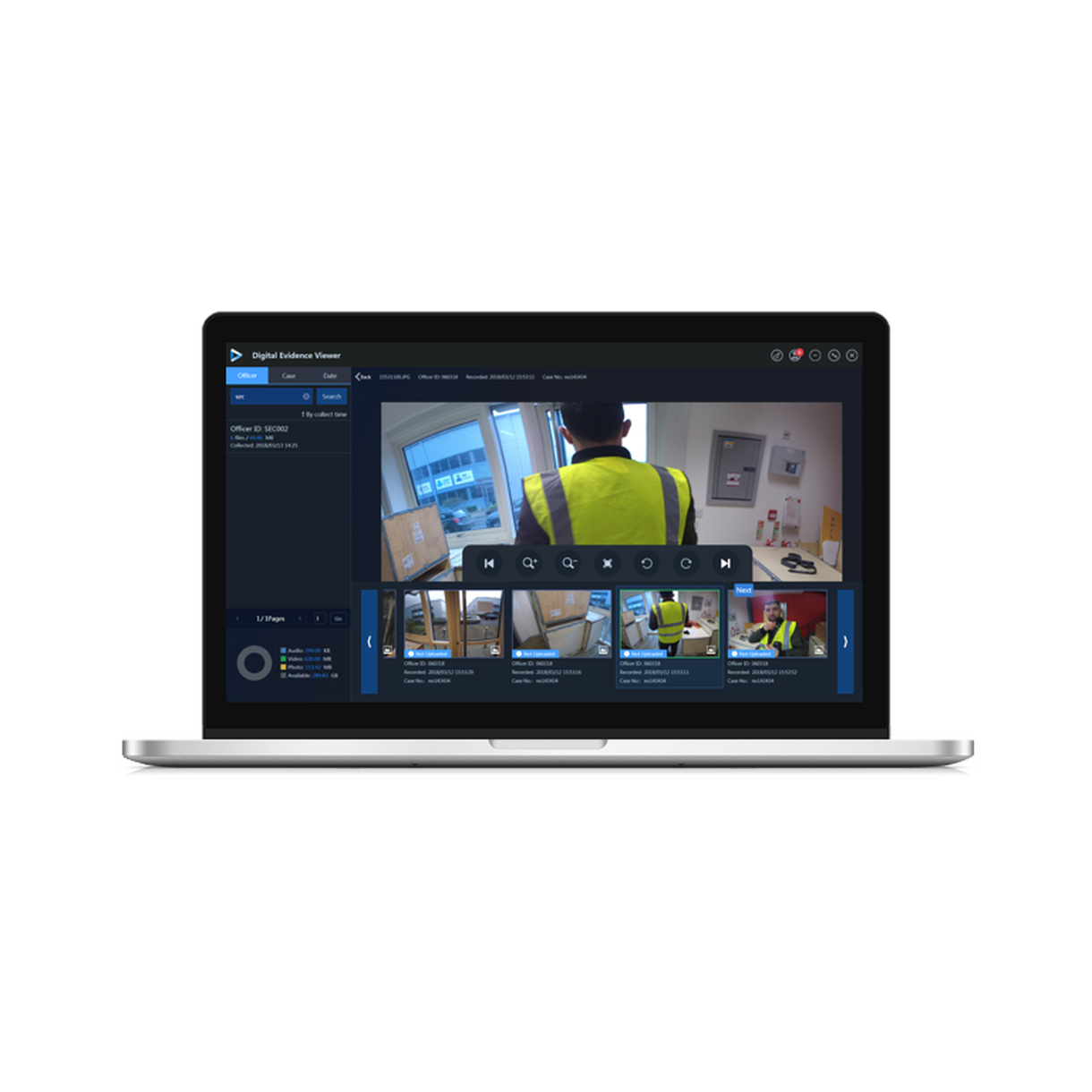 Bodycam Videos
Hytera Bodycams Features Introduction
Hytera VM780 Body Worn Camera Features
Enquire about Body Worn Cameras
Thank you for submitting the enquiry form, a member of our team will be in touch shortly.