Highlights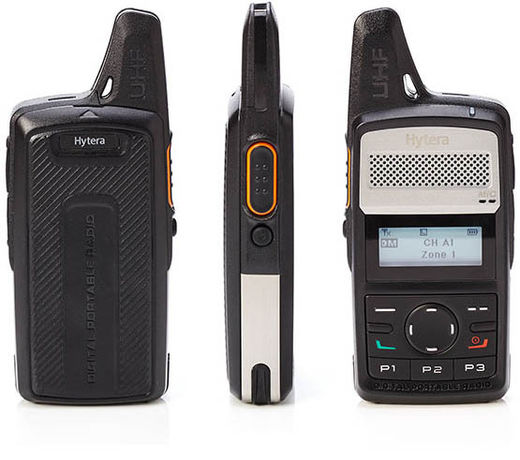 Clear Communication
Thanks to the latest audio processing technology and in-built speaker, the PD365 offers you outstanding audio quality
Analogue or Digital
Flexible dual mode operation for efficient migration from Analogue to Digital comms
Convenient Charging
via the Micro USB Port, or the optional wireless charger and battery casing
Excellent Coverage
Thanks to the unique intergrated antenna
Long Battery Life
Operating time of approximately 12 hours in digital mode
Functions
Wireless Charging
With the optional wireless charging kit and battery case, place the PD365 in the wireless charger holder and it will charge without the need for cables to the radio.
Mixed Mode Operation
This feature allows the radio to automatically detect and switch between analogue and digital modes based on the signal received.
Radio Check
Allows other radio users to check if a radio is available.
Stun / Unstun
You can disable/enable the radio remotely, ideal if a device is lost, stolen or being misused.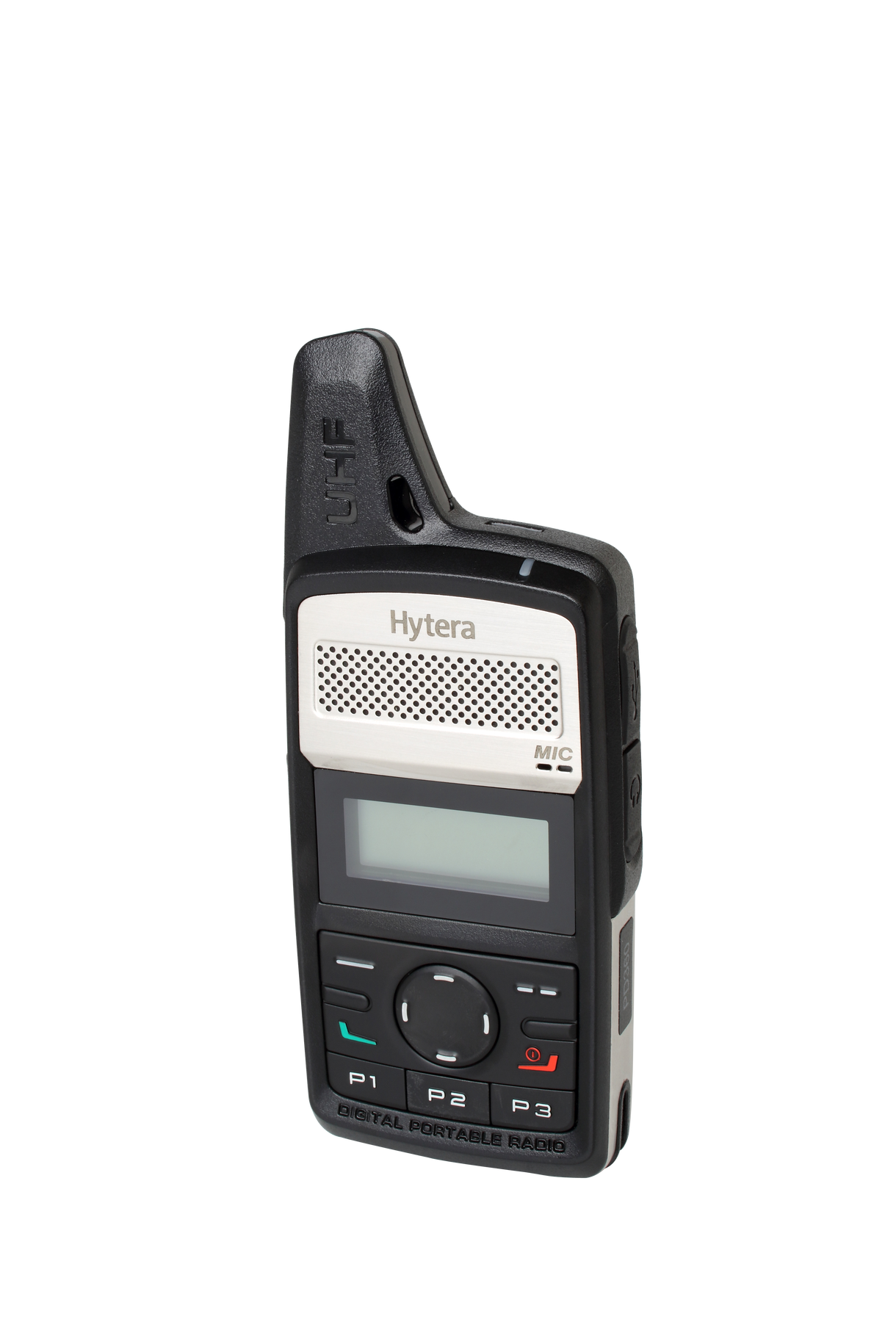 RRS
Radio Register Service, allowing a dispatching application to see when a radio is switched on or switched off.
Roaming
This feature allows the radio to switch between sites on multi-site conventional systems, ensuring seamless communication.
Emergency Mode
Raise an alarm with top priority to a base station or to other radios with the pre-programmed emergency mode, identifying the ID of the person issuing the alarm.
Quick Text Messages
Pre-programmed via the Customer Programming Software and stored in the quick text menu ready to send to contacts.
Charger & Power
Carrying
Audio
Cables
Battery
Other
Related products that work with the PD365
Technical Specifications
General
Frequency range

UHF: 430-470MHz

Channels & zones

Channel capacity: 256
Zone capacity: 16
Channels per zone: 16

Channel spacing

Analogue: 12.5kHz/25kHz
Digital: 12.5kHz

Operating voltage

3.7 V

Battery

2000 mAh (Li-ion)

Battery life (5-5-90 duty cycle)

Analogue: 10 hours
Digital: 14 hours

Frequency stability

±0.5 ppm

Dimensions (W×H×D)

106 x 54 x 23mm

Weight

Approx 160g

Display

3 line monochrome LCD
Receiver
Sensitivity

Analogue: 0.22 μV (12dB SINAD)
Analogue: 0.22µV (12dB SINAD) (typical)
Digital: 0.22 μV / BER5%

Adjacent channel selectivity

TIA-603: 60 dB @12.5 kHz / 70 dB @25 kHz
ETSI: 60 dB @12.5 kHz / 70 dB @25 kHz

Intermodulation

TIA-603: 70 dB
ETSI: 65 dB

Spurious response rejection

TIA-603: 70 dB
ETSI: 70 dB

Hum and noise

40 dB @12.5 kHz
45 dB@25 kHz

Rated audio power output

0.4 W

Rated audio distortion

<5%

Audio response

+1 to -3dB

Conducted spurious emission

<-57 dBm
Transmitter
RF power output

UHF: 3 W / 1.5 W

FM modulation

11 K0F3E @12.5kHz
16K0F3E @25kHz

4FSK digital modulation

12.5 kHz data only: 7K60FXD
12.5 kHz data and voice: 7K60FXW

Conducted/radiated emission

-36dBm @<1GHz; -30dBm @>1GHz

Modulation limiting

±2.5kHz @12.5kHz; ±5.0kHz @25kHz

FM hum & noise

40dB @12.5kHz; 43dB @20kHz; 45dB @25kHz

Adjacent channel power

60dB @12.5kHz; 70dB @20/25kHz

Audio distortion

≤3%

Digital vocoder type

AMBE+2™

Digital vocoder type

ETSI-TS102 361-1,-2,-3
Environmental
Operating temperature

-30°C to +60°C (radio only / battery: -20 ℃)

Storage temperature

-40°C to +85°C

ESD

IEC 61000-4-2 (level 4)
±8 kV (contact)
±15 kV (air)

Ingress protection

IP54

Humidity

per MIL-STD-810 G

Shock and vibration

per MIL-STD-810 G
Features
GPS

NO

Telemetry

NO

Option Board

NO

Intrinsically Safe Option

NO

Bluetooth Audio

NO

Alert Call

YES (decode only) (requires latest firmware)

Stun/Unstun

YES (Decode only) (large MCU only, firmware upgrade & chargeable licence key)

Remote Monitor

YES (decode only) (requires latest hardware, firmware & chargeable licence key)

Priority Interrupt

YES (Decode only) (large MCU only, firmware upgrade & chargeable licence key) New hardware with FW 5.0 does not support it.

IP Site Connect

NO

Work Order

YES (large MCU only, requires firmware upgrade)

5 Tone Signalling

NO

2 Tone Signalling

NO

HDC1200 Signalling

NO

DTMF (Phone Patch)

NO

Intelligent audio

YES

VOX

YES

Priority Scan

YES

GPS SMS

NO

Vibration

NO

Lone Worker

NO

Mandown

NO

Scrambler (Analogue)

YES (requires latest firmware)

Roaming

YES (large MCU only, firmware upgrade & licence key)

Digital Encryption

Basic Encryption YES (requires latest hardware, firmware & chargeable licence key)Advanced encryption NO

Multiple Key Encryption Decode

NO

Multilanguage Menu

YES

Pesudo Trunking in DMO and RMO

YES (requires latest firmware & chargeable licence key)

Power on & off user logo programming

NO

Voice Interrupt

YES (large MCU only) (TX interrupt for Voice Call, Emergency Call, All Call, text message)

No of Contacts (Conventional)

Digital 64 Analogue 2-Tone N/A Analogue HDC1200 N/A Analogue 5-Tone N/A

Text Messaging

64 characters (via Quick Text only)

MPT1327 / 1343 Trunking

NO

Tier 3 Trunking

NO

XPT

NO

Over-the-Air Programming

NO

Analogue Only Version

Not Available

Wireless Charging

YES (requires optional wireless charge kit and latest hardware)

RFID Reader

NO

Data Services via Bluetooth

N/A