What is DMR Tier 2 Conventional?
The DMR Tier 2 standard, and subsequent products, were designed as a simple and cost-effective digital replacement for conventional analogue two-way radio systems. It was also developed as an affordable digital alternative to PMR, TETRA or P25.
DMR Tier 2 uses a two-slot TDMA (Time Division Multiple Access) with 4FSK modulation compared to FDMA with FM modulation for analogue. DMR TDMA divides a 12.5 kHz channel into two independent time slots. DMR Tier 2 operates in the VHF and UHF PMR or LMR frequency bands covering 66-960 MHz.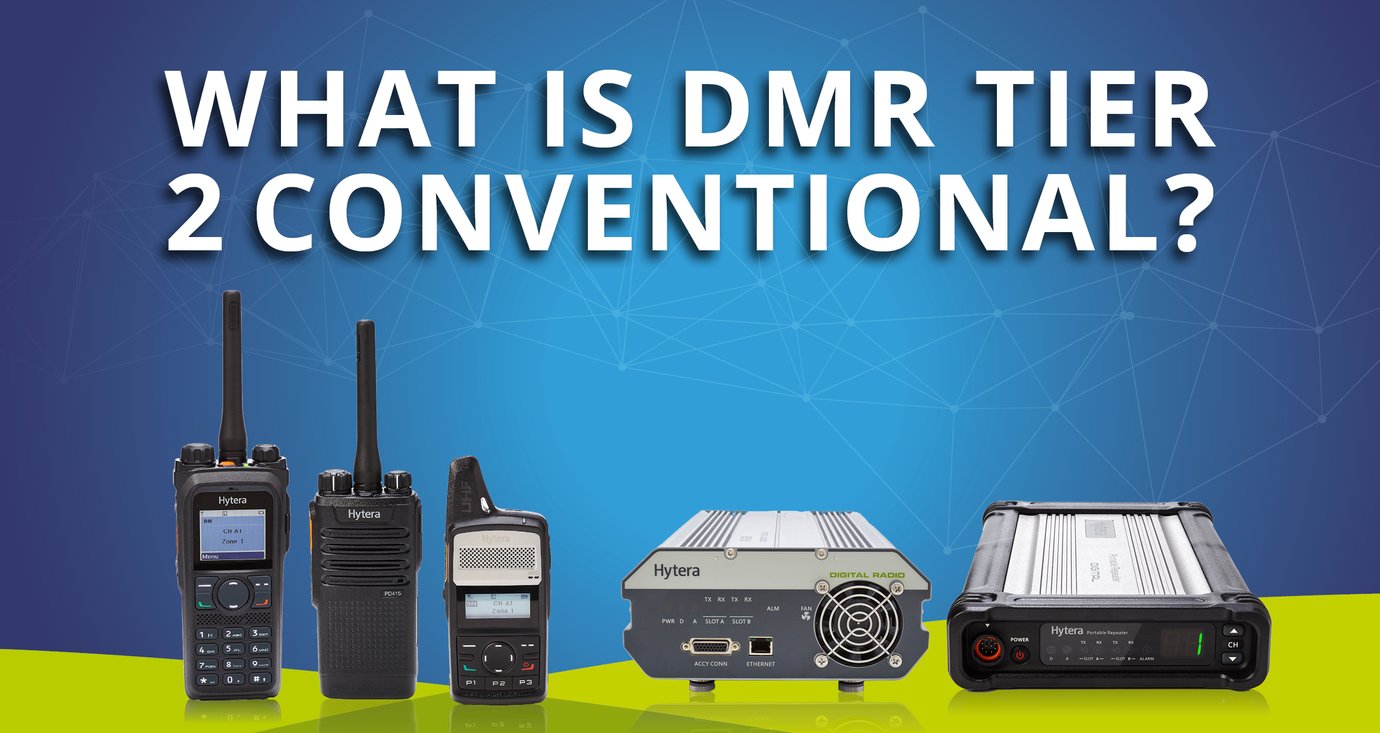 Small, local networks working in a restricted coverage area can operate in direct mode whereby radios communicate directly with each other without the need for any supporting infrastructure. This can be in a hand held portable or a vehicular/desktop mobile radio.
Larger systems use a repeater to extend the coverage area. The repeater may be connected to a dispatcher or other type of console, or it can be standalone. Systems may range from a single site repeater to a network of multi-site repeaters with an IP link.
Coverage and capacity
DMR Tier 2 can provide anything from a small, localised footprint right up to regionally based wide area coverage. However, the choice of DMR Tier 2 or 3 is based not so much on coverage, as on capacity. "How many users will be on the network?" is the key question.
DMR Tier 2 conventional systems are typically configured for up to 80 users; and depending on traffic can also be loaded with more than 100. This makes DMR Tier 2 the ideal communications choice for small to medium-sized organisations who are primarily looking for voice centric services, although basic data services such as text messaging are also supported.
Hytera offer a full range of mobile (vehicle or desk-mounted) and portable hand-held radio terminals for DMR Tier 2. These are usually operated in simplex mode, whereby the user is either transmitting; talking, (transmission occurs when the push-to-talk button is pressed) or receiving; listening, but not both at the same time. Full duplex mode is not supported by the DMR Tier 2 standard but Hytera do offer a full duplex solution, whereby a conversation can be carried out in both directions simultaneously using the PD985 handset.
Existing conventional analogue radio users will find it remarkably easy to migrate to digital using DMR. The two-slot TDMA technology means that for every one existing analogue 12.5 kHz system you get two equivalent talk channels using the new DMR 12.5 kHz channel. DMR Tier 2 instantly doubles your capacity.
Another advantage of DMR is that it allows customers to continue using their existing radio license regime. When DMR systems are installed, the two TDMA slots fit exactly into the existing analogue 12.5kHz mask.
This also means that existing analogue sites and much of the infrastructure equipment can be re-used, helping to keep new investment costs lower and site planning costs to a minimum.
Voice and data services
DMR Tier 2 supports a range of voice services including: individual calls/private call (one to one); group calls (one to specified group) and all call (one to all users on a channel).
Supplementary voice services include: open voice channel mode (enables third party users to listen in and participate in existing calls); unaddressed voice calls; later entry (allows latecomers to join a call); and talking party identification (displays radio ID to other radio terminals).
Data services use the Packet Data Protocol (PDP), which supports Internet Protocol (IP) or Short Data Service (SDS) data services. The DMR IP standard supports both IPv4 and IPv6. SDS messages can be up to between 626 and 1,130 bytes long depending on the mode and protection rate (source: DMR Association).
Hytera Repeaters
Hytera offers three main repeaters for DMR Tier 2 operations: the RD625 is a compact, wall-mountable DMR repeater suitable for in-building coverage and with IP connection can support large sites.
The
RD965
is a man-portable, lightweight, battery operated, outdoor, IP67 DMR Tier 2 repeater.
The Hytera RD985S is a versatile DMR repeater, designed for larger radio networks. This repeater supports analogue mode, MPT1327 trunking, DMR Tier 2 digital mode, pseudo trunking, simulcasting, extended pseudo trunking (XPT; see next blog), DMR Tier 3 trunking and DMR Tier 3 trunking simulcast.
Simulcast
Simulcast, or simultaneous broadcast, is another option supported by the DMR Tier 2 Standard. It involves the simultaneous transmission of the same signal with the same modulation from two or multiple repeater sites on the same frequency. It is particularly suitable for organisations looking to deliver DMR radio coverage over a wide area, but who only have access to limited radio frequency resources.
The advantage of simulcast is that only one frequency pair is needed for the whole mobile radio system, no matter how many base stations are in the network. Simulcast offers a simpler operation, especially for DMR conventional systems. It provides overlapping coverage without complex handoff, as users can roam between sites without having to worry about changing channels.
The disadvantage of simulcast is the requirement for highly accurate timing, and controlling hardware. For this reason, simulcast is primarily deployed when frequency availability is limited, or frequency access is too cost prohibitive.
Hytera offers the DS-6310 Simulcast system. This comprises of the Network Management System; for monitoring, operation and maintenance of the radio network, base stations and at least one mobile switching office (MSO). There is option to add a dispatcher system which could be a line or radio dispatcher. Also note that for DMR Tier 2 Simulcast, one can only connect 2 repeaters per site.
The DS-6310 is a flexible IP-based system, which can support up to 100 base stations per MSO and 200 repeaters per MSO, with up to eight MSOs in the mobile radio system. It supports both analogue and digital operations.
Hytera has a wide range of mobile and hand portable radio terminals in its portfolio from simple, entry-level radios up to sophisticated handsets with many advanced features for use with its DMR Tier 2 radio systems.
For more information on Hytera products and solutions click here to contact an authorised partner who can help you with your communication requirement.