What is a hybrid network and why should you use one?
Hybrid wireless networks interconnect different types of radio systems enabling end user organisations to take advantage of the unique set of features each has to offer.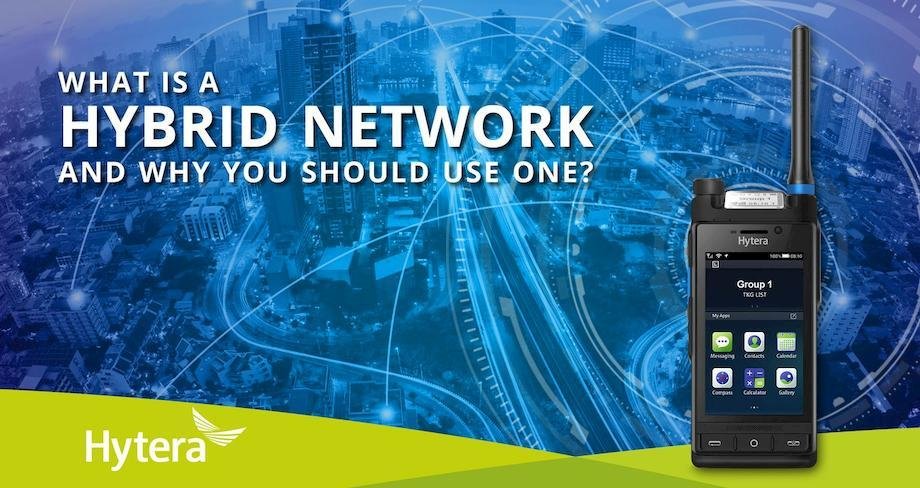 For example, a hybrid network could interconnect narrowband professional mobile radio (PMR), like DMR or TETRA, and broadband systems including 3G UMTS/HSPDA and 4G LTE cellular and Wi-Fi (WLAN).
PMR two-way radio systems are predominantly, although not exclusively, built around voice and messaging applications. They have evolved highly sophisticated and wide-ranging features based on fast connecting push-to-talk (PTT) technology.
The great advantage of private PMR networks is that they allow end user organisations to control their own infrastructure, coverage, capacity and spectrum, either directly or via a dedicated managed service. They also provide the much higher levels of security, reliability and availability necessary for mission critical communications.
The disadvantage of narrowband radio systems, such as DMR and TETRA, is that they can only handle relatively small amounts of data. Generally, this is more than sufficient for typical PMR applications such as mission-critical voice, short data, train control or telemetry. When higher date rates are required narrowband systems will not offer a good solution. This is where 4G LTE broadband cellular and Wi-Fi systems excel.
By interconnecting narrowband and broadband networks, organisations can extend the range of their PTT voice communications and messaging services beyond the physical limits of the PMR network. The system gains access to fast broadband data services in the field, such as sending and receiving images or video and querying databases.
Types of hybrid network
Assuming the end user organisation has no assigned frequency spectrum, the simplest hybrid network is to overlay a broadband service on top of a commercial mobile operator's network using VPN (virtual private network) technology. Separate service level agreements to guarantee quality and security levels can then be negotiated, although it should be noted that this is sometimes not so easy to achieve for small customers with only a few devices.
A more resilient solution, again assuming the end user has no dedicated frequency spectrum, is to augment the MNO network coverage by implementing tactical 4G LTE deployments in the form of small, local islands of dedicated coverage. This still requires an agreement with an operator to access spectrum, however.
Installations might involve deployment of small fixed 4G LTE base stations or temporary mobile ones. Hytera and our subsidiary Teltronic offer compact 4G LTE base stations for permanent or mobile installation. Backhaul can be achieved via satellite or via a link into an MNO's backhaul network.
A third hybrid network solution is where the end user is provided with dedicated licensed spectrum by a national government or regulator. The end user organisation can then implement its own dedicated LTE network (private LTE, pLTE).
Hytera hybrid solutions can scale from small deployments to nationwide ones depending on the customer need, budget and spectrum availability. The solution provides an integrated 'converged' network within the same system: one resilient network infrastructure with many radio accesses.
Devices
Until recently many PMR users have had to carry separate devices to access DMR/TETRA networks and cellular broadband networks. Hytera has developed a solution enabling both to be used in a very convenient way. Using Hytera PTTconnect, users can download a PTT app allowing them to connect to the PMR network and use their mobile device like a PMR radio.
The smarter alternative to this solution is to have a single hybrid device providing both DMR or TETRA and 4G LTE services. Hytera has recently unveiled the Multi-mode Advanced handset based on a rugged two-way radio form factor with a large smartphone-style display screen and user interface, as well as a physical PTT button. You can learn more by visiting the product page for the DMR LTE version PDC760 or the TETRA LTE version PTC760.
Subscriber management
With end users connected to two or more networks, operators need to give careful consideration how to manage subscribers, devices, broadband services/apps, assets, security and integration with commercial 4G LTE and pLTE networks.
Subscriber IDs, rights and information, their organisational units and talk groups need to be managed consistently over several networks in a secure way. The operator needs to be able to recognise that the subscriber is the same entity on both networks and be able to see what devices and apps are being used.
Find out how a converged network could be the communication solution you've been looking and discuss your communication requirement, head over to our find a dealer page to speak with a local authorised partner.