DMR Simulcast DS-6310
The Hytera DS-6310 Simulcast system is based on the open DMR standard, allowing operation of a conventional DMR radio system (DMR Tier II) as a simulcast network, broadcasting the same signal across multiple overlapping sites on the same frequency, simultaneously. Delivering reliable DMR radio coverage over large areas, the Hytera simulcast system is ideal for utility companies, public transport organisations and associated organisations who operate with limited RF resource across a wide area. If you need to modernise your existing analogue or simulcast system, requiring frequency-efficient radio coverage over a large area, with the benefits of DMR Tier II digital functionality, then speak to one of our Hytera Partners today.
Le système Hytera Simulcast
Le système Hytera Simulcast se compose de stations de base DS-6310 et au moins un MSO (Mobile Switching Office) pour 100 stations de base. Les différentes composantes du réseau sont reliées entre elles via un réseau de transport IP. Chaque station de base s'appuie sur la technologie largement éprouvée des répéteurs Hytera RD985s (2 par station de base maximum).
Grâce à sa structure modulaire qui facilite l'utilisation et la maintenance, le système Hytera Simulcast peut être exploité avec des solutions de répartition de lignes ou de répartition radio, afin d'optimiser la communication et de simplifier la gestion des abonnés.
Le système de gestion réseau permet d'administrer le système de radio mobile avec efficacité en offrant des fonctions complètes de surveillance, d'exploitation et de maintenance. En outre, la configuration des composants logiciels et matériels est facilitée. L'architecture client-serveur permet de connecter plusieurs stations de travail, et la gestion centralisée des éléments réseau et des mises à jour logicielles peut être contrôlée à distance. La configuration d'une passerelle pour se raccorder à un autocommutateur privé ou au réseau téléphonique public commuté (RTPC) est également réalisable. Le système radio et les téléphones peuvent ainsi communiquer via le protocole SIP.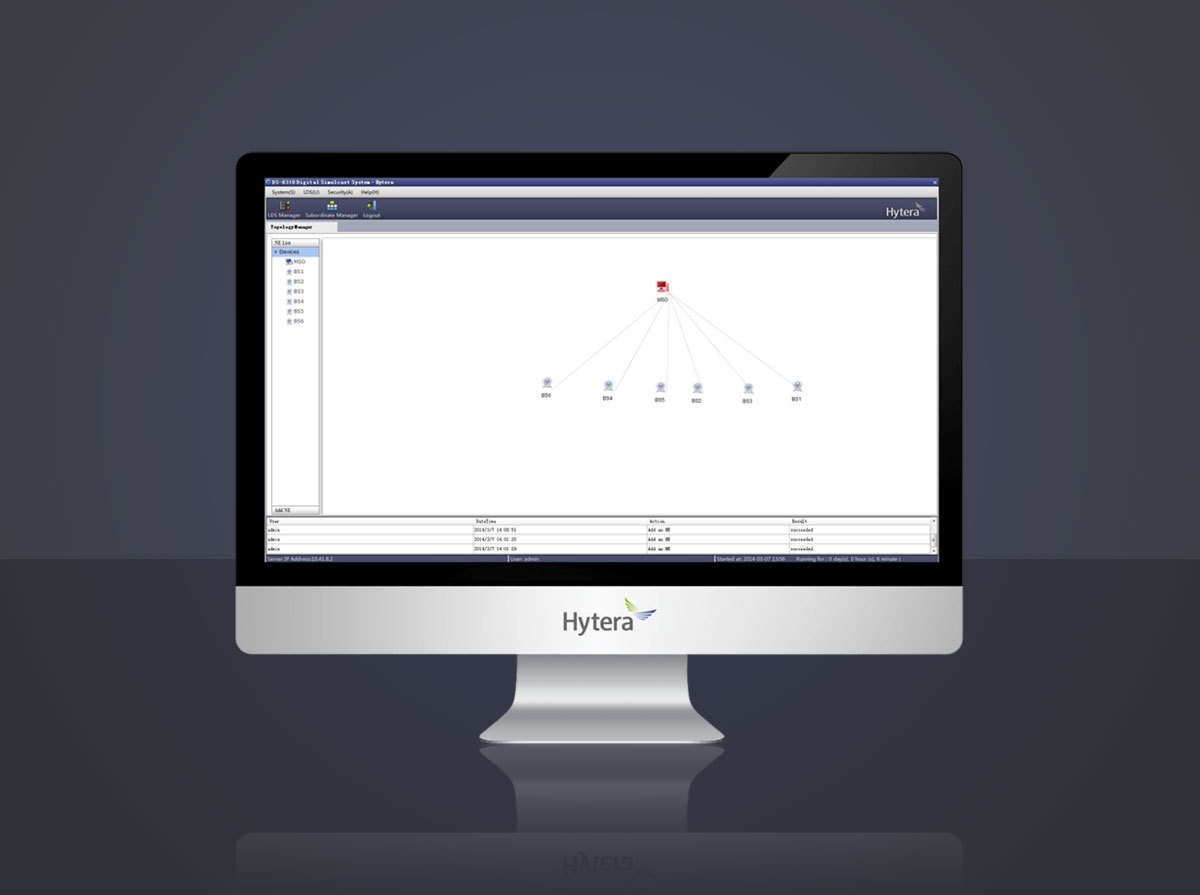 Facilité du roaming et des transferts
Dans le système Hytera Simulcast, les utilisateurs peuvent passer d'un site à un autre sans avoir à changer de canal. De leur côté, les répartiteurs savent que les transmissions sont diffusées sur l'ensemble des sites en simultané et que les communications reçues sont automatiquement acheminées via le site offrant le signal de réception le plus fort.
Vaste gamme d'appareils compatibles
Le système de diffusion multisupport repose sur la norme de radio numérique conventionnelle (DMR niveau II). Il est donc compatible avec de nombreuses radios Hytera, aussi bien analogiques que numériques.

Couverture intégrale de la zone avec seulement une paire de fréquences
Avec la diffusion multisupport, le système de radio mobile peut fonctionner avec une seule paire de fréquences, quel que soit le nombre de stations de base présentes dans le réseau.
Fonctionnement analogique et numérique
Le système Hytera Simulcast peut fonctionner à la fois en analogique et en numérique. En mode analogique, les systèmes de signalisation CTCSS et CDCSS sont pris en charge. Toutefois, le meilleur rapport qualité/prix est obtenu en numérique, puisque ce mode permet d'effectuer deux appels en simultané sur la même fréquence, tout en proposant des services de transmission de données.
Capacité accrue grâce à la gestion système intelligente (sous-réseaux)
Le logiciel de gestion réseau permet de diviser le système de diffusion multisupport en plusieurs sous-réseaux en fonction des stations de base et des intervalles de temps des répéteurs. Chaque sous-réseau fonctionne alors comme un système de radio mobile indépendant, capable de fournir un complément de capacité dans certaines zones. Les sous-réseaux peuvent être interconnectés de manière temporaire afin de réagir rapidement à un changement des conditions.
Haute qualité de la voix grâce au « vote dynamique »
Le système de diffusion multisupport exploite pleinement les atouts de la radio numérique pour offrir une qualité de voix excellente. En outre, le système veille à garantir une qualité idéale de la voix dans les zones où la couverture radio de deux stations de base se recoupe. Au moyen de tests de qualité, le MSO vérifie que le signal radio transmis et diffusé est le meilleur dans chaque cas.
Réseau IP flexible
Basée sur le protocole IP, l'architecture permet une mise en réseau flexible tout en exigeant peu de connexions système. Le réseau de transport IP est constitué d'équipements réseau (serveurs, commutateurs, routeurs, etc.) disponibles sur le marché. Il peut donc être entretenu et mis à niveau au meilleur coût.
Not entirely sure what you need?