Highlights

Comprehensive Network
All the repeaters from Hytera can be connected in digital mode via IP connection for multi-site requirements. Both in conventional analogue and DMR modes (DMR Tier II), the RD985S repeater can be used with the RD625 and RD965 repeaters to create an impressive network
Upgrade and Expand
The RD985s can be upgraded into a base station for DMR simulcast, DMR trunked radio or Hytera XPT radio systems, making it a secure investment for growing radio projects
Maximise Capacity
Thanks to the TDMA technology, twice as many users can use the same channel. With frequency scarcity, this represents an important relief and reduces the expense of system terminals and licenses
Professional Design
Integrated LEDs complement the sleek repeater design, while the integrated fan assembly provides high cooling capacity. Created with an intuitive interface, clear menus and the large navigation controller ensure it's simple to use
Secure Communication
Offering advanced digital encryption function, the RD985S can switch independently between digital and analogue modes, yet always ensuring the signal is protected
Functions
Mixed Mode Operation
This feature allows the device to automatically detect and switch between analogue and digital modes based on the signal received.
IP Site Connect
Create and control your network using IP (internet protocol) site connect.
Single-Site XPT
Hytera XPT (Extended Pseudo Trunking) enables you to use limited spectrum resources across a single site more efficiently without needing a dedicated control channel (chargeable licence).
Multi-Site XPT
Extend your Hytera XPT network by connecting multiple sites over IP with simple router hardware (optional) and the additional chargeable licence.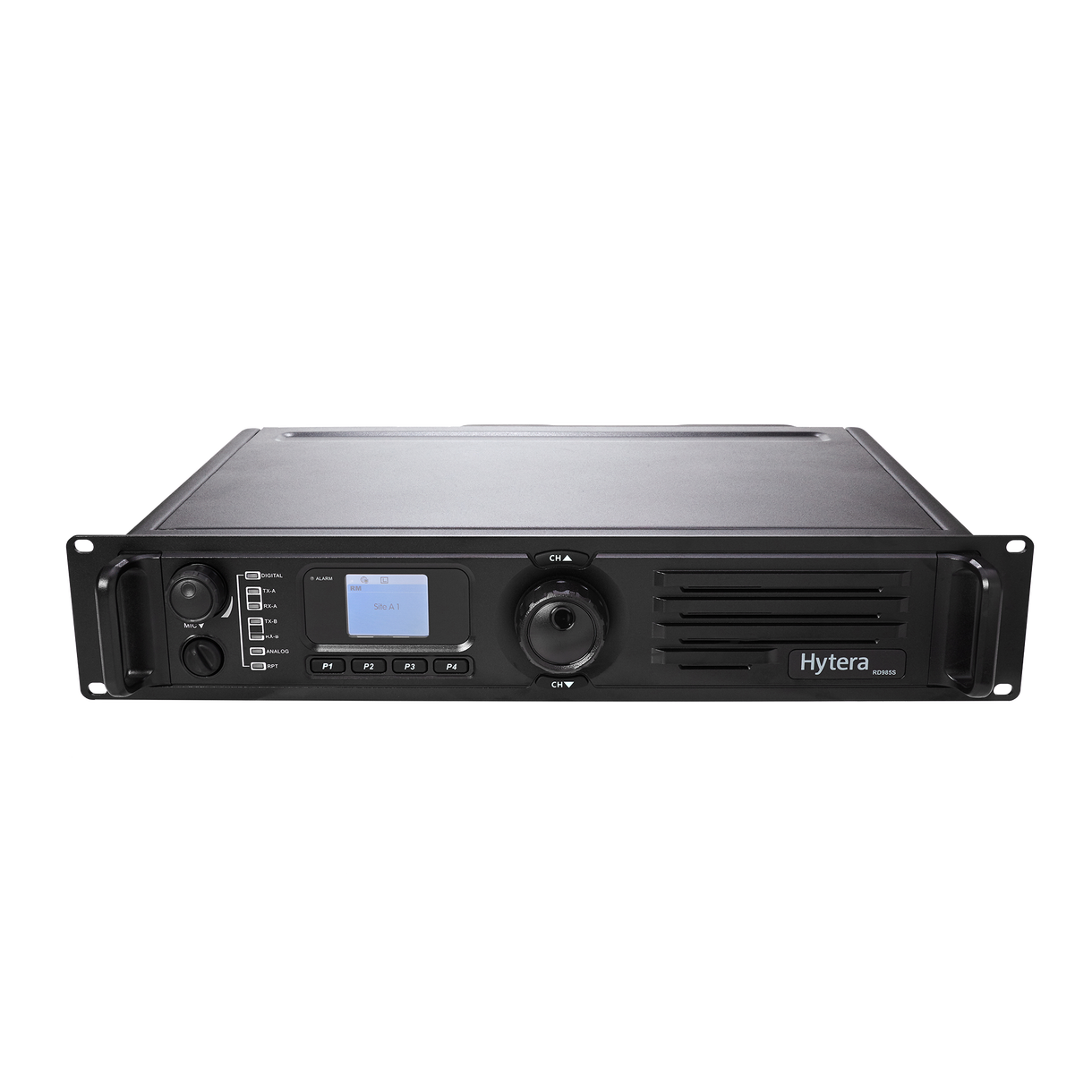 Tier III Trunking
Upgraded via chargeable licence to be used as a two-carrier repeater in the Hytera Tier III trunking system
Digital Encryption
Ensuring your transmissions are always secure, advanced encryption available via a chargeable licence.
Powerful Repeater
100% continuous duty cycle from 1W to 50W
Wall Mounting and Racking
Optional brackets, simple, flexible installation utilising the specially designed wall mounting or racking.
Mounting
Cables
Audio
Charger & Power
Other
Related products that work with the RD985S
Technical Specifications
General
Frequency Range

VHF: 136-174MHz UHF1: 400-470MHz UHF2: 450-520MHz UHF3: 350-400MHz

Channel Capacity

16

Digital Protocol

ETSI-TS102 361-1,2 & 3

Supply Voltage

DC +13.6v ± 15%

Battery Backup

YES via PSU

Integral Battery Charging

YES via PSU

Dimensions(W×H×D)

88 x 483 x 366 (mm)

Weight

8.5Kg

Display

2.0'' 4 rows 160*128 pixels 262200 colours

Programmable Buttons

4

TX Aerial Connector

N-type socket

RX Aerial Connector

N-type socket

Internal Duplexer

YES using optional mounting kit
Features
19" Rack Mounting

YES (2U required)

Back Pack

NO

Multiple CTCSS/ CDCSS

YES

Repeater Knockdown

YES (Analogue & Digital)

IP Ports

1

GPS

NO

Telemetry

YES

IP Site Connect

Digital - YES Analogue - YES (R8.5 firmware)

Audio Output for Slot A & B

YES

Remote Programming

YES via IP interface

Remote Diagnostic & Control

Software available

Emergency Mode

NO

Lone Worker

NO

Mandown

NO

Priority Scan

YES

Digital Encryption

Advanced encryption (Hytera or DMRA 128 bits and 256bits AES) available via chargeable licence file.

Multiple Key Encryption Decode

YES

Multilanguage Menu

YES

Power on & off user logo programming

YES

Voice Interrupt

Yes (latest firmware required and Smart Dispatch V4.5.6)

Text Messaging

Yes via application software

Quick Text Messages

Up to 25 pre-programmed via CPS (for telemetry use)

MPT1327 / 1343 Trunking

RD985s Operating mode to be specified with order

Tier 3 Trunking

RD985s only via firmware upgrade

Over-the-Air Programming

NO

Analogue Only Version

Not Available

Number of Sites

16 sites (latest firmware required)