TETRA DIB-R5
The DIB-R5 base station family is a constituent of the TETRA mobile radio system ACCESSNET-T IP and ensures the powerful and reliable mobile radio coverage across a specific area. Supporting both TETRA Release 2 and TETRA Enhanced Data Service (TEDS), the DIB-R5 base station is as an attractive critical communication solution for any environment where availability and comms speed are key priorities.
If you think the Hytera DIB-R5 TETRA system could be the solution for your organisation, speak to one our of Hytera Partners today about your individual requirements.
TETRA Enhanced Data Service (TEDS) capability
ACCESSNET®-T IP supports integrated voice and data services. Many mission-critical data applications are already in use across the world thanks to ACCESSNET®-T IP. TEDS is our answer to deliver demanding data application and it is fully supported by the DIB - R5 family. The DIB - R5 is prepared for a channel bandwidth of up to 150 kHz to support high data rates. The DIB - R5 Channel Units (transceivers) can be configured to support both TETRA 1 PSK modulation for voice as well as TETRA 2 QAM modulation for TEDS. This simplifies spare part handling and allows for a later upgrade to TEDS.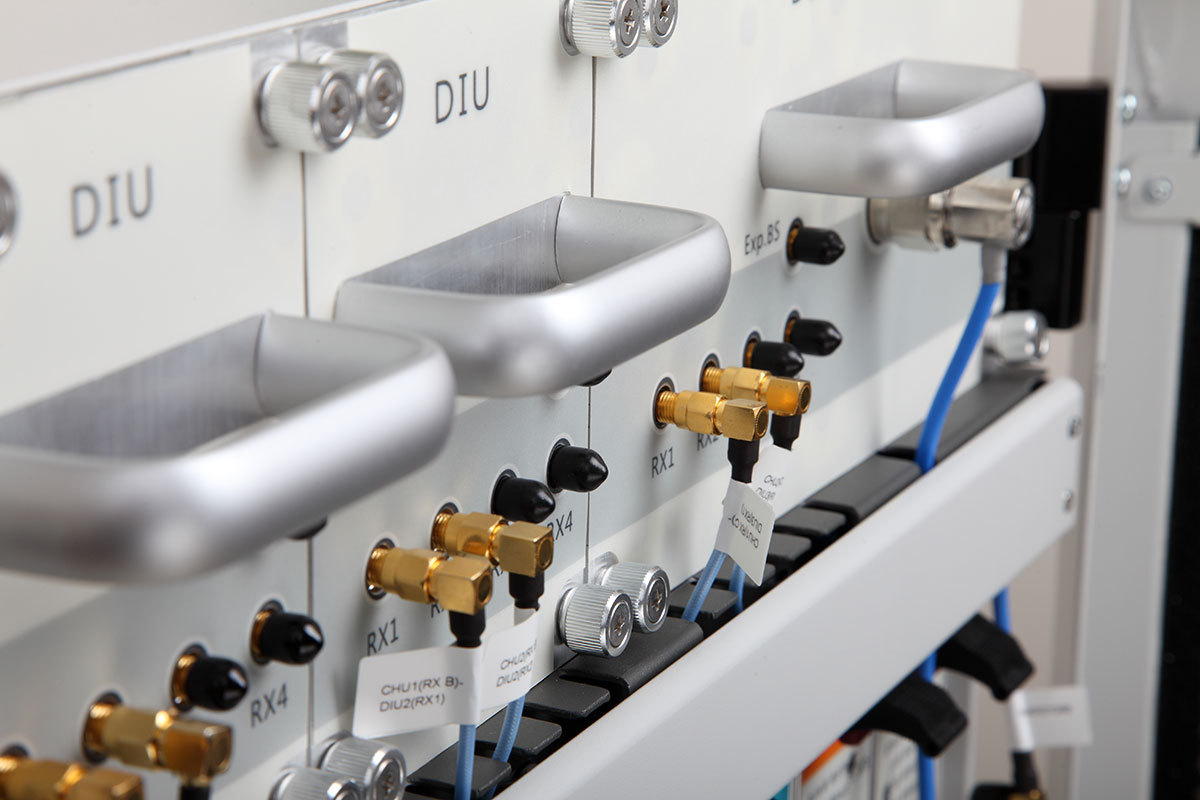 Benefits of Hytera TETRA DIB-R5
25 W TETRA 1 / PSK and 10 W TEDS / QAM at the antenna connector
The transceiver can be programmed to support either TETRA 1 / PSK or TEDS / QAM
Up to 150 kHz RF radio bandwidth for TETRA Enhanced Data Service (TEDS)
Hot-swap capability for controller and transceiver module
Motor-tuned cavity combiner for DIB - R5 advanced
Remote software upgrade
Operation without GNSS / GPS with PTP precision time
Operation temperature range - 30 °C to + 55 °C
Full redundancy option (controller, transceiver, power supply)
Supports distributed switching architecture without central nodes
Fully functional fallback operation
All configuration parameters can be set remotely
Sophisticated jamming detection
Sophisticated RF distribution system with 3-way diversity
Versatile TETRA DIB-R5 functions
RF PERFORMANCE
The DIB - R5 supports 3-way receiver (Rx) diversity and high sensitivity to optimise the base station radio characteristics, reducing the number of base stations required to cover a certain area. Various RF distribution system configurations are supported, including motor-tuned cavity combiner, allowing for remote frequency changes.
With its high output power of 25 W PSK modulated with cavity combiner at the antenna connector, reliable coverage is ensured. Up to four RF carriers are supported in one rack and up to eight carriers with an extension rack (DIB - R5 advanced).
DIB-R5 ADVANCED
The DIB-R5 advanced base station has a modular and flexible design. The main components are the Channel Units (transceivers), the Base Station Control Unit, the power supply and the RF filtering equipment.
Based on capacity requirements, up to four Channel Units can be placed in one rack. Up to eight carriers can be supported with an extension rack. All components can be accessed from the front of the system and can be easily replaced. RF and power cabling are connected at the top of the cabinet.
Connection to the switch takes place either by Ethernet / IP or over E1. Power supply modules with 48 VDC as well as 110 / 230 VAC provide flexibility to adapt to any existing environment. Furthermore, the base station is designed to withstand an wide temperature range of - 30 °C to + 55 °C for situations where the heating or air condition of an equipment room is faulty.
DIB-R5 COMPACT
The DIB - R5 compact is a smaller 2-carrier version with an integrated hybrid combiner. Taking up a modest amount of floor, with the ability to fit into a standard 19" rack, installation costs are minimised and transport to site is simplified.
RELIABILITY
If the DIB - R5 becomes isolated from the rest of the network, it can still offer most features in local fallback mode. Security-related features such as authentication and air interface encryption in particular are still supported.
All modules can be duplicated and are hot-swappable. Each base station supports transmission link redundancy and can be connected to two switching nodes. Sites under heavy loads can be equipped with up to four control channels (SCCH) to provide additional capacity for signalling, text messaging or location updates.
The DIB - R5 can operate with GPS / Galileo / Glonass-based synchronisation, or without satellite-based synchronisation if these are unavailable. This delivers reliable communications even in underground areas or within buildings without the need for satellite signal.
All products related to TETRA DIB-R5
Find a Hytera dealer to discuss your requirements.