Highlights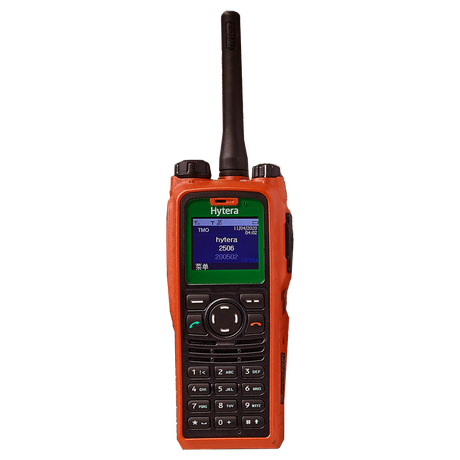 Maximum Safety
With "ia" approval, the PT790 Ex can be used in areas in which an explosive atmosphere containing a mix of air and combustible gases, vapors or mists are permanently present (Zone 0).
Robust and Reliable
Dustproof and waterproof (IP67), withstanding submersion in 1 metre of fresh water for a duration of up to 30 minutes, the PT790 Ex meets the requirements to operate in the harshest conditions
Protecting the User
With in-built GPS, the PT790 Ex improves user safety with lone worker, man down alarm and emergency alarm features
Versatile Operation
The PT790 Ex provides rapid access to the TETRA radio network, its services and infrastructure in trunked mode (TMO) or alternatively communicating between radios in direct mode (DMO).
Voice and Data Services
A variety of voice options and data/messaging services deliver exceptional functionality and security according to the TETRA standard
Functions
ia Protection Classification
The whole radio with battery is designed to comply with the highest grade 'ia'. It can work in the places which contains various explosive gas and dust. It has passed ATEX, FM, IECEX certification.
Strict PCB Design and High EMC Performance
To achieve high explosion-proof level, Hytera PT790Ex adopts optimal PCB layout design. All the key components of PCB are covered with shield which minimizes the circuit fault probability and has better performance of EMC.
Patented Battery Latch Design
To disengage the battery from the radio, you need to remove the lock and bolt of the latch along two different axes. Such a patented design ensures there is no disengagement of the battery pack from the main radio in case of dropping that might cause spark.
GNSS Positioning
The built-in GNSS module supports GPS, GLONASS, Beidou. Its tracking sensitivity is up to -164dBm, and its accuracy is within 2 meters.
Man Down
When a user falls down, the radio can automatically alert others.
Lone Worker
To ensure the safety of terminal users, the emergency function will be triggered automatically when there is no operation on the terminal within the predefined time period.
Long Cycle Life
Hytera PT790EX provides 1800mAh/2400mAh large capacity Li-ion battery, which can last for more than 20 hours under 5-5-90 duty cycle. Strict overcharge and overdischarge protection design ensure the battery against instability caused by overheating. In addition, the battery cells are also encapsulated to redistribute single point heat buildup and prevent air discharge as well.
Rugged and Reliable
PT790Ex is designed to comply with MILSTD 810G and IP67 Dust&Water Protection Rating, which ensures its best performance even in the toughest conditions and environment.
IOP
Hytera PT790Ex enables quick access to TETRA network and roaming, providing safe and efficient communication service. It also provides powerful interoperability with base stations and terminals of different manufacturers.
Enhanced Speech Processing Technology
Hytera PT790Ex adopts state-of-the-art speech processing technology to remove environment noise (ambient noise) and echo (acoustic&echo), which provides users with clear voice communication even in a noisy environment. Meanwhile it has better performance in hands-free mode in full duplex call.
Mounting
Cables
Charger & Power
Antenna
Carrying
Audio
Battery
Related products that work with the PT790Ex
TETRA Applications
TETRA Systems
Technical Specifications
General
Frequency Bands

380-430MHz / 806-870MHz 320-380MHz / 405-475MHz

Operating Voltage

7.4V

Battery

1800mAh Li-Ion battery (standard) 2400mAh Li-Ion battery (option)

Battery Life (5-5-90 Duty Cycle)

>16hours (1800mAh)/>20hours (2400mAh)

Dimension (HxWxD)

144.8 x 55 x 40.7mm

Weight (with antenna & standard battery)

515g (with 1800mAh battery and antenna)

Keypad

YES

Display

YES

Audio Power Output

1.2W
Environmental Specifications
Operating Temperature

-30°C ~ + 60°C (non-hazardous environment) -20°C ~ +50°C (hazardous environment) *50ºC: The operating temperature may vary. In an explosive gas atmosphere, it can reach up to 55ºC.

Storage Temperature

-40℃ ~ +85℃

Humidity

ETS 300-019-1-7 Class 7.3E; MIL-STD 810 G

Water and Dust Protection

IP67 Per IEC60529 IP5X Per IEC60079-0:2011

Drop, Shock & Vibration

ETS 300-019-1-7 Class 5M3; MIL-STD 810 G; GJB150A-2009
Features
Fallback Operation

Late entry

Energy Economy

DGNA

Seamless Cell Re-selection

Group scanning

Half-Duplex

Multi-Network Selection

Full-Duplex

Callout

Emergency Call

CAD(Call Authorized by Dispatcher)*

Pre-emptive call

PTT Group lock

One-key Emergency Call

YES

Man-down

YES

Ambiance Listening

YES

Radio User Assignment (RUA)

YES

Transmit Inhibit

YES

Lone Worker

YES

Protect User Configuration Data

YES

Keypad Lock

YES

Alert for out of Network Coverage

YES

Alert for Low Battary

YES

GPS / GLONASS / Beidou

YES

NMEA Location Reporting

YES

Time Synchronization and Adjustment

YES

Display the calling party's Relative direction & position

YES

Over-speed Alarm

YES

Short Data Service

YES

Package Data

YES

Peripheral Equipment Interface (PEI)

YES

AT command

YES

OTAP(Over The Air Programming)

YES

Status Message Solution

YES

Circuit Mode Data

YES

WAP

YES