Système de répartition DWS TETRA

Application de répartition professionnelle

TETRA DWS Dispatcher

Professional dispatching application
TETRA DWS Dispatcher
DWS (Dispatch WorkStation) is a trunking dispatching system designed for the efficient communication, remote management, and dispatching & deployment of radio users. Developed for either Hytera ACCESSNET®-T IP TETRA infrastructure or Hytera DMR Tier III, dispatchers can be used as logistics and control centres to efficiently manage radio subscribers, whilst serving as a control unit for monitoring alarm functions.
Une multiplicité de fonctions
Le DWS n'offre pas seulement des fonctions conventionnelles, telles que les appels individuels, de groupe ou d'urgence. Cette application fournit également des fonctionnalités avancées, comme l'assignation dynamique de numéros de groupe (DGNA), le renvoi de groupe et l'écoute discrète (supervision). Outre les fonctions vocales, le DWS prend en charge l'envoi et la réception de messages courts et de notifications d'état.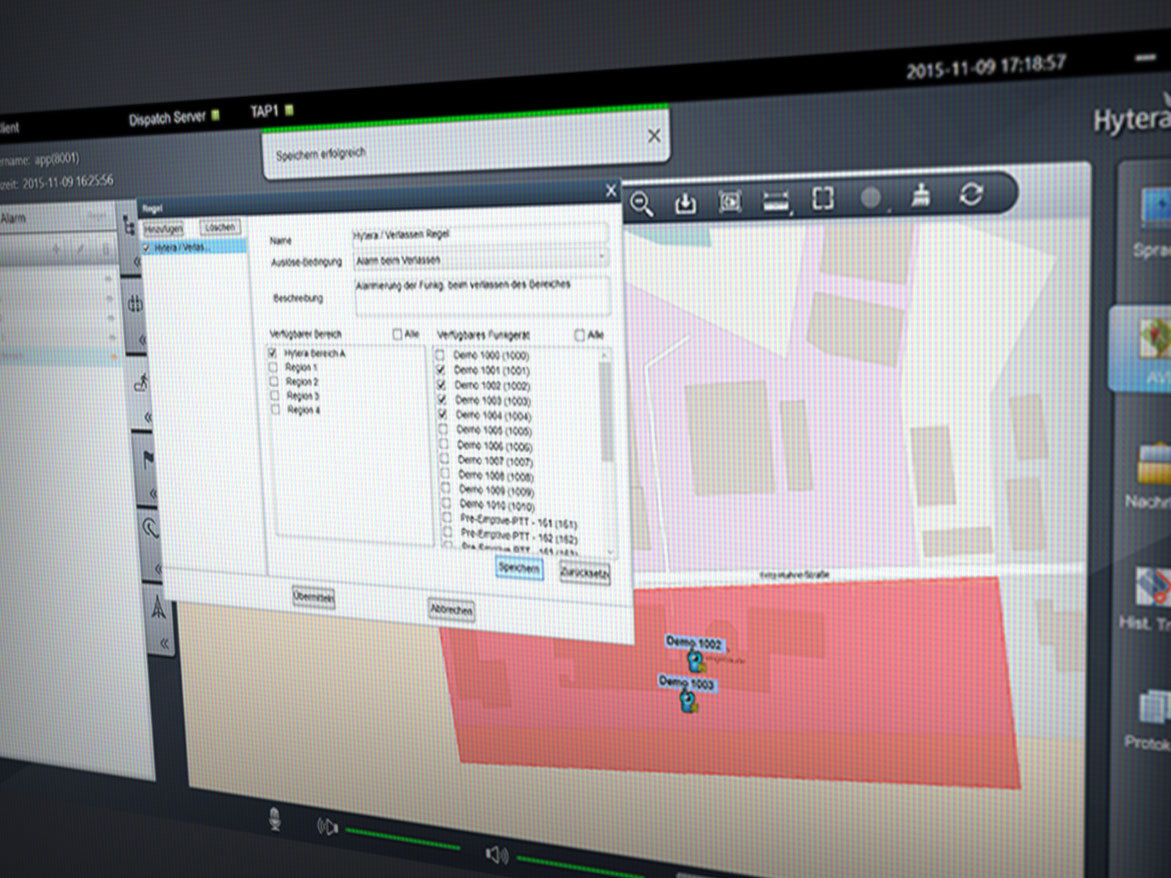 Avantages d'Hytera DWS Dispatcher
Une seule et même interface pour toutes les fonctions
Désactivation permanente (neutralisation) des radios
Plusieurs méthodes de recherche des contacts, notamment par catégorie, code couleur ou saisie de critères personnalisés (identifiant SSI ou nom)
Renvoi de groupe et DGNA
Gestion de supervision, pour être sûr d'être toujours connecté aux appels de groupe ou individuels pertinents
Plusieurs systèmes de cartographie pour visualiser les abonnés
Sélection directe de la radio sur la carte pour passer un appel ou envoyer un message directement
Cartes hors connexion pour une localisation automatique des véhicules dans un système indépendant et sécurisé
Configuration de zones de géorepérage, permettant de définir des règles d'accès pour certaines radios
Création directe de groupes DGNA sur la carte système
Suivi d'itinéraire pour suivre la progression de chaque radio en mouvement
Envoi de tâches sur les radios, avec notification de confirmation ou de rejet via une liste de réponses (gestion des tâches)
Le DWS peut s'adapter aux besoins spécifiques du client ou aux contraintes de tout système radio existant.
Chaque station de travail peut être dotée de fonctions particulières.
Le répartiteur peut affecter des radios et des groupes et utiliser l'assignation dynamique de numéros de groupe (DGNA) en fonction des droits d'administration qui lui sont accordés sur sa propre station de travail DWS.
Chaque station de travail DWS peut se connecter à deux serveurs redondants. Si le « serveur 1 » est défaillant, le « serveur 2 » prend le relais, sans aucune perturbation pour les utilisateurs.
La configuration des groupes et l'allocation des fonctions de chaque station de travail sont stockées sur le serveur. Les répartiteurs peuvent travailler à partir de n'importe quelle station de travail sans la reconfigurer au préalable.
Le serveur et la station de travail peuvent se connecter via deux passerelles ACCESSNET®-T IP distinctes.
Verrouillage et déverrouillage temporaires des radios (activer/désactiver)
Supervision de l'état actuel des radios, notamment leur inscription auprès du système radio et de la station de base considérée, leurs coordonnées GPS et leur vitesse de déplacement
Possibilité d'adapter l'interface aux besoins précis du client
Le logiciel évolutif convient aussi bien à des systèmes radio de petite taille qu'à de grands réseaux de radiocommunication couvrant des territoires entiers.
Rapidité d'utilisation grâce à l'optimisation tactile et à la dernière version du framework WPF
La redondance des serveurs, des bases de données et de la connexion système crée un degré de stabilité élevé.
La structure IP apporte de la flexibilité dans la phase de préparation.
Prise en charge du multiplex pour les appels vocaux, notamment les modes semi-duplex et duplex intégral, les appels de groupe et d'urgence, la diffusion globale, les appels de masse, ainsi que les appels vers un autocommutateur privé ou le RTPC
Déviation d'appels et mise en attente
Ajout d'abonnés ou interruption forcée des appels de groupe
Liste de tous les appels avec informations détaillées et heure de début, durée et activité vocale des abonnés
Différentes options sonores et visuelles pour signaler les appels afin de réduire le délai de réaction, en particulier dans les situations d'urgence
Écoute d'ambiance
Demande de rappel du répartiteur
L'intégration OOCI permet de profiter des appels orientés objet.
La participation des radios aux appels de groupe peut être confirmée à l'aide de la fonction « Ping ».
Support effectué par messages texte, messages standard et messages d'état
Il est possible d'envoyer rapidement un message à plusieurs abonnés en même temps en les sélectionnant dans une liste.
Les « messages flash » sont immédiatement affichés sur les radios choisies. Les utilisateurs ne peuvent pas passer à côté.
Le serveur peut sauvegarder régulièrement sa propre base de données vers des supports externes, et la restaurer si nécessaire.
DWS Dispatcher : des fonctions polyvalentes
Localisation de l'utilisateur
La carte dynamique fournie par le DWS permet de localiser les abonnés radio à l'aide des données GPS. Les données cartographiques étant stockées localement sur la station de travail, elles sont exploitables sans connexion à Internet. D'autres fonctions avancées, comme le géorepérage ou l'allocation de tâches, facilitent le travail du répartiteur pour gérer une main-d'œuvre toujours changeante.
Fiabilité et sécurité
Le DWS peut être doté d'un serveur et d'une connexion redondants pour garantir la disponibilité permanente du système. Dans ce cas, le contrôle des abonnés radio se poursuit même si une défaillance de serveur se produit. Le DWS prend en charge plusieurs fonctions de sécurité, notamment l'accès protégé par mot de passe et la gestion des autorisations pour les différents utilisateurs et groupes.
Accessoires flexibles
Au-delà de l'ensemble clavier-souris standard, le système prend en charge plusieurs accessoires externes qui optimisent la station de travail pour le répartiteur : écrans multipoints, microphones de bureau avec boutons intégrés de messagerie vocale instantanée et commutateur à pédale également compatible avec la messagerie vocale instantanée.
All products related to TETRA DWS Dispatcher
Find a Hytera dealer to discuss your requirements.