End to end professional Communication Solutions for Tunnels
Tunnels are a key part of many transport infrastructures. Whether they are used as roads for vehicles and pedestrians, trains, power utilities, public use or service vehicles, they keep cities moving and people connected.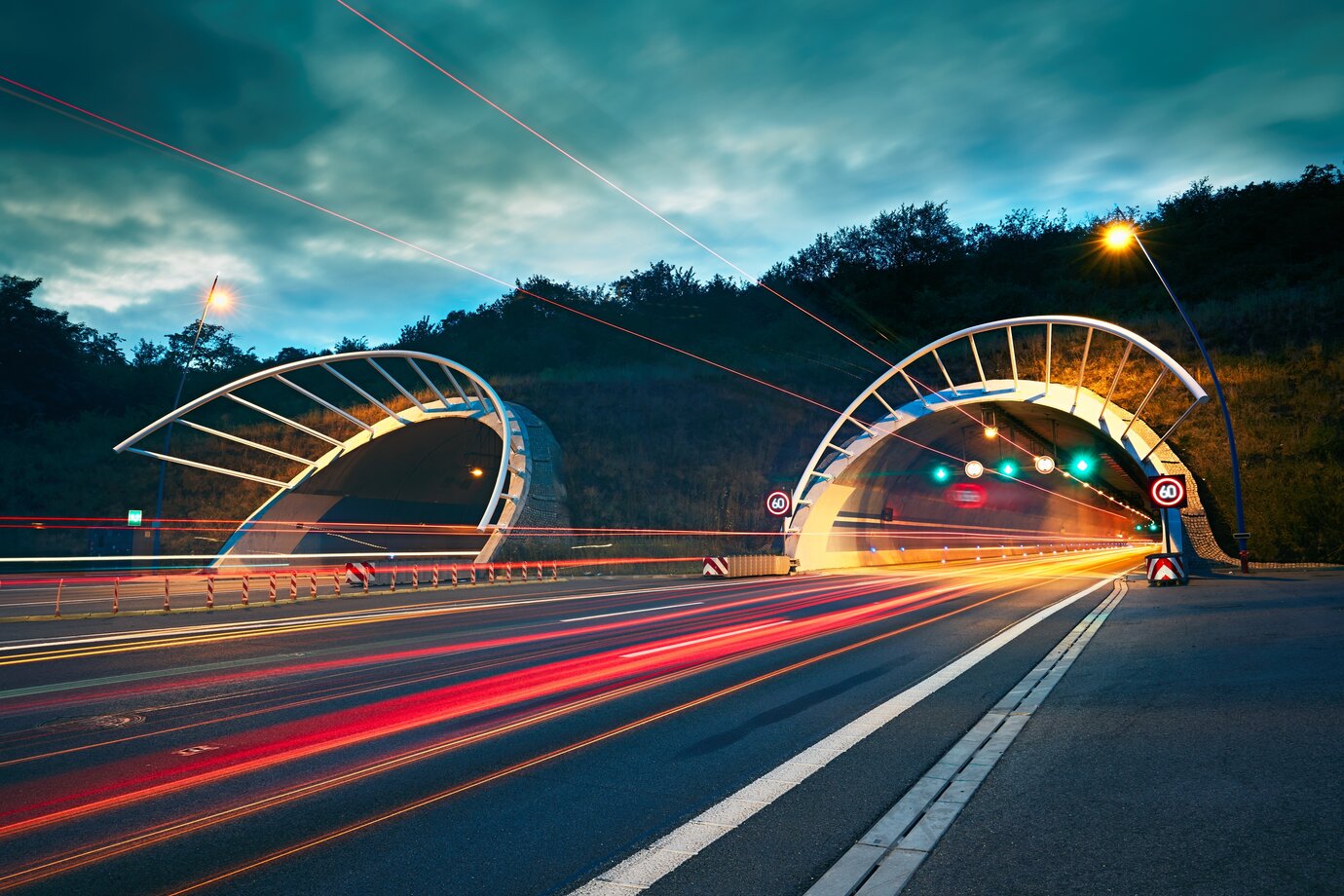 Tunnels can pose a big threat to communications due to their long complex structure which can create blind spots for communication signals. Construction and maintenance enterprises must ensure conformance for the latest safety legislations for their onsite employees working in the tunnel or carrying out day to day service operations. This means being fully equipped with the best-fit communication tools with emergency functionality and access anywhere and anytime on-site. Full radio coverage is critical, whether working at ground level, or within a deep tunnel scenario. The need for reliable radio communication in tunnels is essential to both productivity and employee safety.
The communications solutions for a typical tunnel scenario is usually complex, involving at least 2 radios and frequencies. This is a big issue for rail services that often have to travel through tunnels as part of their route.
One of the main rail network challenges is extending radio signals through long tunnels and ensuring operators could communicate with each other from the nose to the tail of the train, as well as with the ground crew personnel located outside of the tunnel. Single frequency repeaters can mitigate such issues by successfully providing communication for trains in transit whilst in the tunnel to the outside ground crews.
Hytera's multi-faceted, flexible and bespoke solutions meets some of the more technically challenging aspects of the requirements needed in tunnels.
When there are complex communication requirements BDA's can be deployed to extend existing systems and provide coverage inside tunnels. Examples are DMR Tier 2/3 or TETRA systems where the local sites provide coverage outside the tunnel, but this does not extend beyond the entrance of the tunnel. A BDA could sample the signals at the entrance to the tunnel and then repeat them down its length either via leaky feeder, or via a series of remote units connected by optical fibre. BDAs offer a rugged design and IP65 Sealing to suit the harsh environments tunnels can have.
For simpler voice requirements the DMR E-Pack or E-pole could be used to repeat a single frequency within the tunnel via a wireless mesh. This reduces the need for any cabling within the tunnel as they automatically set up an ad-hoc network via wireless mesh – allowing communication between any personnel in the tunnel and on the train itself. The E-Pack/E-pole work in single frequency repeat mode and communicate with standard DMR Tier 2 radios such as the H Series. This is very spectrum efficient as only one frequency is required. Both the E-Pack and E-Pole offer a rugged design, the E-pack is IP67 and the E-pole IP56.
The flexible nature of Hytera's Full Duplex MD785i single frequency repeater and Pseudo Trunking features for example, enable continuous communications inside and outside the tunnel in direct mode (without the need for a repeater) thus saving the cost of a second radio and frequency licence. This provides train personnel with reliable communications that ensure daily operations are coordinated with quality, safety, and security.
Hytera's portable solutions for tunnels also come with high IP levels like IP67 for dust and water ingress. Furthermore, the emergency call functionality GPS localisation, trunk mode and man-down alarm functionality, lone worker with location detection, messaging and automatic alarm messaging all provide a robust and future-proof communication solution for safeguarding onsite staff. Hytera's Bodycams come with night vision infra-red technology (up to 10m) which means train staff can capture crime or suspicious behaviour when travelling through tunnels with poor lighting. If the train has a service issue and help has a long wait time, bodycams can be used to enable train staff to have live video technical support at the scene. These bodycams are a reliable communication source especially if equipped with Wi-Fi or Cellular 3G or 4G repeaters. This connectivity can usually be found in most of today's metro trainlines.