Introducing Hytera's new enhanced two-way business radios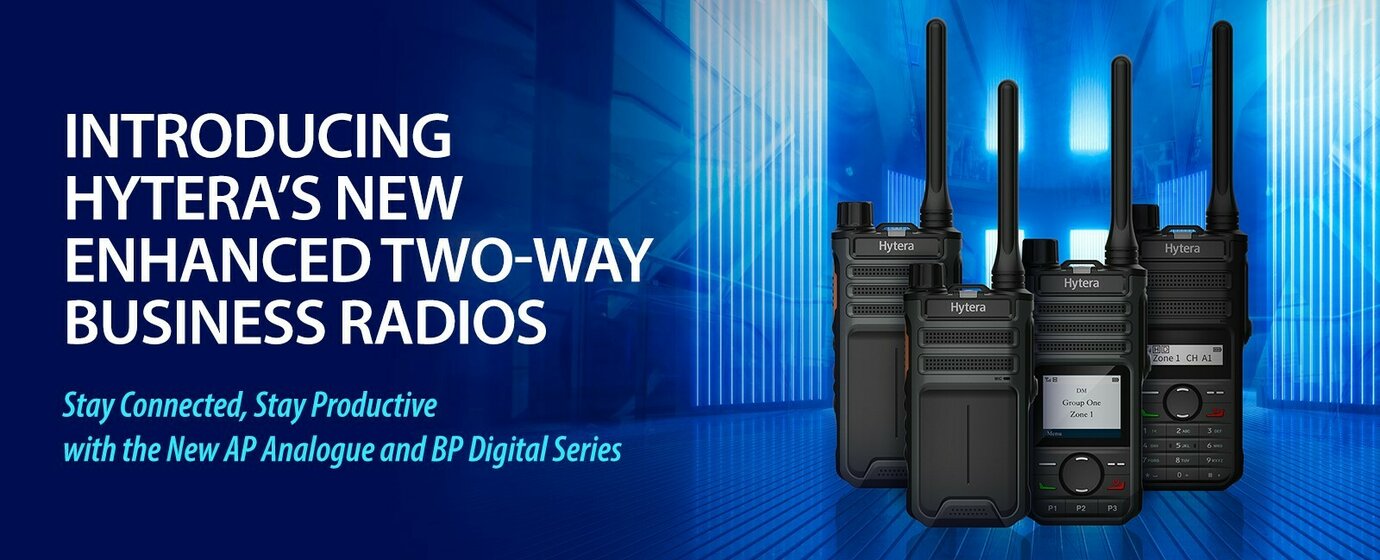 Hytera is delighted to announce the launch of a new generation of two-way business radios, which will provide users with instant, enhanced communications enabling them to work more efficiently and productively. The AP5 range is fully analogue, while the BP5 range is both digital and analogue.
Each series is supplied in two models, the analogue AP515 and AP585 (with 1.77-inch display screen and keypad), and the digital and analogue BP515 and BP565 (with 1.77-inch display screen and keypad). The radios come with a 3W speaker for loud and clear audio aided by enhanced howling suppression and advanced noise cancelling features, so you can still communicate safely even in noisy environments.
The models are thinner (29.5mm) and lighter (between 200-230g) and provide an extended communication distance of 11%. They also offer remarkably fast charging via a charger or Type-C USB port - just 1.5 hours for the BP5 models, 1.8 hours for the AP585 and 3.15 hours for the AP515. The Vox feature allows you to speak without pressing and holding the PTT key, so your hands are free to carry out tasks.
As well as supporting both digital and analogue modes, the BP5 models offer powerful features like priority interrupt, encryption, text messaging and Bluetooth, as well as IP54 (IP67 option available) protection against dust and moisture intrusion, and MIL-STD-810 G protection for humidity, shock and vibration. A one-hour charge will deliver 10 hours of talk time, while the 256 channels make it easy to assign the right people for the right task.
The AP5 radios offer a package of features including voice broadcast to confirm the operation of a programmable button or to change the channel of non-display radios. The radios are robust as they are MIL-STD-810 G and IP54 certified (IP67 optional for the AP585) and can operate in temperatures ranging from -20° to +60°. One hour of charging provides eight hours of talk time, while the AP515 has an incredibly long 18-hour battery life.
The AP5 and BP5 series radios are the perfect tool for coordinating business operations and enabling instant group communications, helping you to work more effectively, safely and productively. A wide range of accessories is available for both series.
You can get a hands-on demonstration by emailing marketing@hytera-europe.com