Hytera two-way radios and bodycams help retailers combat theft and deter aggressive behaviour towards staff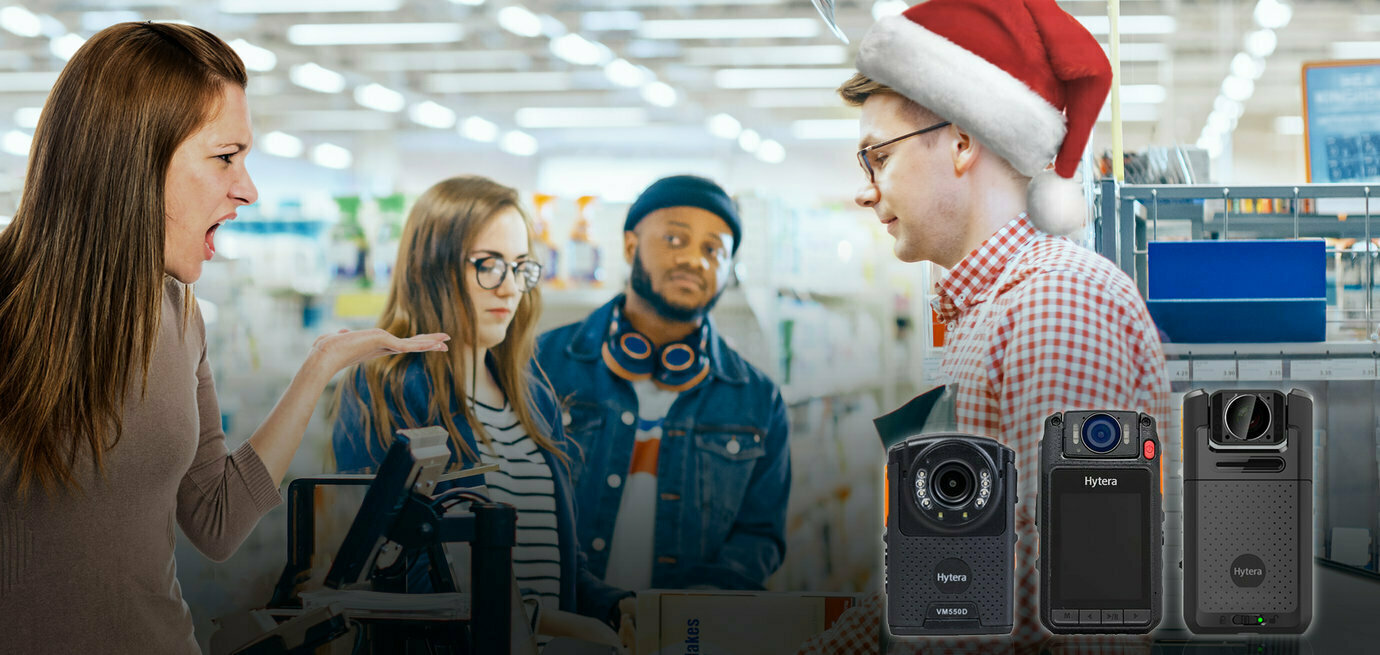 The retail sector has had to cope with rising levels of crime, violent incidents and abuse towards staff over the last few years. This will only get worse in the busy run-up to Christmas. It is also likely to be exacerbated by the recent reintroduction of some anti-COVID measures designed to limit the spread of the Omicron variant.
The number of incidents of violence and aggressive behaviour towards staff has soared since the pandemic began, the British Retail Consortium (BRC) reported in September 2021. Flashpoints include trying to ensure customers follow COVID-19 rules, challenging shoplifters, or asking customers for ID when they are purchasing age restricted items.
The latest BRC Crime Survey 2021, which covers the period from 1 April 2019 to 31 March 2020, reveals that violence and abuse against retail workers has risen from 350 incidents a day in 2016-17 to 455 incidents a day in 2019-20, with 45 incidents each day involving a weapon. The cost of retail crime rose to a record £1.3bn in 2019/20, of which customer theft accounted for £935m. Crime prevention measures cost the sector nearly £1.2bn, so the total cost of retail crime is an eye-watering £2.5bn.
Hytera radios and body worn cameras (BWCs) can help retailers tackle these issues more effectively. Hytera radios and PoC body cameras provide instant push-to-talk (PTT) group communications enabling better intelligence sharing in real time, while bodycams deliver additional live surveillance and evidence gathering solutions. Hytera devices also support integrated location-based apps and personal safety alarms to enhance staff safety.
The threat of violence or abuse is being augmented by continuing retail staff concerns over being exposed to COVID-19 from customers. All of which is having a detrimental effect on staff mental health, according to retail trade union Usdaw. But having access to reliable, instant communication devices and BWCs can help to make retail staff feel safer and more valued.
The ability of the police to respond is limited given the huge number of incidents. This means retailers largely have to fall back on their own resources. Investment in modern digital communications technology is one way to respond effectively to rising retail crime rates.
Hytera offers a wide portfolio of Digital Mobile Radio (DMR) devices for use on private DMR networks and Push-to-Talk over Cellular (PoC) devices, which operate over public cellular mobile phone networks. DMR and PoC devices provide instant, two-way PTT communications between groups of people simultaneously.
Radios ensure a much more efficient, reliable and secure way for retail staff to stay in contact than mobile phones, as staff can quickly alert each other in the event of an incident or potential threat. PTT devices are ideal for transmitting up-to-the minute intelligence such as the spotting of a known shoplifter, for example.
Bodycams help retail security staff operate more effectively and safely, as they can fill in surveillance gaps in fixed CCTV coverage while also providing PoC communications over LTE or Wi-Fi. Bodycams have been shown to deter aggression, as people tend to calm down if they know they are being filmed. This can help to reduce violence and abusive behaviour, as well as providing a deterrent to shoplifters and means of fending off false allegations.
Retail staff are under a lot of pressure in the run up to Christmas and they do not deserve to be subjected to violence or abuse. Hytera solutions not only keep retail staff better informed and better protected, they also enable them to work more effectively and safely.