Hytera Releases Ruggedized Push-to-talk Smartphone
Hytera Communications, a leading global provider of professional communications technologies and solutions, has recently released its latest Push-to-talk over Cellular (PoC) radio model PNC460 XRugged Smart Device. With open API, rugged hardware, and intuitive Push-to-talk (PTT), the PNC460 holds great potential and possibilities to unlock productivity in business operations and security.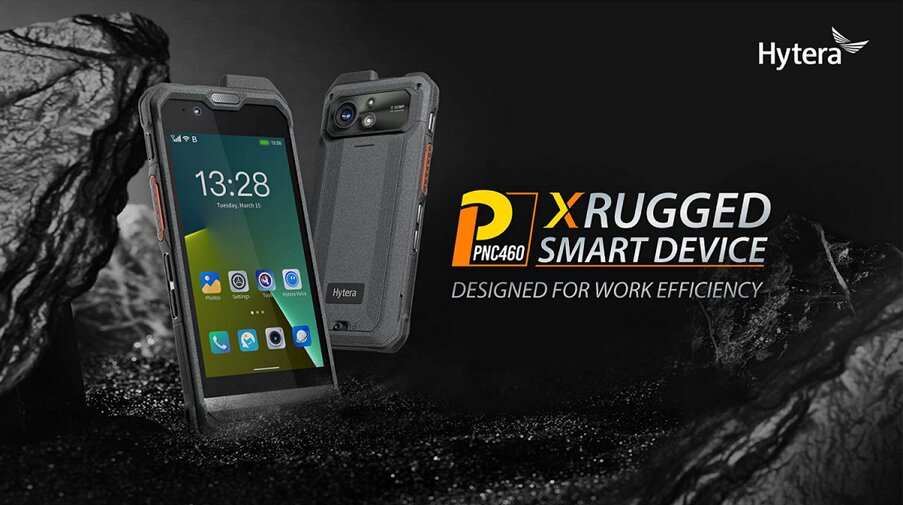 As a smartphone for professionals, the PNC460 operates on Android 12 with open API and easily runs 3rd-party Apps developed for specific multifaceted industries, for example, Apps for access control, courier delivery, utility maintenance, physical security, etc. The measuring tool kit developed by Hytera features a noise detector level, altimeter, plumb, pedometer, and protractor. This device offers a premium platform for the digitization of business operations, especially for mobile workforce management.
The PNC460 delivers intuitive and reliable push-to-talk (PTT) enabled by both hardware and software, which clearly differentiates it from the App-based PTT feature on consumer smartphones. The physical PTT button retains the iconic ease of use for two-way radios and ensures instant group calls especially in emergencies. Equipped with an external antenna, the PNC460 has a much higher RX capability to cope with weak cellular coverage areas and therefore ensures enhanced quality of voice calls. The 3W speaker, together with artificial intelligence (AI) noise cancellation, echo, wind and noise reduction, enables clear and loud audio in the noisiest of environments.
With decades of expertise and experience in designing and manufacturing ruggedized two-way radios for high-end sectors, Hytera gives the PNC460 a strong competitive edge over regular rugged devices in the market. With an IP68 rating, it is water resistant in 1.5 meters of freshwater for up to 30 minutes; it is also dust-proof without any extra cases or protections. The tough chassis and reinforced components survive stringent tests such as the shock of 1.5 meters drop on the hard floor and extreme temperatures (-20°C to +60°C). Staying Focused at work, employees can easily obtain reliable connectivity and communications with their teams and systems, even in harsh environments. Click here to learn more
About Hytera
Hytera Communications Corporation Limited is a leading global provider of professional communications technologies and solutions. With voice, video, and data capabilities, Hytera provides faster, safer, and more versatile connectivity for business and emergency deployment - making the world safer by enabling users to achieve more in daily operations and emergency response.