Syndico Recognised for Diamond Performance
CCW 2017, Syndico Distribution Limited, Southampton based UK distributor for Hytera Communication were recognised for outstanding performance on the biggest stage for PMR radio, being presented with the Hytera Diamond Award, recognising Syndico as the Distributor of the Year for 2016.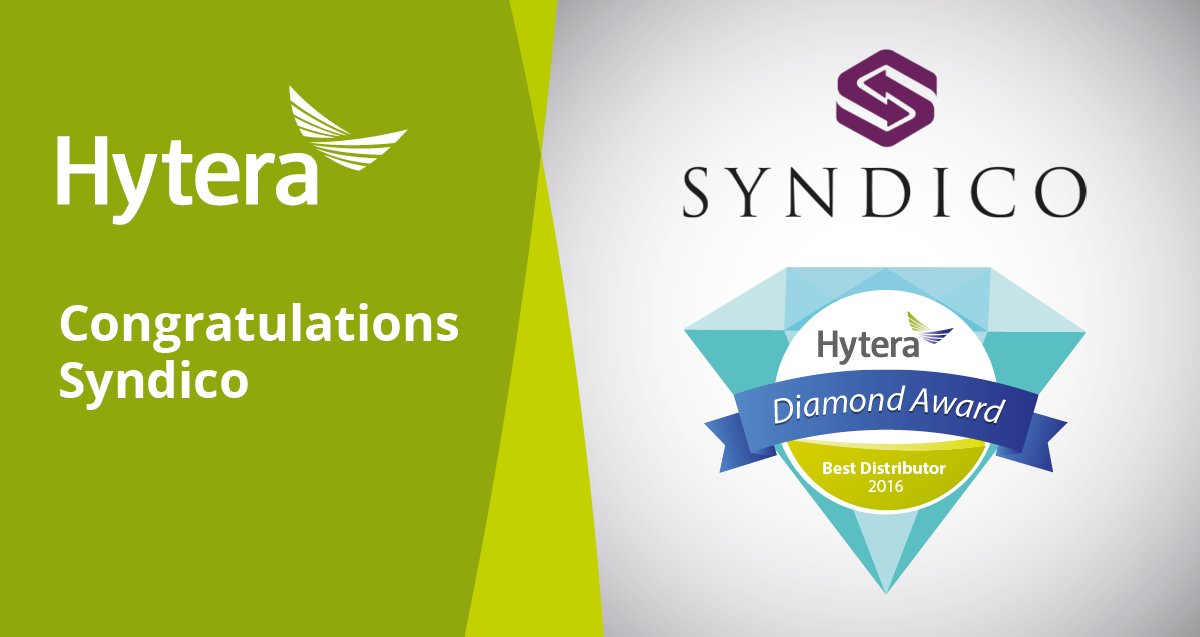 Hytera Communications is the second-largest PMR provider in the world and the world's fastest-growing PMR solution provider serving customers in over 120 countries and regions. For Syndico to win the prestigious Diamond Award, being recognised across the global Hytera Partner Network as the number one distributor for Hytera in just their third year of trading highlights their phenomenal performance.
"We are incredibly proud of this achievement and thrilled to be recognised by the global Hytera organisation with their highest partner honour. We have a whole team of diamonds here at Syndico and we intend to continue to work hard to support our reseller network and help them shine" comments Syndico Managing Director, Andrew Wilson.
"The innovative Hytera communication handsets and systems are being increasingly adopted by larger numbers of UK corporations, companies and public sector organisations looking to improve communication performance, operational security and productivity. The flexibility of the comprehensive Hytera portfolio and the trust we have in the quality of the solution allows us to confidently assist our reseller network to implement cutting-edge digital radio solutions in all-manner of business and mission critical applications". adds Andrew.
"It's been an extraordinary year of sales growth in the UK for Hytera. The team at Syndico have made an excellent commitment to growing the network of resellers for our products and we wanted to take this opportunity to recognise and thank them for their continued efforts and successes", comments Hytera Sales and Marketing Manager, Matthew Napier.
If you're a radio dealer interested in developing new business opportunities with Hytera products, get in touch with the Syndico team today - T - +44 (0)1489 287 287 E - syndico@syndico.net