April Fools - the new Hytera K965
Did we catch you out? Take a look at our April Fools joke below for the K965 Dog Collar Repeater.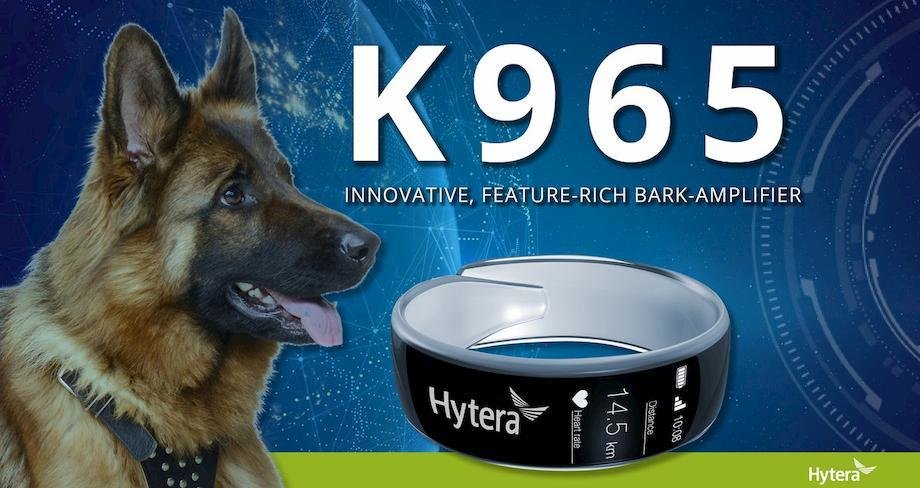 With an in-built bark-amplifier and canine health diagnostics, the new Hytera K965 can extend your DMR radio network and re-transmit critical messages with complete flexibility when the lightweight repeater collar is attached to your pooch.

Designed to withstand the elements, this IP67 certified device utilises the latest battery technology to deliver 14 hours of operating time. Boasting a dual microphone and powerful 4W speaker, the K965 can also transmit, broadcast and amplify dog barks to improve situational awareness. 40 bit enhanced encryption as standard ensures that any transmission is always secure.

With Dog GPS enabled, you can always keep track of your four-legged friend, whilst the Dog Down and Emergency Dog Alarm ensure that a message is raised if an incident were to occur, sending the location via the DMR data service to other Hytera radio users.

The K965 introduces, for the first time, a health diagnostics tracker. With sensors on the underside of the collar, algorithm-driven diagnostics provide in-depth health data in real time via the DMR network, automatically from the collar.
Simple to adjust, this universal collar repeater is easy to attach and comfortable for your dog, ideal for canine security and policing teams looking to extend their coverage, improving their communications and control.

To request more information about the Hytera K965 please e-mail marketing@hyterauk.co.uk with the subject line 'April Fools', or visit this RD965 page to learn more about our real, easy to deploy, outdoor repeater.