Highlights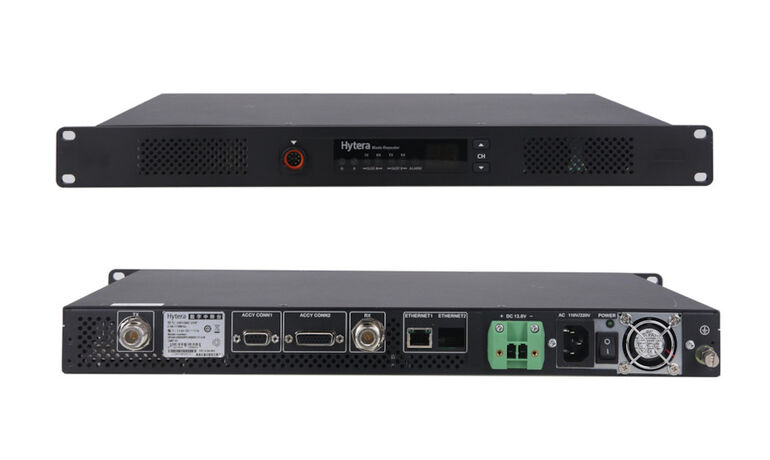 Channel Display
Display the channel number.
Power Input
Internal AC power supply with DC battery back-up allows operation during power failures (with trickle charging of lead batteries).
Ethernet
Ethernet port provides access to IP networks, allowing the HR106X to connect to other repeaters and application software for voice dispatching, AVL and messaging.
Antenna
Improved receiver sensitivity gives enhanced coverage and clearer audio compared to older products.
Functions
Ultra-thin Modular
The 1U height of the HR106X series makes it compact, thus reducing space requirements for installation.
Outstanding Performance
Enhanced version with additional co-processor provides increased processing speed to increase data processing.
Cost-effective network construction
The enhanced version of HR106X can support integrated router and SIP gateway functionality, requiring fewer devices and simplified management and offering a cost-effective solution.
Convenient Management
In the enhanced version a web-based repeater management platform has designed to simplify repeater management. Configuration, upgrade and real-time diagnosis can all be completed through a web browser, which is ideal for remote management.
Related products that work with the HR1065
DMR Applications
Technical Specifications
General
Frequency range

UHF: 400-470 MHz
VHF: 136-174 MHz

Channels & zones

Channel capacity: 1024
Zone capacity: 1
Channels per zone: 64

Channel spacing

Analogue: 12.5kHz/20kHz/25kHz
Digital: 12.5kHz

Supply voltage

DC +13.6 V ± 15% AC 100-240 V

Current consumption (DC)

standby DC: ≤0.9 A / AC: ≤0.35 A
transmitting DC: ≤12 A / AC: ≤1.2 A

Frequency stability

±0.5 ppm

Antenna impedance

50 Ω

Duty cycle

100%

Dimensions H x W x D

44 mm x 483 x 366 mm

Weight

5.8 kg

Ethernet port

1 x RJ45 Ethernet port (standard version)
2 x RJ45 Ethernet port (enhanced version)

USB port

1 x USB port (enhanced version)

Networking

Single-site repeater mode, IP Multi-site mode

Digital protocol

ETSI-TS102 361-1,-2,-3
Receiver
Sensitivity

Analogue: 0.18µV (12dB SINAD)
Analogue: 0.16µV (12dB SINAD) (typical)
Digital: 0.18µV / BER 5%

Adjacent channel selectivity

TIA-603: 65dB @12.5kHz / 75dB @20/25kHz
ETSI: 60 dB @12.5kHz / 70dB @20/25kHz

Intermodulation

TIA-603: 75 dB
ETSI: 70 dB

Spurious response rejection

TIA-603: 80 dB
ETSI: 80 dB

Blocking

90 dB

Hum and noise

40 dB @12.5kHz
43 dB @20kHz
45 dB @25kHz

Conducted spurious emission

@≤1GHz: ≤ -57 dBm
@>1GHz: ≤ -47 dBm

Rated audio distortion

<3%

Audio response

+1 to -3 dB
Transmiter
RF power output

5-50 W

FM modulation

11K0F3E @12.5kHz
14K0F3E @20kHz
16K0F3E @25kHz

4FSK digital modulation

12.5kHz data only: 7K60FXD
12.5kHz data and voice: 7K60FXW

Conducted/radiated emission

operating: -36dBm @<1GHz; -30dBm @>1GHz
standby: -57dBm @<1GHz, -47dBm @>1GHz

Modulation limiting

±2.5kHz @12.5kHz; ±4.0kHz @20kHz; ±5.0kHz @25kHz

FM hum and noise

40dB @12.5kHz; 43dB @20kHz; 45dB @25kHz

Adjacent channel power

60dB @12.5kHz; 70dB @20/25kHz

Audio response

+1 to -3 dB

Audio distortion

<3%

Digital vocoder type

AMBE+2™
Environmental
Operating temperature

-30°C to +60°C

Storage temperature

-40°C to +85°C