Highlights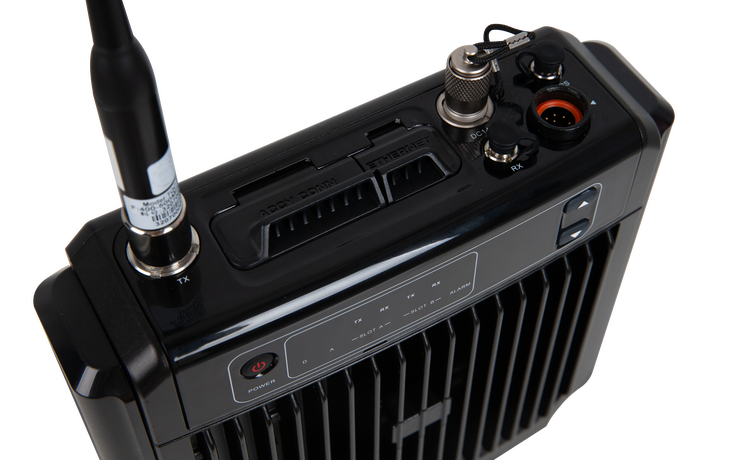 LED Indicator and Display
TX Antenna Duplexer Connector
Antenna
Channel/Volume Controls
Power Button
Accessory Connector
Ethernet Port
Rx Antenna Connector
Aviation Connector
GPS Antenna Connector
DC Power Input connector
Functions
Flexible Deployment
The innovative structural design gives the HR655 an unprecedented appearance and lightweight performance. With the compact body and built-in duplexer, the HR655 greatly conserves space. With tailored installation accessories, flexible installation can be achieved on sites with challenging space availability. Site installation is possible as long as there is a wall or flat surface. For indoor coverage, the super slim size of the HR655 minimises the requirements for the site and provides trustworthy voice and data communications as well as offering unlimited connections on each floor which are the keys to achieving your business success.
IP Connect
From the dual or multi channel single site DMR conventional system for low-rise buildings to IP Multi-site system for high-rise buildings, the HR655 delivers a powerful and stable signal to every corner of your workplace. It can also interconnect with other model repeaters from Hytera, building a tailored network to meet your variable requirements.
High Reliability
Designed to operate on an AC power source or an optional battery, the HR655 can keep running in the event of a power outage. When it connects to the AC power supply, the battery works as a backup. In case of an outage, the 12.5Ah battery is ready to power the HR655 for up to nine hours of backup time. This power backup solution reduces the capital investment and maintenance for adding UPS power equipment.
Smooth Transition
The HR655 can operate in analogue mode, DMR mode, or dynamic mixed digital/analogue mode, which automatically switches between analogue and digital based on the call it receives. The HR655 can ensure that your original analogue radio continues to be connected to the DMR network and protect your legacy system investment to the greatest extent.
Convenient Management
Thanks to the Extended Network Management System (XNMS), you can remotely monitor the operation status and alarms of the HR655 in real time, or update the configuration in minutes. This dramatically reduces the time and resources required to maintain various, dispersed repeaters.
Long Battery Life
The HR655 can be equipped with a 12.5Ah large-capacity battery for use in outdoor scenarios, which can provide up to 9 hours of power supply under the RF power output of 10W. Even if the device is used at 50% duty cycle at 25W full power, the HR655 can still guarantee 4 hours of uninterrupted work protection, providing you with a lasting, uninterrupted communication guarantee.
Antenna
Carrying
Battery
Charger & Power
Mounting
Cables
Audio
Related products that work with the HR655
DMR Applications
Technical Specifications
General
Frequency range

400-470 MHz
136-174 MHz

Channels & zones

Channel capacity: 1024
Zone capacity: 1
Channels per zone: 64

Channel spacing

Analogue: 12.5kHz/20kHz/25kHz
Digital: 12.5kHz

Operating voltage

DC: 14.4 V ±15%

Current consumption (DC)

Standby: <0.35A
Transmitting: <6A

Battery

12.5 Ah (optional)

Battery life (50-50 duty cycle)

High power 25W version: 4 hours
Low power 10W version: 9 hours

Frequency stability

±0.5 ppm

Antenna impedance

50 Ω

Duty cycle

100%

Dimensions H x W x D

High power 25W version: 201 mm x 211 mm x 80.6 mm (with fan)
Low power 10W version: 201 mm x 211 mm x 65.8 mm

Weight

High power 25W Version: 2.0 kg
Low power 10W Version: 1.9 kg

Networking

Single-site repeater mode, IP Multi-site mode

Digital protocol

ETSI-TS102 361-1,-2,-3
Receiver
Sensitivity

Analogue: 0.18µV (12dB SINAD)
Analogue: 0.16µV (12dB SINAD) (typical)
Digital: 0.18µV / BER 5%

Adjacent channel selectivity

TIA-603: 65dB @12.5kHz / 75dB @20/25kHz
ETSI: 60 dB @12.5kHz / 70dB @20/25kHz

Intermodulation

TIA-603: 75 dB
ETSI: 70 dB

Spurious response rejection

TIA-603: 80 dB
ETSI: 80 dB

Blocking

90 dB

Hum and noise

40 dB @12.5kHz
43 dB @20kHz
45 dB @25kHz

Conducted spurious emission

@≤1GHz: ≤ -57 dBm
@>1GHz: ≤ -47 dBm

Rated audio distortion

<3%

Audio response

+1 to -3 dB
Transmitter
RF power output

High power 25W version: 1-25W
Low power 10W version: 1-10W

FM modulation

11K0F3E @12.5kHz
14K0F3E @20kHz
16K0F3E @25kHz

4FSK digital modulation

12.5kHz data only: 7K60FXD
12.5kHz data and voice: 7K60FXW

Conducted/radiated emission

operating: -36dBm @<1GHz; -30dBm @>1GHz
standby: -57dBm @<1GHz, -47dBm @>1GHz

Modulation limiting

±2.5kHz @12.5kHz; ±4.0kHz @20kHz; ±5.0kHz @25kHz

FM hum and noise

40dB @12.5kHz; 43dB @20kHz; 45dB @25kHz

Adjacent channel power

60dB @12.5kHz; 70dB @20/25kHz

Audio distortion

<3%

Digital vocoder type

AMBE+2™
Environmental
Operating temperature

-30°C to +60°C

Storage temperature

-40°C to +85°C

ESD

IEC 61000-4-2 (level 4)
±8 kV (contact)
±15 kV (air)

Ingress protection (IEC60529)

High power 25W version: IP54
Low power 10W version: IP67

Humidity

Per MIL-STD-810G standard
Location Service
GNSS

GPS, GPS+BDS

TTFF (time to first fix) cold start

< 1 minute

TTFF (time to first fix) hot start

< 10 seconds

Horizontal accuracy

< 5 meters

RX sensitivity

95% value at rated > -130 dBm (signal strength visible to 5 satellites)