Highlights

Versatile Operation
The PT580H Plus S provides rapid access to the TETRA radio network in trunked mode (TMO), communicates between radios in direct mode (DMO) and can also boost the area of operation via DMO Repeater mode (licensed)
Safer Workforce
Protecting the user with lone worker, man down alarm and emergency alarm features
Dustproof and Waterproof
IP67 rating for ingress protection, withstanding submersion in 1 metre of fresh water for a duration of up to 30 minutes
Voice and Data Services
Thanks to the integrated GPS function precise positioning is available, as well as many other voice and data services according to the TETRA standard
Clear Communication
The PT580H Plus features an advanced audio chip with the latest noise cancelling capability. Users working in noisy environments therefore benefit from excellent audio quality
Functions
RF Power
High 3W transmit power to improve coverage without the need for an additional license.
Full Call Out
Use the radio as a pager with integrated resource management function.
OTAP (Over The Air Programming)
Make adjustments to the existing programming of the radio using the free OTAP application.
Passwords, PINs and Encryption
Protect your workforce against evesdropping or "man in the middle" attacks by applying a PIN/PUK at switch on, protect the programming with a password and use Air Interface Encryption and End to End Encryption.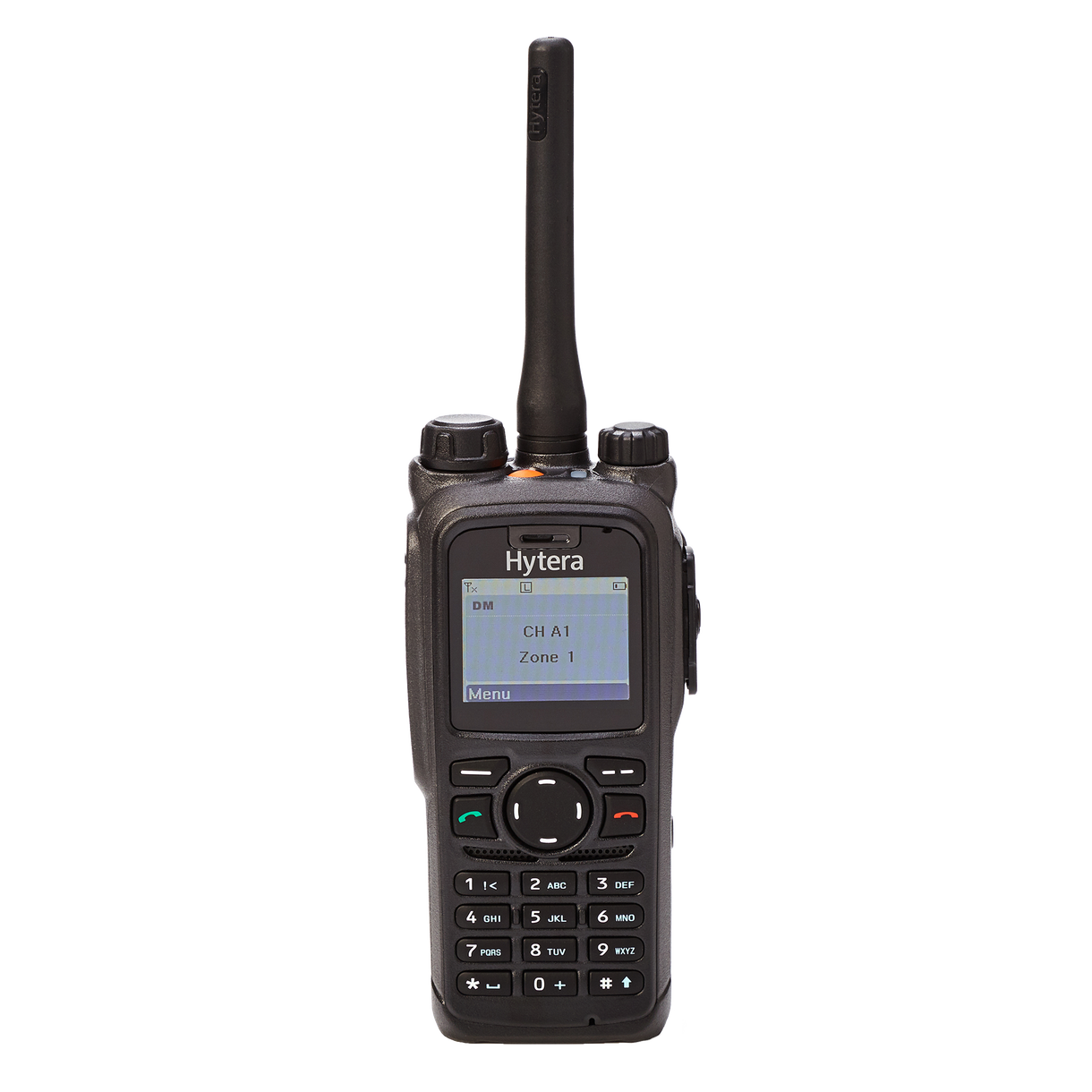 Status Remote Control:
Control the radio remotely by sending it specific status messages.
Man Down
Keep your workforce safer and let the radio generate an alarm when it does not move or is tilted over the programmed angle.
Accessories for PT580H PLUS
Antenna
Battery
Charger & Power
Audio
Car Kit
Carrying
Mounting
Cables
Related products that work with the PT580H PLUS
Technical Specifications
General
Frequency Range

F3 : 380 - 430MHz F4 : 405 - 475MHz

Battery Life

1800mAh, 20hr

Dimensions(W×H×D)

127.5 x 55 x 36.5 (mm)

Weight

374g (with standard battery and antenna)

Display

160 x 128 pixels, 65536 colors 1.8 inch, 4 rows

Keypad

Full keypad

Programmable Buttons

23
User Interface
Display

1.8inch, 160*128 pixels, 65536 colors

Talk Group-TMO

6000

Talk Group-DMO

4000

Telephone book

2000

Inbox

400

Outbox

50

Drafts

50

Folder-TMO

200

Folder-DMO

50

State Message

200
RF Specifications
Channel Bandwidth

25KHz

RF Power Output

3W(1.8W For 806-870MHz)

RF Power Level Accuracy

±2dB

RF Power Control

5dB per step, 5 levels and 4 steps in total

Receiver Class

ETSI EN 392-2/396-2 Class A and Class B

RX Sensitivity(Static)

≤-116dBm(typical-118dBm) 806-870MHz: ≤-115dBm(typical-116dBm)

RX Sensitivity(Dynamic)

≤-107dBm(typical-109dBm) 806-870MHz: ≤-106dBm(typical-107dBm)

Audio Power Output

2W(Peak 3W)
GPS Specifications (For the Model with GPS)
RX Sensitivity

Acquisition sensitivity: -146dBm Tracking sensitivity: -165dBm

Horizontal Position Accuracy

≤2.5m (50% probable)@-130dBm

Cold Start (Time to First Fix)

<35s

Hot Start (Time to First Fix)

<1s

Note

Conditions: Open Sky environment, 130dBm signal strength, 24H static
Environmental
Operating Temperature

-30℃ ~ +60℃

Storage Temperature

-40℃ ~ +85℃

Humidity

ETS 300-019-1-7 Class 7.3E MIL-STD-810 G

Dust & Water Protection

IP65/66/67/68 Per IEC60529

Vibration,Drop & Shock

MIL-STD-810 G ETS 300-019-1-7 Class 5M3 GJB150A-2009