Highlights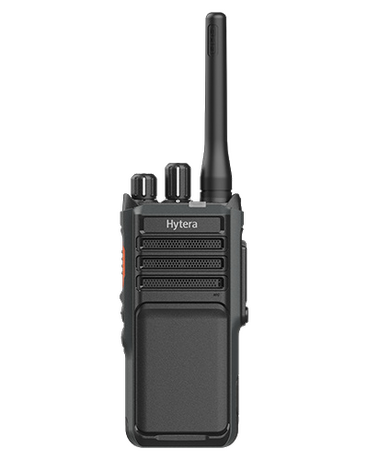 Two knobs on top
Separate knobs for channel selection and on/off/volume
Accessory Connector
Anti-counterfeit 13-pin flat connector
Universal Type-C Port
Recharge the battery using a standard USB cable and power adapter, power bank or car charger. The radio is also programmed and upgraded via this port.
Powerful Speaker
for a high volume that still makes communication possible even with strong ambient noise levels
Durable Plastic Rubber Keys
with excellent abrasion and heat resistance
High Sensitivity
With the 0.18µV (-122dBm) sensitivity, the HP5 Series ensures stable push-to-talk voice calls even at the far edge of coverage.
High Reliability
HP5 series is IP67-graded water-proof and dust-proof and meets stringent MIL-STD-810G military requirements for protection against vibration, 1.5-meter drops, extreme temperature, etc
GPS Antenna
Due to the built-in GPS antenna, only a simple baseband antenna is required.
Functions
Crisp, clear audio
Crystal-clear audio in any environment, thanks to AI-based noise cancellation. Suppresses any annoying feedback howling and unwanted ambient noises.
Break through the distance
With 0.18 µV (-122 dBm) sensitivity, the HP5 series provides exceptional communication coverage. It ensures reliable communications even with weak signals at the edge of coverage.
Universal Type-C port
Just share the same USB data cable with your smartphone, then you can charge your radio with a power bank or car charger, or program and upgrade your radio.
BT, wirelessly, conveniently
Optional BT 5.2 capability,using BT audio accessories. Allows to pair the radio with smartphone, using the Hytool Radio Manager App for radio programming.
Track your people and device anywhere
Provides updates to a dispatcher, thanks to the optional GPS, BDS and GLONASS positioning systems. The radio position is automatically sent with the emergency call.
Easier to use
Dedicated dual knobs for volume and channel controls. Install or remove the belt clip more easily without screws. The enlarged LED indicator allows you to know the radio status at a glance, no matter whether the radio is in your hand or on your shoulder or waist.
Rugged reliability
The radio housing is made of polycarbonate with excellent abrasion and heat resistance. IP67-rated and meets stringent MIL-STD-810G for protecting against dust, water, vibrations, 1.5 meter drops, extreme temperatures, and more.
Antenna
Charger & Power
Mounting
Carrying
Audio
Cables
Battery
Related products that work with the HP505
Technical Specifications
General
Frequency range

UHF: 400-470 MHz
VHF: 136-174 MHz

Channels & zones

Channel capacity: 256
Zone capacity: 16
Channels per zone: 16

Channel spacing

Analogue: 12.5kHz/20kHz/25kHz
Digital: 12.5kHz

Operating voltage

7.4 V

Battery

1500 mAh Li-ion

Battery life (5-5-90 duty cycle)

GNSS disabled: 15 hours
GNSS enabled: 13 hours

Frequency stability

±0.5 ppm

Antenna impedance

50 Ω

Dimensions

119 mm x 55 mm x 30.5 mm

Weight

265 g

Bluetooth (optional)

BT V5.2 BLE+EDR
Receiver
Sensitivity

Analogue: 0.18µV (12dB SINAD)
Analogue: 0.16µV (12dB SINAD) (typical)
Digital: 0.18µV / BER 5%

Selectivity

TIA-603: 60dB @12.5kHz / 70dB @20/25kHz
ETSI: 60 dB @12.5kHz / 70dB @20/25kHz

Intermodulation

TIA-603: 70 dB
ETSI: 65 dB

Spurious response rejection

TIA-603: 70 dB
ETSI: 70 dB

Blocking

TIA-603: 80 dB
ETSI: 84 dB

Hum and noise

40 dB @12.5kHz
43 dB @20kHz
45 dB @25kHz

Rated audio power output

0.5 W

Rated audio distortion

<3%

Audio response

+1 to -3 dB

Conducted spurious emission

< -57 dBm
Transmitter
RF power output

UHF: 1W / 4W
VHF: 1W / 5W

FM modulation

11K0F3E @12.5kHz
14K0F3E @20kHz
16K0F3E @25kHz

4FSK digital modulation

12.5kHz data only: 7K60FXD
12.5kHz data and voice: 7K60FXW

Conducted/radiated emission

-36dBm @<1GHz; -30dBm @>1GHz

Modulation limiting

±2.5kHz @12.5kHz; ±4.0kHz @20kHz; ±5.0kHz @25kHz

FM hum and noise

40dB @12.5kHz; 43dB @20kHz; 45dB @25kHz

Adjacent channel power

60dB @12.5kHz; 70dB @20/25kHz

Audio distortion

<3%

Digital vocoder type

AMBE+2™

Digital protocol

ETSI-TS102 361-1,-2,-3
Environmental
Operating temperature

-30°C to +60°C (radio only / battery: -20 ℃)

Storage temperature

-40°C to +85°C

ESD

IEC 61000-4-2 (level 4)
±8 kV (contact)
±15 kV (air)

Ingress protection

IEC60529 - IP67

Drop, shock and vibration

per MIL-STD-810 H standard

Humidity

per MIL-STD-810 H standard
Location Service
GNSS

GPS, GPS+GLONASS, GPS+BDS

TTFF (time to first fix) cold start

< 1 minute

TTFF (time to first fix) hot start

< 10 seconds

Horizontal accuracy

< 5 meters