Highlights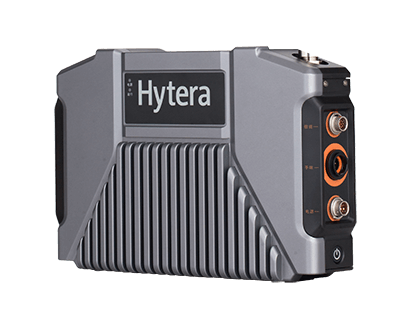 Power Indicator (Power is connected to the E-Pack)
Work Status Indicator (Indicates normal working or alarm mode)
Data Interface (For programming or network connections)
Palm Microphone Jack (For local operation)
Power Supply Accessory Port (To connect Power Adaptor to charge the battery or power externally without battery)
Antenna Port
On/Off Button
Functions
Wireless Mobile Ad-Hoc Networking
The Hytera E-Pack can create a wireless ad-hoc network, in which there are a maximum of 31 nodes. The ad-hoc network is self-configuring and dynamic in which E-Pack nodes are free to move.
Fast Deployment
Based on wireless mobile ad-hoc networking, the Hytera E-Pack is capable of creating and joining networks to deploy the communication system as soon as it is powered on.
Reliable Quality
Hytera E-pack is strictly compliant with MIL-STD-810 C/D/E/F/G standards and water and dust-proof rating to IP67, ensuring outstanding performance even in harsh environments.
Blind Area Coverage
Due to the high output power of the E-pack, communications will not be affected by the topology of the area, different floors or obstacles etc.
Accessories for E-Pack 100 DMR
Battery
Charger & Power
Antenna
Cables
Audio
Mounting
Carrying
Related products that work with the E-Pack 100 DMR
Technical Specifications
General
Frequency

136-174 MHz 410 - 470 MHz

Protocol

DMR Tier ll

Networking capacity

31

Operating bandwidth

25KHz

Channel spacing

12.5k

Tx Power

5/10/20W Adjustable

Rated voltage

DC 14.8V

Battery capacity

185WH

Charging time

Rapid charge 2h 80%; 3h fully charged

Battery life

About 10 hours (15–85 duty cycle)

Vocoder type

AMBE++/NVOC

Frequency stability

±0.5ppm

American military standard

MIL-STD-810 C/D/E/F/G

Dust & water intrusion

IP67

Antenna impedance

50Ω

Dimensions (LxWxD)

295 x 187 x 68mm

Weight

3.6Kg (with battery)

Storage temperature

-40 °C to +85°C

Operating temperature

-30°C to +60°C