IP Ratings Explained - Which Radio is Right for me?
IP standards (Ingress Protection), were established by the International Electrotechnical Commission (IEC),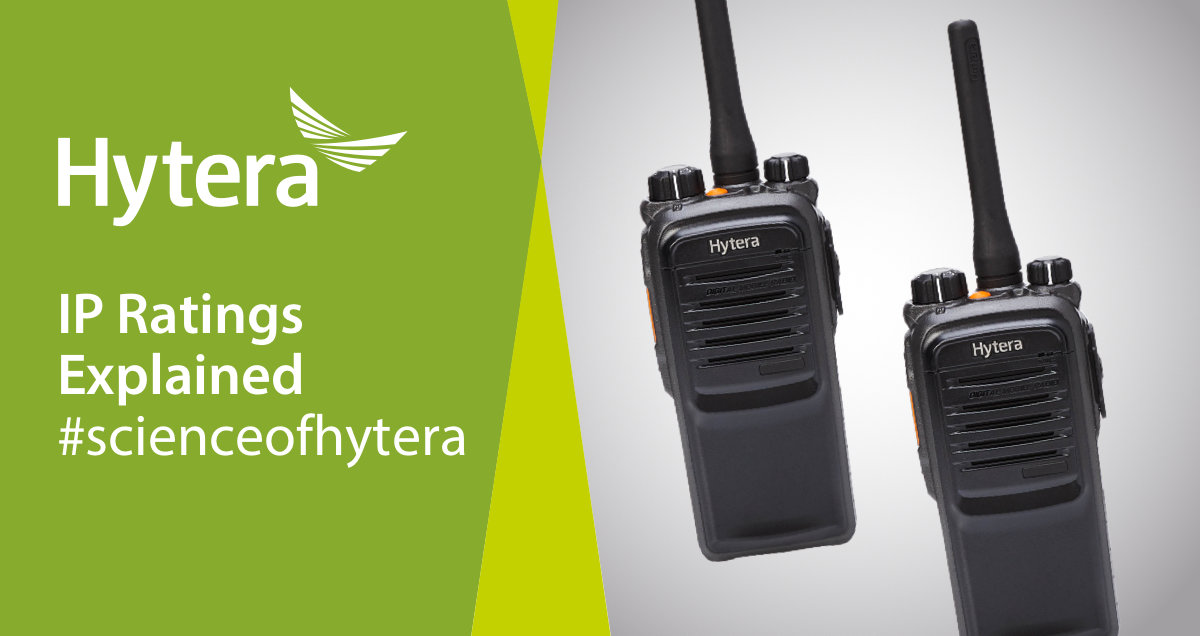 The IP rating system provides a two-digit code, against which the degree of protection afforded to a device like a two-way radio enclosure, for the entry of solids and liquids which could damage the internal electrical circuitry.

This information is important to know when considering the most suitable two-way radio for your environment.
All Hytera radios, designed for professional and commercial purposes, are subjected to rigorous testing to determine their IP rating.
The first digit indicates how well the design resists foreign materials getting into a device – 0 indicates no protection, with level 6 keeping out the finest of dust particulates:
| | |
| --- | --- |
| Level | Description |
| 0 | No special protection |
| 1 | Protected against objects greater than 50 mm in diameter |
| 2 | Protected against objects greater than 12.5 mm in diameter |
| 3 | Protected against objects greater than 2.5 mm in diameter (tools/thick wires) |
| 4 | Protected against objects larger than 1mm (wires/screws or large ants) |
| 5 | Dust protected – not entirely prevented but cannot enter in sufficient quantity to interfere with the operation of the equipment |
| 6 | Complete protection (dust tight) |
The second digit shows resistance to liquid ingress. A rating of '8' indicates that a device will still function correctly after submersion to 1 m for 30 minutes.
| | |
| --- | --- |
| Level | Description |
| 0 | None |
| 1 | Protected against dripping water (vertically falling drops) |
| 2 | Protected against dripping water (when tilted at 15 degrees) |
| 3 | Protected against spraying water (at any angle up to 60 degrees) |
| 4 | Protected against splashing water |
| 5 | Protected against low pressure water jets |
| 6 | Protected against powerful water jets and waves |
| 7 | Protected against temporary immersion (up to 1 metre in depth) for up to 30 minutes |
| 8 | Protected against prolonged immersion under pressure (beyond 1 metre) |
Note: Liquid ingress testing refers to fresh water only.
The good news is that with Hytera, you can guarantee that your radio will always provide a base level of water and dust protection, as all of our devices achieve at least the IP54 rating.
Where equipment is operated outdoors or in more challenging industrial environments, our premium radios and portable-repeaters achieve some of the highest IP ratings in the industry, IP67 and even IP68, protecting against full water submersion at 1 metre for 30 minutes.
But that's not all. Hytera handsets are manufactured utilising materials which provide a high vibration tolerance and undergo minimal expansion and retraction in extreme temperatures. Furthermore, our innovative manufacturing techniques ensure the circuit board and components are designed and produced to assure maximum reliability and durability in most usage scenarios, withstanding drops and meeting a variety of military standards.
To discover more about how Hytera handsets are rigorously designed to perform in the most demanding environments, contact an authorised Hytera Dealer.