Two-way Radio Considerations for Security Personnel
In this blog we discuss the challenges facing security teams and what to consider when upgrading your communications.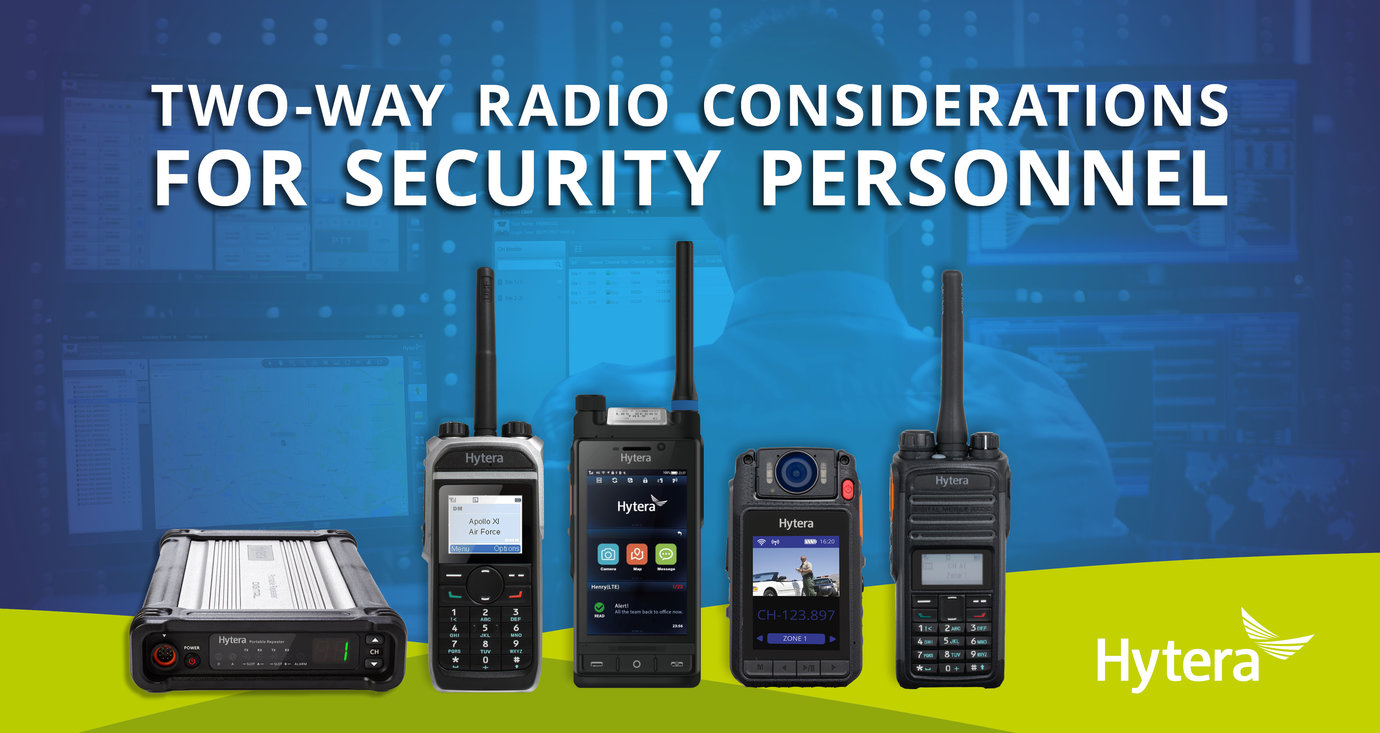 Being a security guard can be a risky job, so it is important to be properly equipped and to have the right level of protection. Nothing quite fulfils those two requirements like a robust and reliable professional mobile radio (PMR).
Two-way radios can save the life of security personnel or enable a user to save the lives of others by connecting them immediately to colleagues, controllers or first responders and enabling them to take part in a co-ordinated response to any incident.
Deciding which radio and feature set is right for the job will depend on the nature of the role and the perceived level of risk involved. The security industry covers a wide range of job specs and activities, some of which involve working in teams, others will require security personnel to work alone.
Challenges facing security guards
Due to the nature of the job, security personnel can face the prospect of injury or potentially life threatening situations every day. Some jobs require them to remain alert and on their feet for long hours at time, which can be physically demanding.
They have key roles to play in incident response plans for corporations, the education sector and for civic organisations, such as executing lockdown procedures in the event of a threatened or real attack.
The increase in terrorism has changed the threat landscape, as recent attacks on soft targets in the UK, France, Belgium and Germany have made all too clear. Security personnel therefore have to shoulder a great deal more responsibility in the light of this kind of threat.
The private security industry continues to grow, but the sector is being impacted by changes in technology, as traditional manned security joins hands with information technology. The 'guard on the gate' is being complemented (and sometimes replaced) by remote electronic access control systems, CCTV and a variety of alarms triggered by sensors.
But two-way radios can play an enhanced role here by being integrated seamlessly into these kinds of IT and video systems, enabling security personnel on the ground to react faster to any incident, thereby providing a more capable and proactive response for their clients.
What to think about when selecting your next security radio
The good news is Hytera's range of Digital Mobile Radio (DMR) terminals, repeaters and accessories has a solution for every kind of security role from the simplest, lowest risk security patrol to high-risk, front line roles.
Having good quality, reliable communication technology provides both security staff and the people and assets they are guarding with better protection. Good technology can also help a security company differentiate itself in a market notorious for lowest price wins the job by helping to promote added value to customers with the provision of better quality services.
Many countries impose legal 'duty of care' obligations on employers. Employers are required to carry out risk assessments and draw up strategies to provide as safe a working environment as possible for their staff, especially lone workers. A key part of the strategy will be to provide personnel with the appropriate equipment, including communication devices.
It might be tempting for initial cost reasons to rely on cellular mobile phones, but this may prove to be a false economy. Professional digital radios from Hytera offer much more than a traditional walkie-talkie.
In addition to instant push-to-talk communications and priority access, they deliver enhanced safety features including Lone Worker, Man Down and GPS location-based services capable of transmitting an alert to an alarm-receiving or dispatch centre, which may also be connected to a police response.
These safety features provide security personnel with added protection by automatically sending alerts if the individual does not respond to an inquiry within an allotted time (Lone Worker), or if the radio tilts beyond a certain angle should the user fall over or become incapacitated (Man Down). GPS information can send a location to control to help locate the individual quickly, whilst also alerting other team members.
Private PMR systems also have the advantage over other public and cellular mobile systems as they can be designed to provide the required coverage and capacity exactly where it is needed. They also provide high levels of network security, availability, resilience and redundancy – all of which can be tailored to the end user's requirements, unlike mobile phone networks.
PMR systems also provide a much wider range of call options compared with the one-to-one calls available on cellular networks, including individual calls, one-to-many group calls and broadcasts to the whole network of users.
This isn't to say that you can't have the best of both worlds if you want it. Modern gateway solutions can extend PMR networks by interconnecting them with broadband cellular mobile networks, enabling voice traffic (and messaging) with non-radio users on their smartphones via a push-to-talk app.
PMR terminals are also much more rugged and robust than most cellular mobile phones. They provide far greater protection against dust and water intrusion and vibration and shock (drop resistance). This means the radio terminal is likely to last a lot longer than a smartphone and is able to operate in harsh environments.
DMR terminals also operate at higher power levels, which enables them to provide both a louder audio and a clearer one thanks to background noise cancelling technology. This is particularly important for security personnel working in noisy industrial environments, at a football match or rock concert, for example.
In the next blog we will take a closer look at some of the Hytera terminal options, features and accessories appropriate to security guard jobs.
To start your communication upgrade head over to our product selector to discover our range of devices and speak to an authorised Hytera partner to discuss your requirements.