Hytera headlines as a Gold sponsor at BAPCO 2022 exhibition
BAPCO continues to be the UK's most important event for the public safety technology sector with its platform for professionals to exchange and learn about the latest innovations and developments.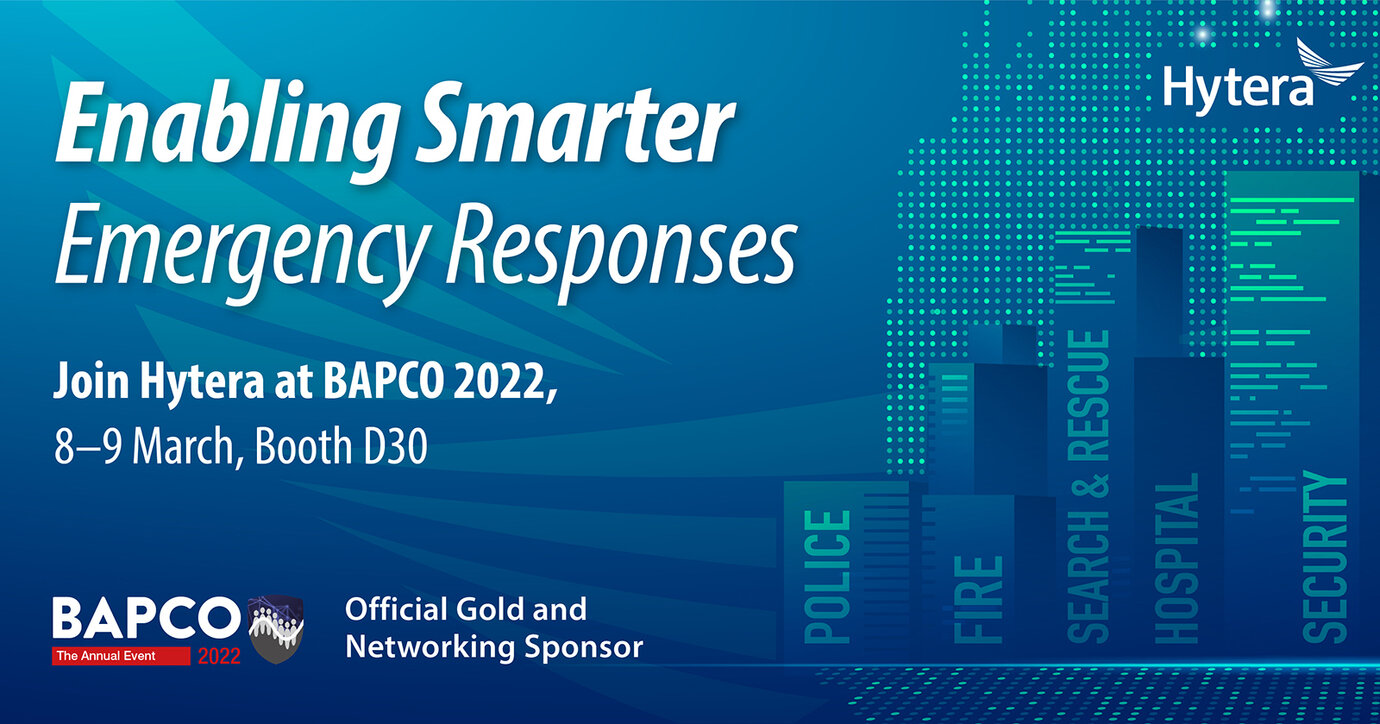 Hytera presents an extended theme this year that continues to amplify their brand story. Hytera's theme on 'Enabling Smarter emergency responses' is aimed at demonstrating their commitment to providing innovative communications solutions for the fire, law enforcement, ambulance, and emergency service sectors.
Visit Hytera's booth at D30 to discover solutions aimed at delivering on professional communications designed to give emergency responders access to technology that delivers on voice, video and data solutions for enhanced situational awareness and increased safety.
Exciting New Product Launches at BAPCO
Look out for an impressive catalogue of exciting new product launches, including the new VM750D Body worn camera, the new PDM680 Multi-mode, E-pole equipment for coverage extension in harsh environments, and the Next Generation H series DMR range (Digital Mobile Radio). Hytera will also Introduce the new AP and BP Business Radio Series and the new PNC360s POC.
Visit Hytera's booth for product demonstrations and expertise on the best-fit solutions for mission and business critical scenarios.
Hytera's Speaker and Panel Sessions at BAPCO
You can also catch Hytera's speaker session on Deploying reliable communications for emergency operations with Tactical Broadband Networks scheduled for 8th March at 12:15pm by Mark Brandstatter, Broadband Manager, Hytera Communications Europe.
Our very own Emergency solutions expert and Head of Product Management (Europe), Chris Cant will join the show's speaker panel discussions on Technical Interoperability on Tuesday 8th March at 12:00.
Hytera is also the exclusive sponsor of BAPCO's Networking Lounge which is located just opposite to the Hytera Stand.
Join Hytera at BAPCO on the 8th and 9th of March at Booth D30.
For more details or to book a booth tour, email info@hytera-europe.com or visit Hytera-europe.com
Book an appointment to discuss your communications requirements at BAPCO 2022