Intrinsically Safe
How two-way radios can meet the demanding requirements of operation in 'ia' intrinsically safe, Zone 0 highly explosive environments.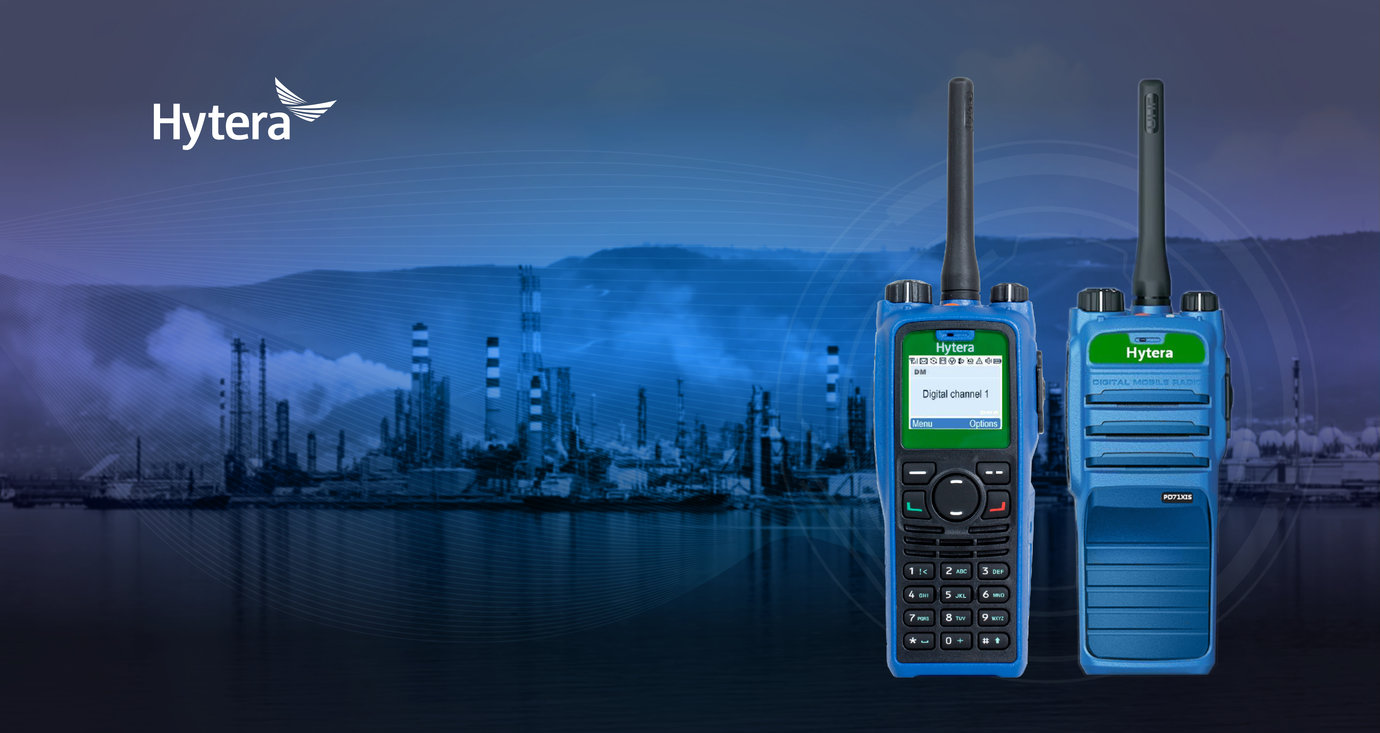 ATEX radios support a number of industries which involve personnel working in environments containing potentially explosive liquids, dust or gases. Principal among these are the oil and gas, petrochemical and mining industries, along with a variety manufacturing and processing industries. Critical infrastructure such as airports and ports also store fuel for aircraft and shipping.
These industries and industrial processes are operated under highly regulated conditions designed to meet stringent health and safety rules to protect workers, the facilities, the surrounding population and the wider general environment. Safety is of paramount importance. It is essential that equipment used in these industries does not provide an ignition source such as a spark that might cause an explosion. Electronic equipment, including communication equipment, used in these industries must therefore be 'intrinsically safe'.
Intrinsically safe equipment is defined as "equipment and wiring which is incapable of releasing sufficient electrical or thermal energy under normal or abnormal conditions to cause ignition of a specific hazardous atmospheric mixture in its most easily ignited concentration."
The standards for intrinsically safe radios and accessories are set in Europe by two EU ATEX (Appareils destinés à être utilisés en ATmosphères EXplosibles) directives, which describe what equipment and work environment is allowed in an environment with an explosive atmosphere. The other key standard is the IECEx (International Electrotechnical Commission Ex) system for certification to standards relating to equipment for use in explosive atmospheres. The two standards set out the criteria any two-way radio must meet for safe usage in an intrinsically safe environment. Hytera offers both DMR and TETRA intrinsically safe hand portable radios in its portfolio, which meet ATEX and IECEx certifications. In the DMR range it has the PD715EX (ib) without keypad or display screen; and the PD795Ex (ib) and PD795IS (ia) offering a full keypad and 1.8-inch display screen.
In the TETRA range, Hytera offers the PT790Ex (ia) TETRA ATEX handheld radio. All the radios are also MILSTD-810 C/D/E/F/G certified for resistance to drops, thermal shock and vibration and IP67 rated for dust and moisture protection.
The Hytera PD715IS and PD795IS terminals are the first DMR handsets in the world to achieve 'ia' classification, the strictest level of intrinsically safe protection available, whilst the PT790Ex was the first TETRA device to achieve 'ia' standard. The 'ia' certification means the radio circuit has three protective measures, allowing for the occurrence of two faults during operation without risking user safety. This means it can be used in Intrinsically Safe Zones 0, 1 and 2 areas.
Other ATEX radios are 'ib' certified for use in Intrinsically Safe Zones 1 and 2 areas only. Zone 0 (or 20) is defined as: an area with very high levels of hazardous product present continuously; Zone 1 (or 21) as one with high levels present intermittently; and Zone 2 (or 22) as one with normal levels present abnormally. The 'ia' certification is a demanding one to meet, but Hytera has become the first, and so far only, PMR manufacturer to produce ATEX radios to this toughest of standards. The PD795IS DMR radio meets the following IS certifications: Ex ia IIC T3Ga; Ex ia IIIC T160C; and Ex ia I. Hytera has been able to meet the stringent 'ia' certification by introducing a number of innovative design solutions. One of these is the use of silicone encapsulation technology to provide triple protection of the internal circuits to ensure they are not exposed to intrusion by liquid, inflammable dust or explosive gas.
Hytera has implemented a strict PCB (printed circuit board) design whereby all key components are covered with a shield to minimise the circuit fault probability. The radios also feature a higher EMC (electromagnetic compatibility) performance than previous models. The light shell of the ATEX radios uses a patented dual-material moulding technology designed to reduce the possibility of static discharge from the radio. The rear part of the terminal battery and both sides of the shell feature a skid-proof design to prevent dropping and ensure easy grab.
The 1800mAh large capacity Li-ion batteries feature strict overcharge and over-discharge protection to protect them against instability caused by overheating. The battery cells are also encapsulated to redistribute single point heat build up and prevent air discharge as well. Hytera has also turned its attention to accessories and has invented a new, patented battery latch design. To disengage the battery from the radio the user has to move the lock and bolt of the latch along two different axes. This design ensures the battery does not fall while being disengaged, avoiding a drop that might cause a spark.
Finally, to minimise the possibility of a discharge at the belt clip, the screws for fastening the belt clip are countersunk. If the radio should ever be dropped, the screws will not contact any surface; ground or metal surface, that can result in sparking and explosion! Hytera's range of intrinsically safe DMR and TETRA radios provide the perfect robust, reliable and intrinsically safe communication device for firemen and workers in oil and gas, petrochemical, mining and processing and manufacturing industries; such as flour and powder. They are also ideal for jobs involving the use or storage of hazardous liquids or gases at petrol stations, airports, ports and the like.
For more information on Hytera's intrinsically safe radios and accessories contact Hytera's Authorised Dealer.