Highlights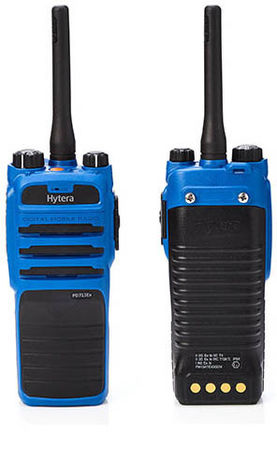 Innovative Construction
Both the radio and the battery are encapsulated to ensure that all internal connections are protected and sealed off from dangerous explosive gases and dust particles
Fail-safe Design
Batteries or accessories with a lower level of protection automatically trigger an alarm, whilst a patented latch ensures the battery remains securely attached even when knocked or dropped
GPS Location
Positioning and tracking as standard, also including man down feature
Rugged and Reliable
Dust and waterproof, rated IP67, sustaining performance in harsh environments
Clear Communication
Thanks to the latest audio processing technology and in-built speaker, the PD715Ex offers you outstanding audio quality and noise cancellation
Functions
Priority Interrupt
Send a priority transmission to interrupt other calls, ideal for important, critical messages.
Pseudo Trunking
Using pseudo-trunking, a Hytera patented technology, slots can be shared to improve capacity usage with transmissions either direct to handset or to repeater.
Intelligent Audio
Combining noise cancelling technology to remove nusiance noise from the transmission, with powerful speakers to deliver clear communications.
Roaming
This feature allows the radio to switch between sites on Multi-site Conventional and XPT systems, ensuring seamless communication.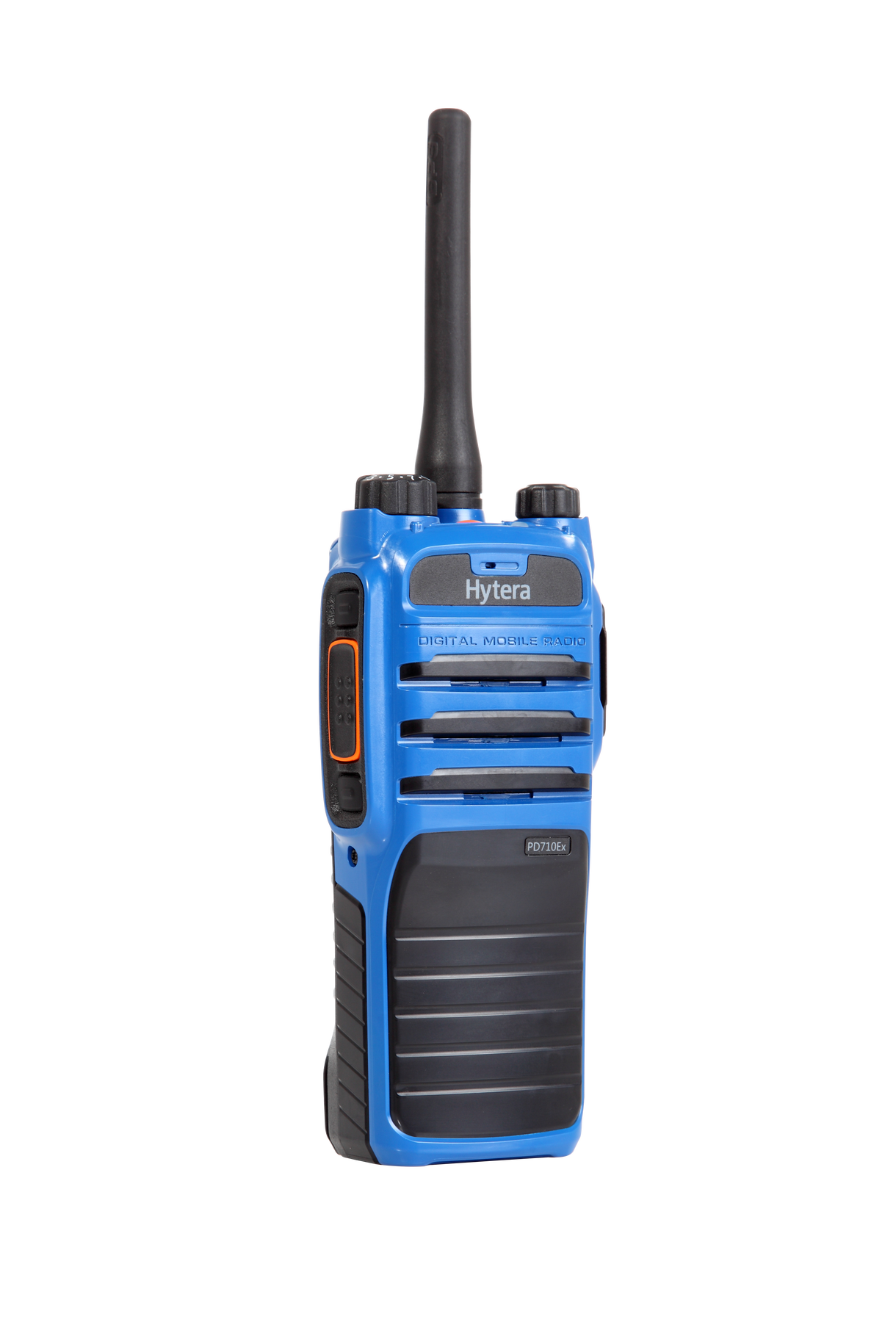 GPS
Enabling location based services to improve safety and control.
Emergency Mode
Raise an alarm with top priority to a base station or to other radios with the pre-programmed emergency mode, identifying the ID of the person issuing the alarm. Also receive emergency notifications.
Lone Worker
The lone worker feature uses a timer in the radio to measure inactivity. If the timer expires, a warning is issued, and if there is no response to that, the alarm is triggered.
Man Down
The man down feature will let you know if the radio has been tilted past a certain angle. This may happen for instance if the radio user has fallen over or is unconscious or injured. The alarm will be triggered after a warning is issued to the user.
Antenna
Charger & Power
Mounting
Carrying
Audio
Cables
Battery
Related products that work with the PD715Ex
Technical Specifications
General
Frequency Range

VHF: 136-174MHz UHF1: 400-470MHz

Channel Capacity

256 (16 zones with 16 channels per zone)

Digital Protocol

ETSI-TS102 361-1,2 & 3

Battery

1800mAh

Battery Life (5-5-90 Duty Cycle)

Analogue 14.5h, Digital 17h

Dimensions(W×H×D)

141 X 55 X 37(mm)

Weight

485g (with standard battery)

Display

NO

Keypad

NO

Programmable Buttons

3

Intrinsically safe protective level (ATEX)

Class I, Zone 1 AEx/Ex ib IIC T4 Gb
M2 Ex ib I
II 2 G Ex ib IIC T4
II 2 D Ex ib IIIC T120 ºC
Environmental Specifications
Dust & Water Intrusion

IP54 Standard
Features
RRS

YES

Telemetry

YES

Option Board

NO

Intrinsically Safe Option

YES

Bluetooth Audio

NO

Radio Check

YES (Decode only)

Alert Call

YES (Decode only)

Stun / Unstun

YES (Decode only)

Remote Monitor

YES (Decode only)

IP Site Connect

YES

Work Order

NO

5 Tone Signalling

YES

2 Tone Signalling

YES

HDC1200 Signalling

YES

DTMF (Phone Patch)

NO

VOX

YES

Priority Scan

YES

GPS SMS

NO

Vibration

NO

Emergency Mode

YES

Lone Worker

YES

Mandown

YES

Scrambler (Analogue)

YES

Digital Encryption

Basic encryption as standard (10, 32 & 64 character keys). 40 bit Enhanced Encryption as Standard (latest firmware required)Advanced encryption (Hytera or DMRA 128 bits and 256bits AES) available via chargeable licence file.

Multiple Key Encryption Decode

YES

Multilanguage Menu

NO

Power on & off user logo programming

NO

Voice Interrupt

Yes (TX Interrupt for voice call, emergency call, remote dekey, text message.)

No of Contacts (Conventional)

Digital 1024 Analogue 2-Tone 32 Analogue HDC1200 200 Analogue 5-Tone 255

No of Contacts (Trunking)

Private Contacts 512 Group Contacts 1024

Text Messaging

256 characters (via Quick Text only)

Quick Text Messages

Up to 25 pre-programmed via CPS

MPT1327 / 1343 Trunking

Yes via free of charge licence key

Tier 3 Trunking

Available via chargeable licence file

Over-the-Air Programming

Yes via smartdispatch 4.0

Analogue Only Version

Not Available

Data Services via Bluetooth

N/A

Auto Power Select

Yes (V8.0 firmware or later)