Hytera radios help airports run smoothly during the busy summer period
Airports are busy, complex places to run even in low season, but the summer holiday period really ramps up the pressure on airport operators. Big airports handle hundreds of flights a day with each aircraft requiring a rapid turnaround to meet tight flight departure schedules.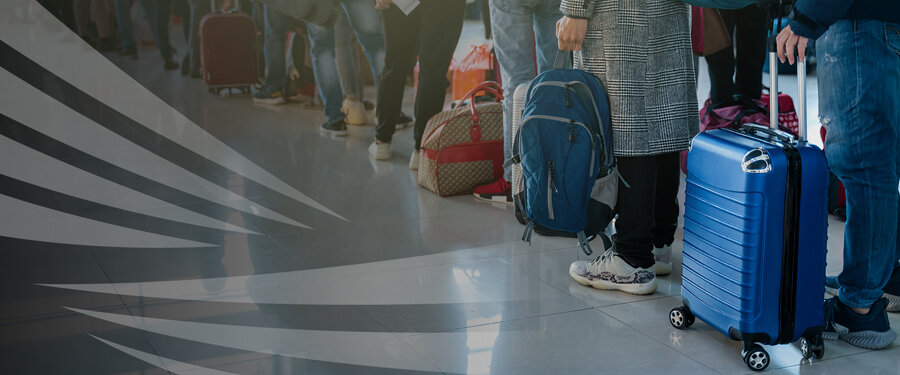 Many different organisations and multiple job roles have to be carefully coordinated to enable airport operations to run smoothly, so that both airlines and passengers experience the best possible service.
Any hold ups can rapidly escalate causing a knock-on effect of delayed flights or even cancellations, which massively inconveniences passengers and can have a detrimental impact on the airport operator's finances and reputation. To minimise the chances of this happening a reliable, secure and highly available communications system is absolutely essential.
A Professional Mobile Radio (PMR) system, such as a Hytera Digital Mobile Radio (DMR) Tier III trunked network, is still the best communication solution, as unlike mobile phone networks coverage and capacity can be tailored to the exact needs of the airport footprint and number of radio subscribers.
Relying on mobile phone networks is problematic as coverage can be patchy and high densities of users in the airport can clog up the network, especially in times of crisis. A private DMR network, on the other hand, is highly reliable and always available, as it is not shared with the general public and multiple redundant backup features ensure no single point of failure. It is also highly secure, offering several levels of encryption.
Hytera offers an extensive range of DMR hand-portables, features and accessories to suit all the varied job functions at an airport, including management, airline staff, ground services, emergency services, engineering, construction, facilities management, building maintenance, in-flight catering, retail and catering, hotels and car parks, transfer services, baggage handling, air traffic control, freight handling, border control, security teams and safety teams.
Airports are facing some difficult headwinds at the moment as they struggle to replace staff laid off or furloughed during the pandemic, just as they enter the hectic summer period. Radios can really help here as they provide a way for existing staff to maximise productivity through close teamwork and to provide a faster, more efficient response to any crisis situation.
Instant, push-to-talk group calling enables particular sets of people such as security guards, baggage handlers or cleaners to be contacted simultaneously. Radios with integrated GPS and Bluetooth connected to indoor beacons makes it much easier to locate and track personnel and assets, so time is not wasted trying to contact or find people. Hytera's MNC360 PoC Mobile Radio or HM785 are just some of the top choices for in-vehicle communication, perfect for airport luggage vehicles trying to communicate with other baggage handling staff.
Hytera DMR radios provide clear, loud audio to ensure messages are heard within noisy terminals and out on the airfield. Many models are GPS-enabled and have multiple features built in such as emergency calling, Man Down and Lone Worker alerts to help keep workers safe.
Hytera's DMR H series of handheld radios are particularly well suited to airports. Hytera also offers its intrinsically safe PD795Ex and PD795IS radios for aircraft refuelling teams. Accessories include many types of earpieces and headsets to enable hands-free operation or discrete calling.
The DMR network can also be extended by deploying Hytera multi-mode advanced DMR/LTE radios like the PDC680, so the user can talk to both radio and cellular smartphone users on the same device. Hytera's range of Push-to-Talk over Cellular (PoC) devices provides an additional option, perhaps for less mission or business critical job roles.
Hytera professional mobile radio systems provide the most reliable and safest way to ensure airport operations are conducted as smoothly and as efficiently as possible, especially during the busy summer holiday period.