Communication Solutions for Festivals
A sound choice for large scale outdoor Festivals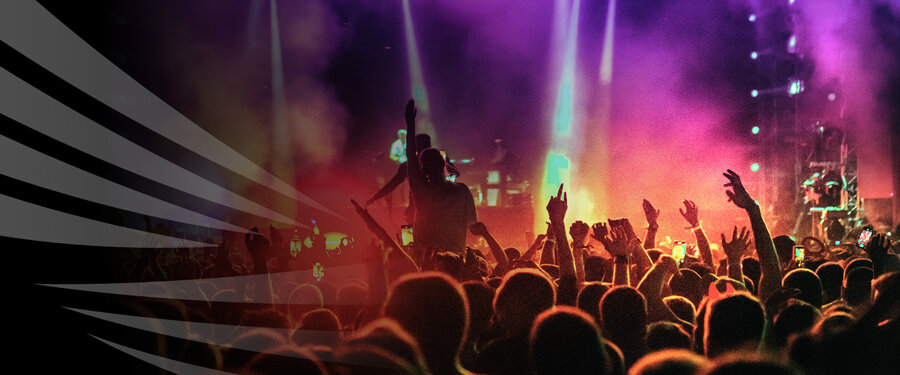 The outdoor festival season is now back in full swing after two years largely on hiatus thanks to the pandemic. Festivals require a great deal of planning in the lead up to the event and a lot of complex and careful management during the actual event itself if they are to run smoothly. A primary consideration is to ensure the safety of artists, crew and, of course, the many thousands of spectators.
The logistical challenges at a major event are enormous during set up, the festival show days themselves, and the breakdown of the site afterwards. A good communication system is essential throughout these three phases. A dedicated two-way Digital Mobile Radio (DMR) system is still the most popular and effective solution, particularly if the festival is in a remote rural location with poor mobile phone coverage.
A DMR network allows coverage and capacity to be tailored to the precise requirements of the site topography and numbers of radio users. It also means the festival is in full control of its communications infrastructure, which would not be the case if it relied on a public mobile phone network.
A Hytera DMR Tier II conventional system with a number of repeaters may be adequate for smaller festivals. However, a Hytera XPT (Extended Pseudo Trunking) solution provides an easy way to expand a Tier II system and deliver more radio channels. Very large festivals will probably opt for a DMR Tier III trunked network, which provides more flexibility, many more channels, and support for more sophisticated dispatching functionalities.
The size of the site and the different organisations and job roles, and therefore the number of talk groups required, will largely dictate which DMR system to deploy. The number of user groups is extensive at a large festival, including festival management, production department (stage, perimeter fencing), sound and lighting crews, site services (toilets, electricity, water), stewards, security, event liaison team, ticketing, medics, traffic managers, hospitality staff, sponsors/partners and usually the local council. A typical festival will probably require 500 to 1,000 radios.
Radio models and accessories need to be matched against job functions. Festivals are busy, noisy, dirty, crowded, often wet, and can be dangerous if crowds get out of control. Radios need to be tough, drop and vibration proof, as well as water, mud and dust proof - and be highly reliable and easy to operate.
Loud and clear audio is essential given how noisy festivals can be. Hytera's latest audio improvements and noise cancelling technology ensures every message can be heard. It is also easy to add head mics, such as 3M Peltor headsets, and earpieces to Hytera radios for improved audio and hands-free operations. A range of safety features including emergency call, Man Down and Lone Worker can be also implemented on the radios to help keep festival staff safe.
Top Hytera hand portable radios to consider include the new H Series radios, while dual mode DMR/LTE radios, such as the PDC680 and PDC550 provide maximum flexibility as users can talk to both radio, PoC and cellular smartphones. Hytera mobile radios can be installed in site vehicles with Bluetooth connections to head microphones.
Hytera body worn cameras (BWCs) like the VM580D, VM750D and VM780 are another product to consider, particularly for security staff, as they can both deter trouble and record incidents if they happen. The VM780 and VM580D can also add another layer of communication through PoC.
Festivals are demanding events, but Hytera DMR infrastructure, radios, BWCs and accessories ensure that they can be run smoothly, efficiently, and above all - safely.