Communications for Private Security
Good communications are vital for security guards and Hytera has a family of products and solutions which will enable them to do their jobs more efficiently and safely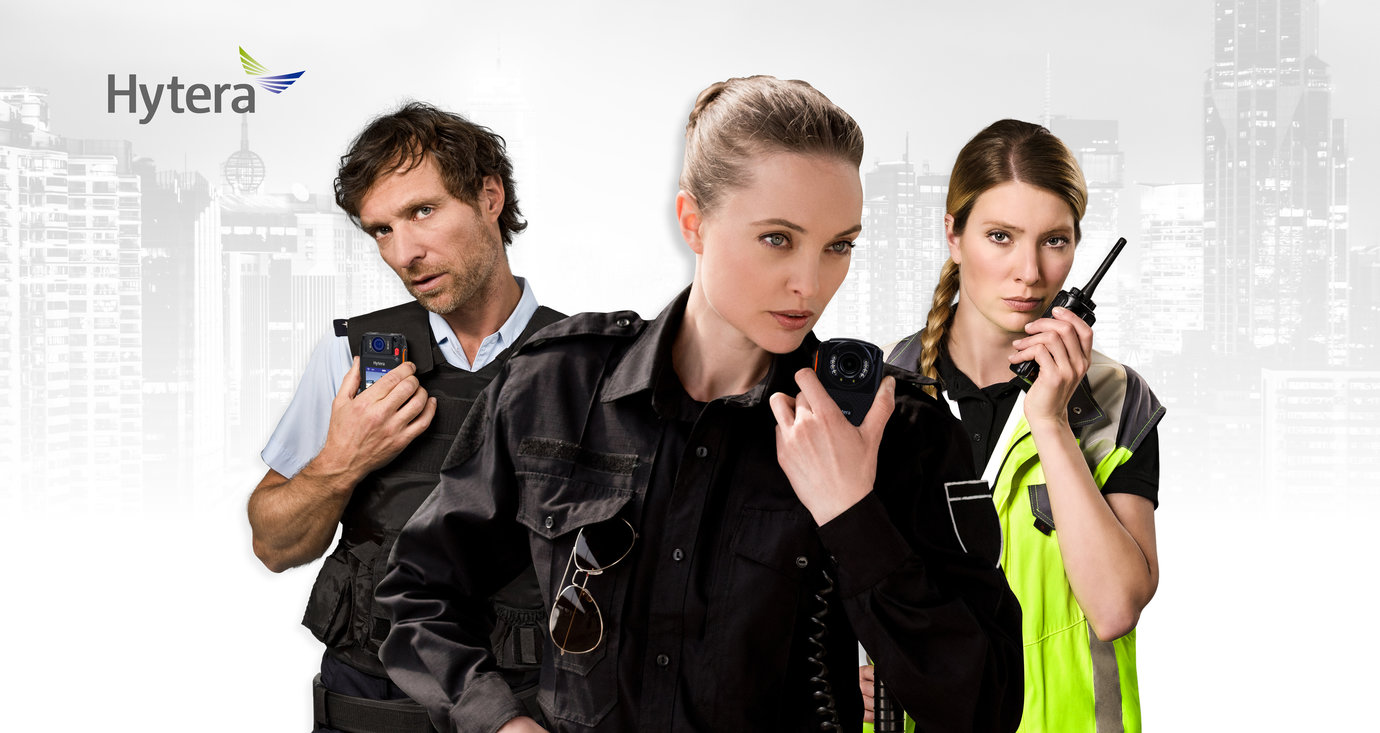 The private security industry is a growing sector driven by societal concerns over rising crime rates and the threat of terrorism. With police forces stretched in many countries local government, businesses and individuals have turned to the private security sector for protection of people and assets.

The industry encompasses a wide range of roles and job functions. These include close security protection of VIPs, 'high-net worth individuals' and celebrities, either overtly or covertly, the protection of money or other valuables in fixed locations or in transit and the guarding of property and people in many walks of life.
High risk job

To do the job efficiently and help protect themselves it is vital that security guards have a good communication system. A reliable communication device enables them to keep in touch with colleagues and supervisors, receive and raise alarms, and to take part in a coordinated response to any incident or emergency.
To be truly effective the communication system must be resilient, always available, and have the ability to provide instant communications, as any delay in connecting a call could be fatal. The communication device is the security guard's lifeline, so their safety should not be compromised by issuing them with unreliable devices, especially lone workers.
Security guards sometimes rely on mobile phones. The relative cheapness of mobiles compared with two-way radios may be attractive to employers, but their use can be problematic, as well as being a false economy.
Mobile phone signals can be patchy or even non-existent, especially inside buildings. Mobile signal coverage is determined entirely by the commercial network provider and there is little or nothing subscribers can do to deal with coverage non-spots or network failure. This can leave security guards exposed if they cannot raise the alarm, make a call, or the call drops while they are on the move.
Advantages of PMR

Private professional mobile radio (PMR) systems on the other hand, such as those based on the Digital Mobile Radio (DMR) standard, can provide coverage exactly where it is needed, including hard to reach basements and tunnels or deep within large buildings and across dispersed sites.
Capacity, robustness, redundancy failover systems and security can be tailored to the requirements of the organisation. Above all, the organisation has full control over the radio network unlike mobile phone networks where they have none.
PMR systems also have the advantage of a much wider range of call options than mobile phones, including individual, group and broadcast calls, as well as supporting short data messaging and a range of safety applications to help protect the user.
Two-way radio terminals should be seen as a safety tool as well as a communication device all rolled into one. Terminals can be equipped with an emergency button, automatic Man Down and Lone Worker alerts, and with GPS location technology to enable personnel to be tracked, monitored and located in real time. If they get into trouble they can be quickly located and help sent more swiftly.
PMR systems enable employers to fulfil their legal duty of care responsibilities to their employees by being both a communications and a safety device. It is also an economic solution as personnel need only carry one device.
The nature of the security job and the risks involved will help determine the best radio for the the role along with the feature set and applications the radio needs to support.
Hytera DMR portfolio

Hytera's Digital Mobile Radio (DMR) portfolio of terminals, repeaters, accessories and applications has a solution to suit any private security role from the simplest, lowest risk security patrol to high-risk, front line roles. Hytera digital radios can be used continuously for up to 14 hours ensuring they can last the length of a security guard's shift.
The device portfolio is complimented by an impressive array of accessories, including earpiece sets, speaker microphones, antennas, batteries, radio chargers, car kits and carrying equipment such as belt clips, lapel clips and wrist straps, along with body worn cameras, dispatching solutions and other applications.
Firms with more limited budgets might want to look at the Hytera DMR PD500 range of terminals, which come with an emergency 'panic' alert button and Lone Worker feature and optional GPS. The more sophisticated PD600 and PD700 ranges provide the additional Man Down and GPS safety features and applications and have a very high IP67 rating against dust and moisture ingress.
One option to consider is the Hytera Patrol and Dispatch solution, which provides a simple, user-friendly and cost-efficient way of monitoring and locating security guards on their patrol routes. The solution comprises the DMR PD415 handheld radio, which comes with an integrated RFID reader.
The security guard logs on to the patrol system at the beginning of the shift by tapping their patrol identification card against the front of the radio. As the guard passes a checkpoint along the patrol route, the radio is held against the checkpoint and this scans the location using the RFID technology. All the scans are recorded and can be subsequently analysed.
ATEX and covert radios

For security guards working in potentially hazardous environments such as the oil and gas industry, chemical plants and mines, Hytera has the PD715Ex, PD795Ex, PD715IS and PD795IS 'intrinsically safe' ATEX radios, which come with GPS and all the security features as standard.
Many security guards work either semi-discretely or entirely covertly. Hytera's X1p, with keypad and display screen is small, light and slim. They can be carried in a pocket and paired with wireless earpiece sets making them ideal for covert work. The handsets are also popular with front of house security guards where employers may prefer a more discrete, but still noticeable security presence.
For a truly top of the range hand portable, Hytera offers the PD985(G), which is has an IP68 rating and all the safety features previously mentioned as standard, as well as full duplex calling, voice recording and support for Bluetooth 4.0. Alternatively, the PDC760 multi-mode advanced hybrid radio supports both DMR and 4G LTE and can be paired with body worn cameras for live video streaming.
Body worn cameras

Body worn cameras, or bodycams, are increasingly being issued to security guards, as they can play a big part in helping to reduce anti-social behaviour as people tend to calm down if they know they are being filmed. Video footage can be used as evidence in court, as a means of reviewing incidents and as a training tool.
Hytera now offers three body worn cameras, which double as remote speaker microphones (RSMs). They can be used as standalone devices or paired with a two-way radio. They all feature PTT and emergency buttons, built in Bluetooth and Wi-Fi and HD video recording.
The VM550 is the entry level model, while the VM550D offers the addition of night vision and a 2.0 inch display. The VM685 adds a 180° rotatable Lens and 2.4 inch display. The VM780 will be the top of the range model with a 216° rotatable lens, 3G/4G and Wi-Fi capabilities, GPS positioning, a 2.8 inch touch screen, Android platform and advanced encryption.
The security industry is now increasingly adding automated systems such as movement detector alarms, CCTV and remote electronic access control systems to the traditional 'man on the gate'. However, many of these systems can be integrated with DMR networks to provide a converged system.
Movement or smoke alarms can send an alert direct to the security guard's radio enabling a faster and more proactive response. As indicated above, with the right handset, images and video can be sent either from the scene of the incident or to the security guard at or on the way to the scene.
Dispatching Solutions

Hytera also offers several dispatching solutions, which not only make it easier to carry out administrative tasks (including over-the-air programming of the radio fleet), but also to co-ordinate emergency operations more effectively and increase safety as dispatchers can monitor and track security guards whereabouts using GPS location services in the radios.
Hytera offers several dispatch solutions including SmartDispatch for use with DMR Tier 2 Conventional systems, SmartXPT for use with DMR Tier 2 and Hytera XPT (Extended Pseudo Trunking) networks and the Hytera DWS (Dispatch WorkStation) Dispatcher for use with DMR Tier III trunking systems. These provide full voice recording and call logging and can be linked with other systems such as PABX/PSTN networks, CCTV, IoT sensors and other systems.
Hytera's family of products can provide the solution for any type of security job role helping security guards carry out their jobs more efficiently, more productively and more safely. Security guards can focus on their mission - Hytera technology takes care of the rest.

For more information on any of Hytera's solutions for the Private Security Industry, contact one of our Approved Dealer Partners.