Highlights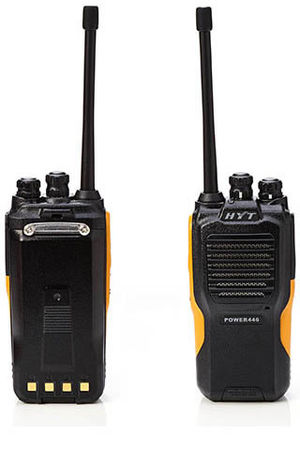 Licence-free Operation
The HYT Power446 is a PMR446 radio which doesn't require a licence for operation.
Dust-proof and Waterproof
Certified IP66, the device is protected against ingress from dust and powerful water jets, ideal for construction sites or outdoor use.
Battery Life that Lasts
The standard battery (2000 mAH) provides a shift life of up to 25 hours (5/5/90 usage cycle).
Clear Communication
HYT voice management combined with an optimised loudspeaker ensures a clear sound is delivered to the user.
Battery
Charger & Power
Audio
Carrying
Systems that work with POWER446
Technical Specifications
General
Frequency Range

Licence Free 446MHz

Channel Capacity

16

Battery Life (5-5-90 Duty Cycle)

25 hours (2000mAh battery)

Dimensions(W×H×D)

119 x 55 x 36mm

Weight

Approx 282g (2000mAh Li-ion)

Display

NO

Keypad

NO

Programmable Buttons

2
Environmental Specifications
Dust & Water Intrusion

IP66 Standard
Features
5 Tone Signalling

NO

2 Tone Signalling

NO

HDC1200 Signalling

NO

VOX

YES

Channel Scan

YES

Scrambler (Analogue)

NO