Highlights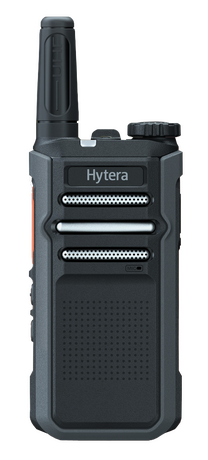 Easy to carry
With a slim form factor and 4.5cm ultra-stubby antenna, users can stand, sit or move freely even while wearing the AP325 on their belt.
Fast charging
The built-in battery can be fully charged in just 2.5 hours, and a one-hour charge provides 8 hours of communication.
Loud and clear audio
The 3W speaker outputs up to 90dBA of audio. Thanks to the professional noise cancellation algorithm, the AP325 delivers crystal clear audio in any noisy environment.
One port fits all
Users can program, upgrade and charge the AP325 through the same Type-C USB port on the bottom.
Voice Announcement
The AP325 audibly notifies channel names, zones or battery levels, allowing users to instantly identify device status.
Functions
Easy to carry
The very low weight and the 4.5 cm ultra-stubby antenna facilitates carrying anywhere on the body.
Clear and Loud Audio
Professional noise reduction algorithm | up to 20 dB noise reduction | 3W speaker outputs up to 90dB audio
Simple and Stylish
Metal channel selector knob | metal mesh speaker | dual-shot injection molding & plating case
Extended Communications Distance
Stay always connected with brand-new RF solution, 3W TX power and a RX sensitivity up to 0.18 μV
Fast Charging
100% charged in 2.5 hours | Thanks to USB Type C connectivity it can be easily charged with standard USB cables and power supply units and even USB power banks.
Improved User Experience
Long-life keys | 3.5 mm jack audio connector | USB Type-C port for programming and upgrading.
Audio
Charger & Power
Cables
Carrying
Related products that work with the AP325
Technical Specifications
General
Frequency Range

Ua: 400-440 MHz
Uc: 430-470 MHz

Channels & zones

Channel capacity: 32
Zone capacity: 2
Channels per zone: 16

Channel Spacing

12.5kHz/20kHz/25kHz

Operating Voltage

3.8V (rated)

Battery

2200mAh Li-Polymer (built-in)

Battery Life (5/5/90 Duty Cycle, High TX Power)

10 hours

Frequency Stability

±0.5ppm

Antenna Impedance

50 Ω

Dimensions (H x W x D) (mm)

118 x 55 x 25 mm

Weight (with antenna & battery)

130 g

Bluetooth

not available
Environmental
Operating Temperature

-20℃ to +50℃

Storage Temperature

-40℃ to +85℃

ESD - to be checked ???

IEC 61000-4-2 (Level 3)
±4 kV (contact)
±8 kV (air)

Dust and Water Intrusion

none