Unlock the full potential of Hytera Bodycams
In this blog you will discover why bodycams are becoming an increasingly popular technology device and what you need to think about when looking for the best bodycam for your requirements.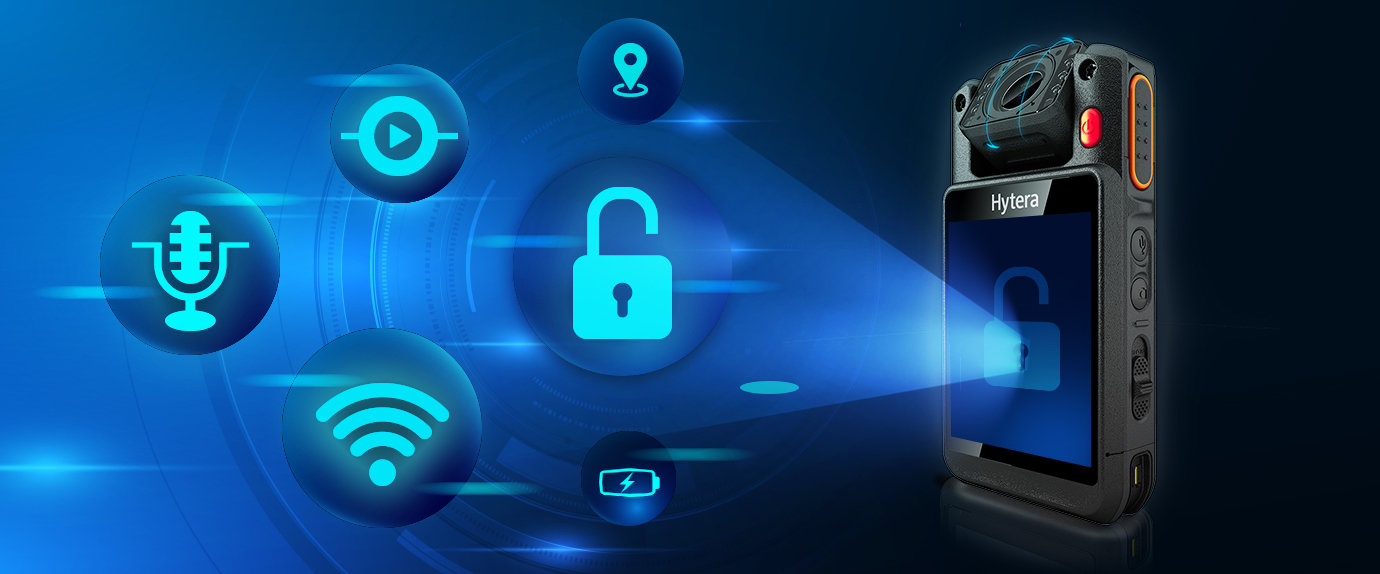 Front line staff are increasingly being issued with body worn video cameras (bodycams) to capture a secure point-of-view record of what happened during an incident. The video and audio recording can then be used as evidence if the material is correctly handled and stored.
Bodycams can help to deter verbal abuse and aggression, as people often calm down if they know they are being filmed. As such they provide an additional means of protection for front line staff and lone workers. The recorded evidence can also be used to refute false allegations made against staff in many walks of life.
Fire, ambulance and police officers are now deploying bodycams. They are also being given to prison service staff, private security officers, healthcare workers, railway workers, traffic wardens, parking attendants and other lone workers, who sometimes face abuse and the threat of violence in their jobs.
Bodycam footage can also be used for wider purposes such as training. Footage can be used to demonstrate best practice, provide feedback on an incident, to observe the interaction between staff members, and between them and the public, and to show new recruits the kinds of incidents that can take place.
There have been some high profile incidents in Europe and America of police and armed security guards shooting members of the public. Video from bodycams can be particularly important in these incidents to demonstrate whether the security officer's story matches the visual evidence.
Policy and correct usage
Before issuing staff with bodycams it is important to ensure use policies are put in place. In many countries the use of bodycams will come under CCTV surveillance and data protection legislation.
For instance, in the UK if staff are using bodycams in a public place they should adhere to The Protection of Freedom Act (POFA) 2012 and the Code of Practice for Surveillance Camera Systems, which has 12 main guidelines.
The UK's Security Industry Authority (SIA) warns that anyone using a bodycam to monitor the activities of a member of the public in a public or private place, or to identify an individual, may require a Public Space Surveillance (CCTV) licence depending on the operating circumstance.
They must also abide by the Data Protection Act, including observing the correct protocols for the handling and storage of video footage and audio recordings. In short, employers must ensure their staff act responsibly, and be seen to be doing so, when it comes to protecting people's privacy.
Responsible advocates of bodycams argue that it is best to be very open about their use, so people are aware they are being filmed or that they could be. Once they know this, it usually has the effect of deterring anti-social behaviour.
Selecting a Bodycam
When selecting a body worn video camera, key features to evaluate are:
Battery life
Memory options
Quality of recording resolution, frames per second and field of view
Push-to-Talk over Cellular (PoC) communication
Dispatcher and mapping services
Secured evidence (password protected and encrypted)
Live streaming capability
Ruggedness of the device, environmental certification and drop testing
Low light and night vision
Pre-recording options
Tagging devices, content and uploading recorded media
Accessories including multi-bay charging docks, clips and mounts.
General information
It is important to emphasise that Hytera devices offer a lot more functionality than just video recording. The VM580D and VM780 models are both a body worn camera and a PoC radio in one device, so they are capable of supporting voice, video and data.
General features common to most Hytera bodycams include, a Push-to-Talk (PTT) button, emergency button, secure encrypted transmission, night vision capability, 1080p HD video recording, loudspeaker for clear audio, IDS automatic data extraction and a visual display screen.
The devices are tough and durable, as they are IP68 certified against dust and moisture ingress. They offer a swappable battery option to extend shifts well beyond normal time requirements. Hytera also offers 6-bay chargers for secure and reliable data transfer, and a variety of mounting options (Peter Jones compatibility).
LTE
The VM580D and VM780 bodycams are PoC devices as well, so they can be used as evidence collection simultaneously with a PoC platform such as Hytera HyTalk. Hytera HyTalk can be cloud or locally hosted and offers a subscription communication service, which provides wide-area coverage over 3G/4G mobile networks and Wi-Fi.
The basic HyTalk service supports dispatching, maps and PoC communications including one-to-one and one-to-many group voice calls. It also supports one-to-one and push-to-video group calls and messaging. The HyTalk Sight service enables live streaming over 4G or Wi-Fi from the bodycams, along with map and asset positioning services.
The more advanced HyTalk Pro service offers the same features, but with the addition of RoIP for Narrowband. Radio over Internet Protocol (RoIP) is a form of Voice over IP (VoIP) with added PTT technology. HyTalk Pro provides an intelligent platform which enables users to integrate their existing narrowband TETRA or DMR two-way radio voice services with a wide range of multimedia broadband services such as video calling, video pulling, instant messaging and mobile internet access over 3G, 4G, WLAN and private LTE networks.
LTE devices
The VM580D is slim (only 20mm thick), lightweight and easy to operate with one hand for photo taking, audio and video recording. It supports Wi-Fi, Bluetooth and LTE connectivity. It features a noise-cancelling microphone, emergency key, PTT key, an LCD touchscreen, built-in backup battery and GPS for location services.
The VM780 provides Hytera's most advanced range of features yet, including; a 2.8-inch touch display and powerful battery life supporting up to eight hours continuous recording. Using 3G/4G and Wi-Fi, the VM780 can transmit on-site real-time video back to the command centre, allowing managers and dispatchers to see how events are developing in the field.
The device features a 216° rotatable camera and built-in GPS. It also supports NFC and Bluetooth connectivity, AES256 advanced encryption technology, and simple charging and programming via the micro USB interface, which can be used to charge, export data and audio output.
Non-LTE devices
The VM550D is a bodycam and a remote speaker microphone with PTT button, so it can be paired with Hytera Multi-mode Advanced Radios, such as the PDC760 LTE/DMR or PTC680 and PTC760 LTE/TETRA radios. It supports Wi-Fi and Bluetooth connectivity and is very light weight (less than 145g including battery). It features a 2-inch display, 139° diagonal lens and offers seven hours of continuous battery life.
Hytera bodycams and PoC can help you capture the truth and communicate more effectively from one device. They can help your organisation overcome operational challenges and improve efficiency thanks to instant and reliable individual and group communications. Collaboration can be enhanced by keeping everyone informed in real time with what they need to know in a timely way using messaging, audio and video communications.
Built-in GPS technology delivers much improved presence and location awareness, so valuable time is not lost when responding to a team member or someone who is in danger or who needs immediate attention. Real-time tracking means supervisors know where team members are located and can organise the right resources more effectively. Bodycams with PoC ensure employees are better protected and can be alerted quickly to any problem, thereby enabling a faster, better directed response to keep them safer at all times.
To learn more about the full range of Hytera Bodycams click here or contact an authorised Hytera partner.