Two-way radio provides the perfect communication solution for ports and airports
Ports and airports are a vital part of any country's national infrastructure, so ensuring adequate levels of security is a major concern for governments and the authorities that run them. Terrorism may be a rare event, but it is a threat that has to be taken seriously, while measures to combat the smuggling of goods, people trafficking and theft have to be put in place.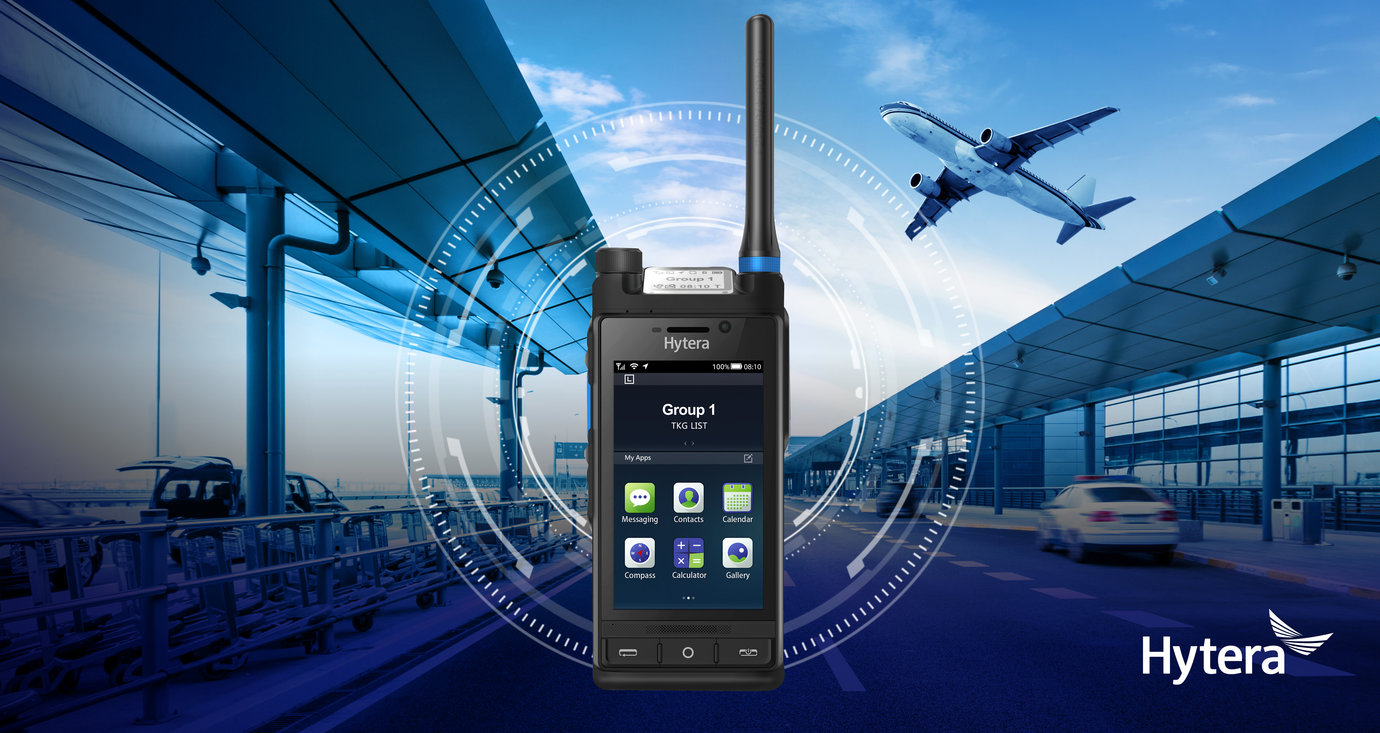 Major airports can be compared with large towns in terms of the numbers of people working there and in the complexity of their operations. Airports contain many different organisations, and job roles and have huge numbers of passengers moving through them. All of this has to be managed efficiently to ensure a smooth operational environment, which means good communications are essential.
A Professional Mobile Radio (PMR) system is the best choice of communication system, as unlike a mobile phone network it allows coverage and capacity to be tailored to the exact needs of the port or airport footprint and numbers of radio subscribers.
PMR systems have the advantage over mobile phones in that they are private, dedicated networks. This enables them to meet the end user's precise requirements in terms of coverage, capacity, availability, reliability, redundancy and security. Mobile phones have their advantages, but end users have no say in terms of coverage or any control over the network.
A properly designed two-way radio network helps boost productivity and efficiency in ports and airports by enabling particular groups of people, such as security guards or cleaners, to be contacted simultaneously. It also provides the key to site security by enabling a fast, coordinated response to any incident or emergency situation.
Ports
Ports may not be quite as complicated as airports in some respects, but there is still plenty going on. Port authorities need to ensure the safe docking of vessels, deal appropriately with hazardous cargoes, protect the environment from spillages and ensure the safe movement of cranes, vehicles and people around the port. Most ports now operate under the International Ship and Port Facility Security (ISPS) Code, which obliges authorities to: draw up port facility security plans; appoint port facility security officers; install security equipment; deploy monitoring and control access facilities; monitor the activities of people and cargo; and ensure that security communications, such as professional mobile radio systems, are readily available. Port authorities tend to adopt a layered approach to security, deploying a range of technologies, people and processes to provide an integrated approach. The aim is to find a balance between trying to ensure maximum operational efficiency, while still providing the necessary levels of security. A good communications system is the key to facilitating efficient day-to-day operations in the port and to providing a fast response to any security breach, accident or emergency situation by port police, fire and security personnel. PMR systems, such as Digital Mobile Radio (DMR) or TETRA, provide versatile communications including individual, group and broadcast voice and messaging services. Major ports will almost certainly want a trunked two-way radio system such as DMR Tier III.
A Hytera DMR Tier III system will provide reliable coverage throughout the port complex and deliver clear audio in what can be a noisy environment. The RF design needs to be carefully worked out so that the radio system can cope with the constantly changing topography created by the height of the container stacks altering as they move in and out of the port.
DMR is the perfect solution for ports looking to upgrade old analogue systems. Users will benefit immediately by doubling the number of channels available and this can often be achieved without needing to alter or add to their existing radio licenses.
They will get a much improved feature set with DMR providing a lot more functionality. In addition, DMR offers a lot of operational commonality with analogue systems, which minimises training requirements. The same talk groups and operational processes can be retained. This makes migration from analogue to digital much easier.
More than that, the Hytera DMR Tier III system can support both analogue and digital modes, which de-risks the changeover as the port authority can fall-back to analogue if they need to. Generally, mobile radios are installed in the port cranes, moveable gantry cranes and the internal mobile vehicles - tractor and trailer units that move the containers around. Hand portables are used by port police, fire, security, engineering, operatives and contractors, such as the rail freight operators at the port's rail terminals if the port has a rail hub connection. Hytera DMR radio safety features such as the Emergency Alert, Man Down and Lone Worker alerts help the port operator meet its Health & Safety at Work obligations. If the radios are GPS-enabled, personnel can be quickly located in the event of an incident. It also enables control rooms to see who is best able to respond to a situation depending on their location if a Hytera Dispatching System is implemented.
The port police undertake most of the traffic management in the port, including escorting of specialist shipments, overseeing permits and monitoring and controlling access to the port by people and vehicles. Port police tend to particularly like the GPS functionality, as it allows them to track and locate officers.
They also like the radio's ability to make individual one-to-one calls, as they often want to make discreet calls with senior officers or controllers that they do not want other officers to hear. End-to-end encryption is also appreciated as port police may often need to make calls of a sensitive nature.
Port operators are also interested in being able to stream video from vehicle-mounted and body-worn cameras. Hytera provides a range of remote speaker microphones, which double up as a video bodycam. These can be deployed as stand-alone devices or paired with Hytera radios. If paired with the Hytera PDC760 multi-mode advanced radio, which offers DMR/ 3G/4G LTE, Wi-Fi and Bluetooth, it can support broadband video streaming.
Bodycams tend to be used in ports not so much to capture evidence of crimes, but to record daily operations to ensure compliance with regulations and port procedures, aid incident reporting and to provide greater situational awareness.
Airports
Many of the compelling reasons for using PMR systems in ports are equally applicable to airports, although generally on a much larger scale in terms of the numbers of subscribers. Among the key benefits of using a digital two-way radio systems in airports are: streamlining operations; managing flights; security; and enabling vast numbers of different organisations and people to communicate reliably and efficiently at all times and within the entire airport footprint.
Airports are very complex operations and require thousands of communication transmissions across the dense site footprint, which may have many dispersed locations. The communications system therefore needs to be flexible and be able to support roaming mobile transmissions without dropping calls. It needs to be able to reach across the whole site and reach every part of the airport including the terminals, underground areas, car parks, baggage handling areas, cargo depots, fuelling and aircraft repair facilities.
Airports contain a very diverse number of user groups including the airport management team, control tower, airfield apron staff, ground handling services (such as aircraft maintenance, baggage loaders, aircraft refuelling teams) emergency and rescue services, especially the fire brigade. There may also be construction workers employed by the airport authorities on site to upgrade or build new facilities.
Then there are the different airline staff, agents, flight and cabin crews, aircraft engineering staff, in-flight caterers and cleaners. Within the airport terminals there are retailers, caterers, facilities managers, cleaners, baggage handlers, hotel staff and car park attendants, along with immigration staff and airport security teams.
The most important consideration is to enable all these different organisations and job roles to work smoothly and efficiently to ensure that the airport's main job of enabling aircraft to arrive and depart on time is properly organised and happens on schedule.
As with ports, a two-way radio system is still the best enabler to achieve this. It is also the key to the security aspect of airports, as it enable instant alerts to be sent, staff to be located via GPS and it is the main tool to coordinate the response to an incident.
Given the security issues and the operational complexities involved airport authorities may opt for the higher functionality provided by a TETRA radio system. However, it can be difficult in some countries to access the necessary blocks of spectrum to support TETRA communications, so DMR Tier III offers an excellent alternative.
Hytera can supply either radio standard and, given the huge importance of having a reliable, always available radio system, both can be designed with a high degree of redundancy and fail over solutions to ensure the network does not fail.
Both trunked standards are capable of supporting large numbers of subscribers and talk groups, so each organisation or job type is able to access discreet group communications. It is also easy to patch different talk groups together if there is a need to inter-communicate or temporary talk groups can be created in real-time should the need arise.
Above all, the group calling facility means large numbers of people can transmit and receive communications at the same time, thereby improving efficiency and ensuring a fast response to any trouble.
Airports also have an increasing need to support data transmissions including video. Hytera offers hybrid network solutions that can interconnect DMR or TETRA narrowband systems with broadband systems such as 4G LTE and Wi-Fi. They can also interconnect with fixed telephony systems as well.
Hytera's converged radio platform and integrated command and control system makes it easy to manage multiple radio modes and data streams as a single user-friendly system. Airport staff can therefore access a much wider range of applications if they have multi-mode devices capable of supporting both DMR/TETRA and LTE (also Wi-Fi and Bluetooth for connections to other wearables and IoT devices).
Alternatively they can carry both a narrowband and a broadband device. The latter can support a push-to-talk over cellular (PoC) applications which will allow the user to talk to two-way radios.
Hytera professional mobile radio systems working independently or in combination with other communication platforms provide the most reliable and safest way to ensure port and airport operations are conducted as seamlessly as possible and with the maximum efficiency.

For more information about any Hytera solution, please contact one of our Approved Dealers.