Hytera Two-Way radios and Bodycams help retailers eradicate theft and aggressive behaviour towards staff
The retail sector has experienced an upsurge in crime during the pandemic and this is expected to worsen in the run-up to Christmas.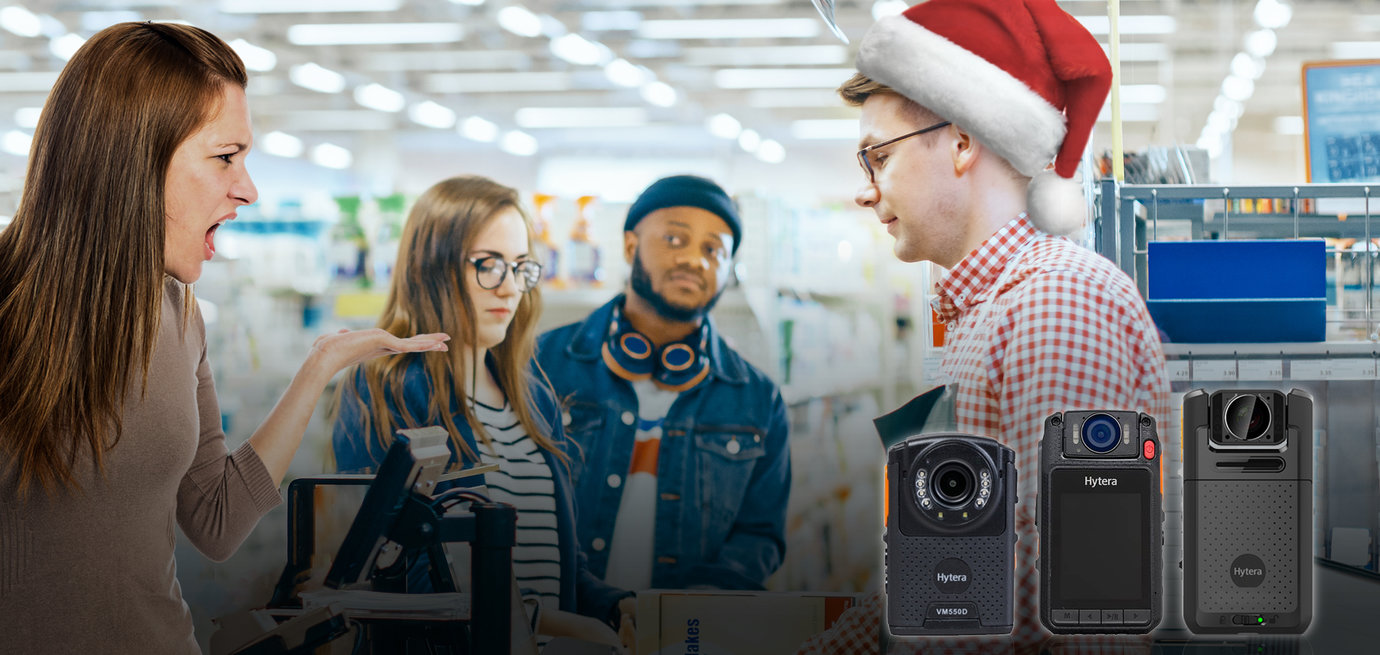 Retail staff are facing an increased threat of violence and aggression, along with a rise in theft and the need to manage social distancing requirements. This is placing a heavy burden on retail security staff.
Hytera radios and body worn cameras (bodycams) can help retailers tackle these issues more effectively. Hytera radios provide instant push-to-talk (PTT) group communications enabling better intelligence sharing in real time, while bodycams deliver additional surveillance and evidence gathering solutions. Hytera devices also support integrated location-based apps and personal safety alarms to enhance staff safety.
It is a sad fact that crime has been rising in the retail sector over the last few years. The latest British Retail Consortium (BRC) Crime Survey (covering the period 1 April 2018 to 31 March 2019) stated that there were an average of 424 violent or abusive incidents per day (up by 9% on previous year). These are not just incidents of direct violence, but also include racial abuse, stalking, spitting and coughing - and threats to do so.
The survey reported that retailers spent a record £1.2 billion on crime prevention measures, but still lost over £1 billion worth of goods to crime. The majority of that, some £770 million, was attributable to customer theft. That means a total cost to retailers of £2.2 billion, up 16% on the previous year.
Crime figures for 2020 will not be available until next year, but the BRC notes on its website that incidents of abuse and violence towards shop staff have "increased dramatically" since the coronavirus pandemic began. It added that all the evidence to date suggests that this year's retail crime figures will, if anything, be worse than last year.
In normal years, violence, abuse and theft in the retail sector increase in the run-up to the busy Christmas shopping period. This year, the situation is expected to be even worse. For example, Superdrug has reported a 21% rise in aggressive behaviour in 2020, often stemming from negative reactions to social distancing. It expects an even bigger spike in incidents over the Christmas period.
The ability of the police to respond is limited given the huge number of incidents. This means retailers largely have to fall back on their own resources. Investment in modern digital communications technology is one way to respond effectively to rising retail crime rates.
Hytera offers a wide portfolio of Digital Mobile Radio (DMR) devices for use on private DMR networks and Push-to-Talk over Cellular (PoC) devices, which operate over public cellular mobile phone networks. DMR and PoC devices provide instant, two-way PTT communications between groups of people simultaneously.
Radios ensure a much more efficient, reliable and secure way for retail staff to stay in contact than mobile phones, as staff can quickly alert each other in the event of an incident or potential threat. PTT devices are ideal for transmitting up-to-the minute intelligence such as the spotting of a known shoplifter, for example.
Bodycams help retail security staff operate more effectively and safely, as they can fill in surveillance gaps in fixed CCTV coverage. Bodycams have been shown to deter aggression, as people tend to calm down if they know they are being filmed. This can help to reduce violence and abusive behaviour, as well as providing a deterrent to shoplifters.
Retail staff are under a lot of pressure in the run up to Christmas and they do not deserve to be subjected to violence or abuse. Hytera solutions not only keep retail staff better informed and better protected, they also enable them to work more effectively and safely.