GPS - Safety Through Location Based Services
If improving the health and safety of your workforce is a priority, then GPS enabled two way radios and supporting dispatching applications with mapping can be used to deliver your risk management procedure.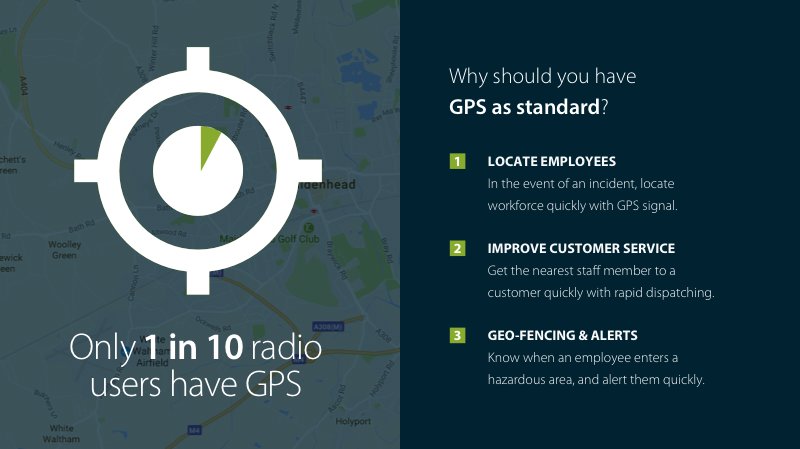 Integrated GPS
No matter where staff are working across your sites, GPS-enabled radios can provide a quick response to emergency or business critical situations.

GPS or Global Positioning System is a satellite based navigation system that works 24 hours a day and with no subscription fee or setup charges. Hytera's PD6, PD7, PD9, X1, MD6 and MD7 series DMR radios all offer variants with integrated GPS functionality, making it possible to locate users with a high level of accuracy.
Staying safe with geo-location
The ability to monitor your workforce location and check worker status with GPS sends a strong message to employees that their safety is your highest concern.
In addition to regular check-in and reporting procedures, your control team has the ability to pin-point workers and send location based messages utilising the dispatch console, pushing calls or tasks to the appropriate user.
In the event of an incident, such as a possible man down scenario, GPS instantly provides the location of the user in distress, ensuring responding teams can reach the location in a timely fashion. The time and location date stamping capability automates compliance reporting and provides accurate records for incident reviews and investigations.
Boost conformance with geo-fencing
GPS also offers another valuable function for keeping workers safe, geo-fencing.
Geo-fencing is the use of GPS technology to create a virtual geographic boundary and trigger a notification should a radio handset user enter or leave a particular area. It's a highly effective way of prompting workers to be aware of safety rules and also ensures security procedures are adhered to.
In challenging or hazardous operative areas, specific locations can be geo-fenced so that only those workers qualified to enter can access without triggering alerts. Those without permissions, or who have not completed the relevant health and safety training required to work in these locations will trigger an alert if they stray into these risky environments.
Operators can then immediately open a voice channel to talk to the radio user and notify them of the need to leave the area safely. Incursions can also be automatically recorded in a central database.
Safer working with location tracking
If you have an extensive workforce operating shift-based patterns, knowing exactly who your radio users are and where they are operating at any one time will be crucial for maintaining your health and safety responsibilities as an employer.
With GPS you can instantly see your radio user base active on site with mapping services. What's more, you're able to customise your GPS location data, assigning as much detail as you need to each user's unique ID. From details of the vehicles they drive, to the equipment qualifications they hold.
From a productivity perspective too, the dispatcher can then dynamically assign call groups through the application, based on the users live location, improving job response rates and collaboration.
If you'd like more information on how the latest Hytera radios with GPS can enhance the Health & Safety programme in your business, then speak to an approved Hytera Dealer.