Could this be the best bodycam for your organisation?
In this blog you will discover why bodycams are a useful piece of technology and what you need to think about when looking for the best bodycam for your requirement.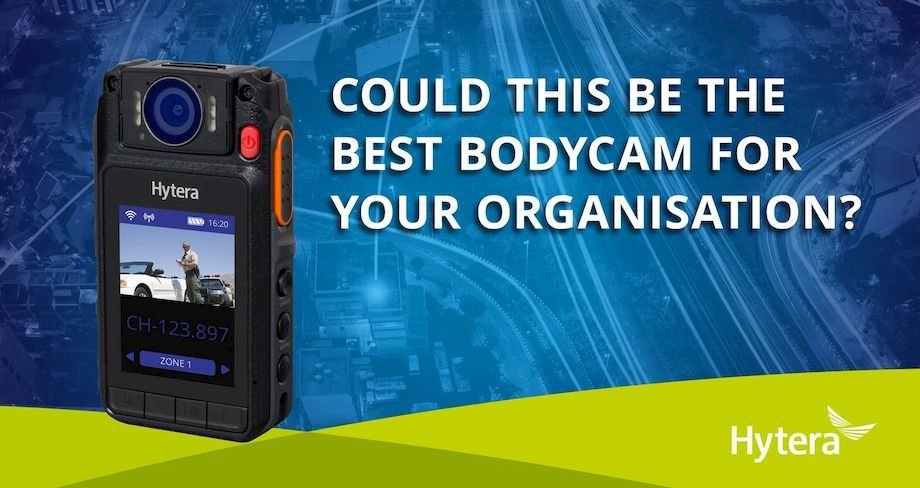 Front line staff are increasingly being issued with body worn video cameras (bodycams) to capture a secure point-of-view record of what happened during an incident. The video and audio recording can then be used as evidence if the material is correctly handled and stored.
Bodycams can help to deter verbal abuse and aggression, as people often calm down if they know they are being filmed. As such they provide an additional means of protection for front line staff and lone workers. The recorded evidence can also be used to refute false allegations made against staff in many walks of life.
Fire, ambulance and police officers are now deploying bodycams. They are also being given to prison service staff, private security officers, healthcare workers, railway workers, traffic wardens, parking attendants and other lone workers, who sometimes face abuse and the threat of violence in their jobs.
Bodycam footage can also be used for wider purposes such as training. Footage can be used to demonstrate best practice, provide feedback on an incident, to observe the interaction between staff members, and between them and the public, and to show new recruits the kinds of incidents that can take place.
There have been some high profile incidents in the UK and the USA of police and armed security guards shooting members of the public. Video from bodycams can be particularly important in these incidents to demonstrate whether the security officer's story matches the visual evidence.
Policy and correct usage
Before issuing staff with bodycams it is important to ensure use policies are put in place. In many countries the use of bodycams will come under CCTV surveillance and data protection legislation.
For instance, in the UK if staff are using bodycams in a public place they should adhere to The Protection of Freedom Act (POFA) 2012 and the Code of Practice for Surveillance Camera Systems, which has 12 main guidelines.
The UK's Security Industry Authority (SIA) warns that anyone using a bodycam to monitor the activities of a member of the public in a public or private place, or to identify an individual, may require a Public Space Surveillance (CCTV) licence depending on the operating circumstance.
They must also abide by the Data Protection Act, including observing the correct protocols for the handling and storage of video footage and audio recordings. In short, employers must ensure their staff act responsibly, and be seen to be doing so, when it comes to protecting people's privacy.
Responsible advocates of bodycams argue that it is best to be very open about their use, so people are aware they are being filmed or that they could be. Once they know this, it usually has the effect of deterring anti-social behaviour.
Selecting a bodycam
When selecting a body worn video camera, key features to evaluate are:

Battery life
Memory options
Quality of recording resolution, frames per second and field of view
Ruggedness of the device, environmental certification and drop testing
Low light and night vision
Pre-recording options
Tagging devices, content and uploading recorded media
Accessories including multi-bay charging docks, clips and mounts.
If you have invested in a Hytera radio system, or are thinking of doing so, it makes sense to consider the new VM685 bodycam. The VM685 is a remote speaker microphone that doubles up as a video bodycam for capturing, storing and analysing evidence from the field. The innovative in-built remote speaker microphone allows users to communicate efficiently from the push-to-talk on their VM685, routed via their Hytera radio, even initiating an emergency alarm, connected to the radio via cable or Bluetooth.
The VM685 can also deliver real-time video streaming when paired with the Hytera PDC760 Multi-mode Advanced Radio, which can support 4G LTE broadband. Alternatively, the VM685 can be used as a stand-alone bodycam device.
Boasting a 180° rotatable and 140° wide-angle lens, 16-megapixel image sensor and supporting 1080p with us to 60FPS (frames per second), the VM685 generates high-quality video or images, even in low-light conditions with its six infrared LED. The bodycam features one-touch operation for video capture, voice recording and emergency call, with a pre-recording feature which can be set to pre-roll and capture the footage prior to when the record button is pressed.
Secure and reliable data transfer is enabled when the device is docked in the 6-bay charger, connecting with the Hytera MDM (mobile device manager) client which automatically extracts the media, clears the device and stores the data in the secure evidence viewer with tags and time logs. The MDM is also supported by the RVM manager software which can programme the devices to the correct user parameters, alias and ID.
The VM685 weighs less than 170g when clipped onto a person using the multi-way attachment provided as standard. It is IP67 dust and waterproof rated for secure outdoor use and supports Bluetooth 4.0 for wireless connectivity for audio and BLE support. Additional connectivity is available via Wi-Fi to push information and support programming.
To learn more about the full range of Hytera Bodycams click here or contact an authorised Hytera partner.