A Guide to DMR Tier III Trunked Radio
DMR Tier III is a trunked radio system designed for large networks ranging from around 100 to many thousands of users. Although the specifications for DMR Tier III were drawn up by the European Telecommunications Standards Institute (ETSI) in 2012, it is accepted as a worldwide open standard.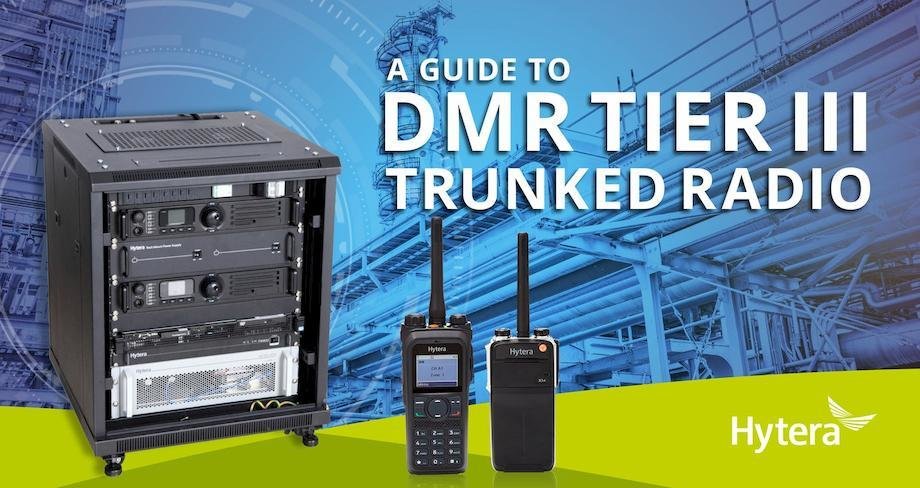 As with DMR Tier II, Tier III operates within the existing 12.5 kHz channel spacing used in licensed land mobile frequency bands globally and uses the same two-slot TDMA (Time Division Multiple Access) technology, which divides a 12.5 kHz channel into two independent time slots. It is also available in the respective applicable VHF and UHF bands between 66 and 960 Mhz.
DMR Tier III offers a direct digital replacement for analogue MPT1327 trunked networks and is a much more cost-effective solution than other digital trunked standards such as TETRA and P25.
As the TMDA technology is spectrally more efficient, providing double the capacity of analogue, DMR Tier III optimises voice and data traffic, maximising the available frequency resources for larger groups of users
DMR Tier III delivers improved audio quality and a much wider range of advanced voice and data applications. It also has the advantage of supporting the transmission of both multiple smart voice and data applications simultaneously, along with a plethora of other advanced features.
Unlike DMR Tier II conventional networks, where radios channels are to specific user groups, Tier III trunked networks use a pool of radios channels. These channels are dynamically allocated to a wide variety of different user groups as and when required. A centralised controller, or server, is used to assign the channels over a dedicated control channel.
Network architectures
The design for the control of the network can be achieved through Distributed or Centralised architecture. Centralised node architecture controls and switches digital voice and data packets between the various network sites.
A number of nodes can be deployed to connect sites to form a wide area network (WAN). The trunking system can be controlled from just a single site and if the link from the central control node fails, the base station can continue to operate in fall back mode to support the radio terminals operating on that site.
The alternative to the centralised approach is a distributed architectural model, where the control intelligence resources are distributed to a number, or even all of the base station sites, which then carry out the switching, voice and data traffic control functions. This can provide a high level of redundancy and resilience but requires a more robust IP infrastructure.
The Hytera DS-6211 DMR Tier III Trunking System
Hytera's most popular offering for DMR Tier III networks is the DS-6211 Trunking system. It is comprised of a core controller, which utilises an IP-based system architecture and a centralised networking approach to intelligently manage resources.
The Hytera Mobile Switching Office (MSO) provides the routing functions, the gateways to telephone networks and other systems, as well as interfaces for applications for DS-6211 DMR Trunking. The solution offers high availability standby, while multi-level fallback options can be deployed to ensure high reliability.
The DS-6211 is designed with a modular structure for ease of operation and maintenance, which also means it can be easily customised to meet individual requirements. The modular approach also makes it simple to scale up to meet increasing demand, thereby helping to future-proof the investment.
The system can be linked to the Hytera DWS Dispatcher solution, PSTN/IP-PBX systems and Hytera SmartOne unified communication platform, allowing interconnectivity between conventional DMR Tier II, Analogue, MPT, TETRA and LTE systems. Hytera offer a range of mobile or portable radios compatible with this Tier III functionality.
Voice and data services
Hytera's DMR Tier III solution supports individual call, group call, call to everybody, broadcast call and emergency call PSTN/PABX call, semi-duplex call, and full-duplex call. Emergency call, priority call levels, call pre-emption and call queuing are all possible.
Voice services like the late entry to an existing group call (Late Entry), calling line identification presentation (CLIP), and even Super Group, integrating subscribers from another call into a group call with a higher priority, are all supported. Dynamic group number assignment (DGNA) can be utilised to compile new groups by radio, while call monitoring and recording is available through the Hytera DWS application.
Data applications for text and status message (short messaging services – SMS), GPS data, packet data transmission services including IPv4 and IPv6 formats are supported. DMR Tier III can be used for variety of other applications such as SCADA, telemetry for remote monitoring and control, automation, and alarm activation integration.
DMR Tier III also supports remote radio control including stun, revive, kill, GPS, man down, lone worker and over the air programming (OTAP) including remote software and firmware updates. Mobility management services include: registration/de-registration; group login/group logoff; roaming and handover.
Different levels of security are available including: end-to-end encryption of voice and data; encryption with 40, 128 or 256 bits with the cryptographic systems AES and ARC4; support of the DMR Association procedure for the encryption transmission via the air interface; selecting and deselecting radio transceivers (enable/disable); and authentication of users, devices and applications.
The use of open API allows for the development of third party applications based on different customer needs, such as billing systems, e-mail gateways and the like.
Use the Hytera website for more information on Tier III systems, radio terminals and applications or contact a Hytera authorised partner to discuss your requirements.