DVRS DMR Voice Recorder
DVRS (Digital Voice Recording System) is a professional voice recording solution from Hytera for DMR trunked radios (Tier III). The DVRS records several radio calls simultaneously, logging and retaining the data for future analysis.
The DVRS can also provide a continuous back-up for all short messages, ensuring your radio system has the a comprehensive archive of information.
Enregistrement vocal de haute qualité
Le vocodeur DMR intégré garantit que la totalité des appels est enregistrée avec la qualité DMR habituelle. Tous les enregistrements peuvent être exportés en fonction des besoins vers un serveur ou un autre système en vue de leur archivage.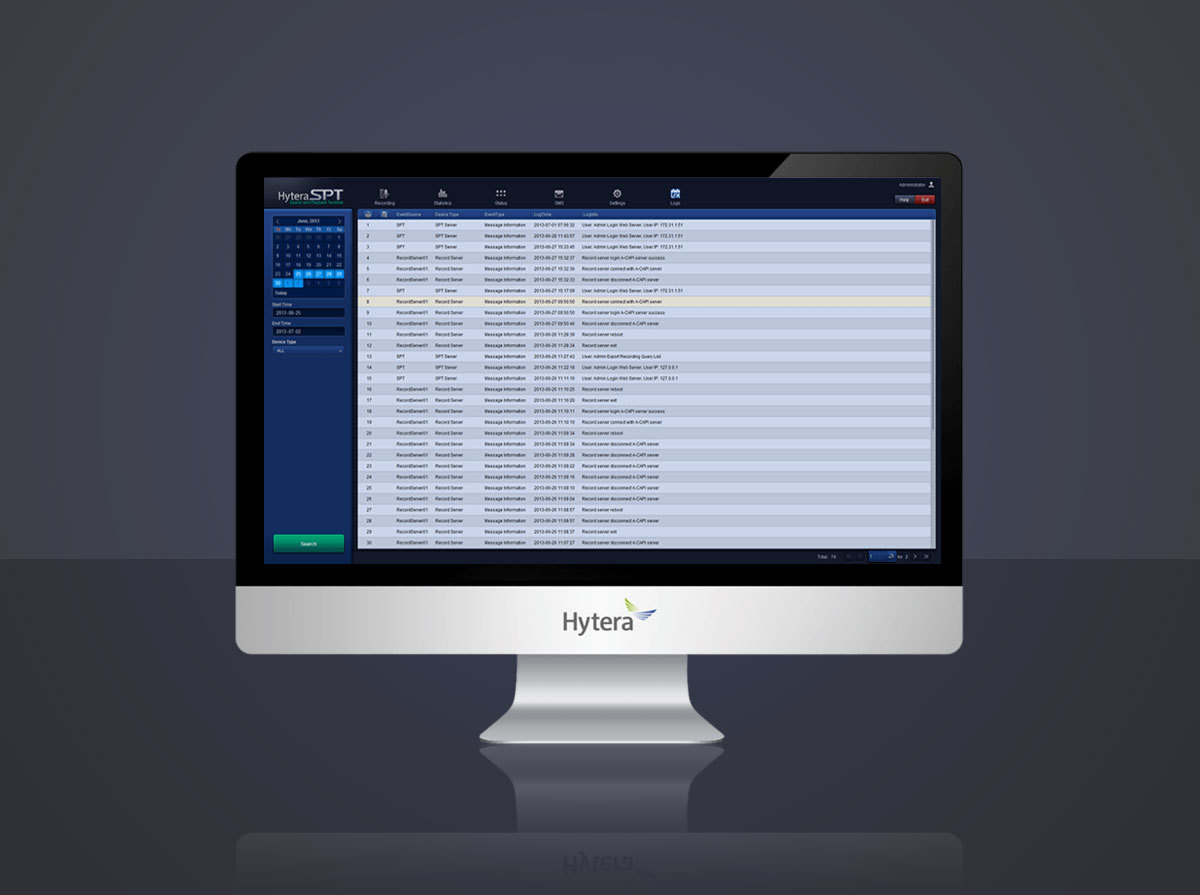 Accès flexible
Le DVRS permet d'accéder aux données stockées de manière centralisée par le biais d'un simple navigateur Web. Les utilisateurs habilités ont ainsi la possibilité de consulter les enregistrements à tout moment, depuis n'importe quel poste.
Sécurité élevée
Pour que vos enregistrements soient en sûreté, tous les utilisateurs doivent se connecter sur le client DVRS avec un nom d'utilisateur et un mot de passe sécurisés. Le service Web peut résider sur un serveur matériel distinct afin d'apporter une protection renforcée à ceux qui préfèrent accéder à l'application via Internet.
Stabilité du système grâce à la redondance
Le serveur DVRS peut être exploité en redondance afin d'améliorer encore la stabilité du système. Quand le serveur principal est actif, les enregistrements sont stockés sur les disques durs du serveur de secours. Si une défaillance survient sur le serveur principal, le système bascule automatiquement sur le serveur de secours. Chaque serveur DVRS est également doté de son propre système de disques durs en RAID pour garantir la sauvegarde permanente des données.
Fonctions de lecture souples
Pour la recherche et la lecture des enregistrements, l'interface du DVRS se montre très intuitive. Des filtres extrêmement détaillés et variés permettent de parcourir plus facilement une vaste collection d'enregistrements et de messages. L'utilisateur peut localiser très rapidement l'appel voulu et le lire immédiatement sur le système. Il est également possible de réunir des enregistrements au sein de listes de lecture personnalisées, par exemple pour créer un historique des communications sur plusieurs appels.
Outils statistiques complets
Le serveur DVRS prend totalement en charge les opérations d'analyse des données. Vous pouvez par exemple afficher les différents types d'appels émis sur l'ensemble du système, ou seulement ceux associés à une station de base particulière. Au-delà de l'analyse des données, le DVRS indique également le taux d'utilisation des équipements serveur et l'état des connexions réseau, ce qui facilite la gestion du fonctionnement de la solution.
Architecture système
Pour favoriser l'intégration dans les environnements IT existants, le système d'enregistrement vocal DVRS peut aisément s'installer et s'utiliser sur un seul et même serveur. L'ajout d'un serveur DVRS complémentaire permettra si nécessaire d'optimiser la capacité. Dans une telle configuration, les deux serveurs peuvent être raccordés pour fonctionner en redondance.
Hytera DMR Trunking Solution Introduction
Here is a quick look at a range of efficient communications solutions offered by Hytera.
Find a Hytera dealer to discuss your requirements.