Highlights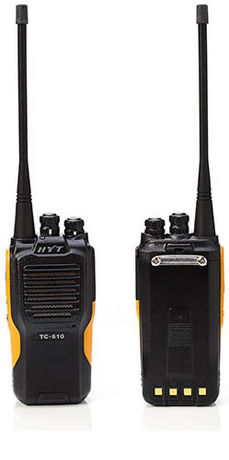 Dust-proof and Waterproof
Certified IP66, the device is protected against ingress from dust and powerful water jets, ideal for construction sites or outdoor use.
Clear Communications
Superior audio quality, even in noisy environments, is delivered via a powerful loudspeaker and noise cancelling technology. Two-pin socket for audio accessories.
Rugged, Reliable Design
The TC-610 is equipped with the HYT battery latch to securely connect together the battery and the radio even during extended usage.
Increased Coverage
The user can define low or high transmitting power at the press of a button to save the battery or to cover a larger distance.
Intelligent Energy-saving
The battery save feature is automatically activated if there is no activity on the channel and no operation is performed after an extended period.
Antenna
Battery
Charger & Power
Audio
Carrying
Related products that work with the TC-610
Technical Specifications
General
Frequency Range

VHF: 136-174MHz UHF: 350-390MHz, 400-420MHz, 420-450MHz, 450-470MHz, 420-470MHz, 440-470Mhz

Channel Capacity

16

Battery Life (5-5-90 Duty Cycle)

1200mAh, 9hr

Dimensions

119 X 55 X 33 mm

Weight

Approx 270g

Display

NO

Keypad

NO

Programmable Buttons

2
Environmental Specifications
Dust & Water Intrusion

IP66 Standard
Features
5 Tone Signalling

NO

2 Tone Signalling

NO

HDC1200 Signalling

NO

HDC2400 Signalling

NO

VOX

YES

Channel Scan

YES

Priority Scan

YES

Scrambler

NO

Emergency Call

NO

Lone Worker

NO

Man Down

NO

Vibrate

NO