A Guide to Two-way Radio Communications for Leisure and Sports Events
Hytera authorised partners, Radio Links, talk us through the key things to think about to ensure you select the right digital radio solution, features, terminals and accessories for your sports or leisure event.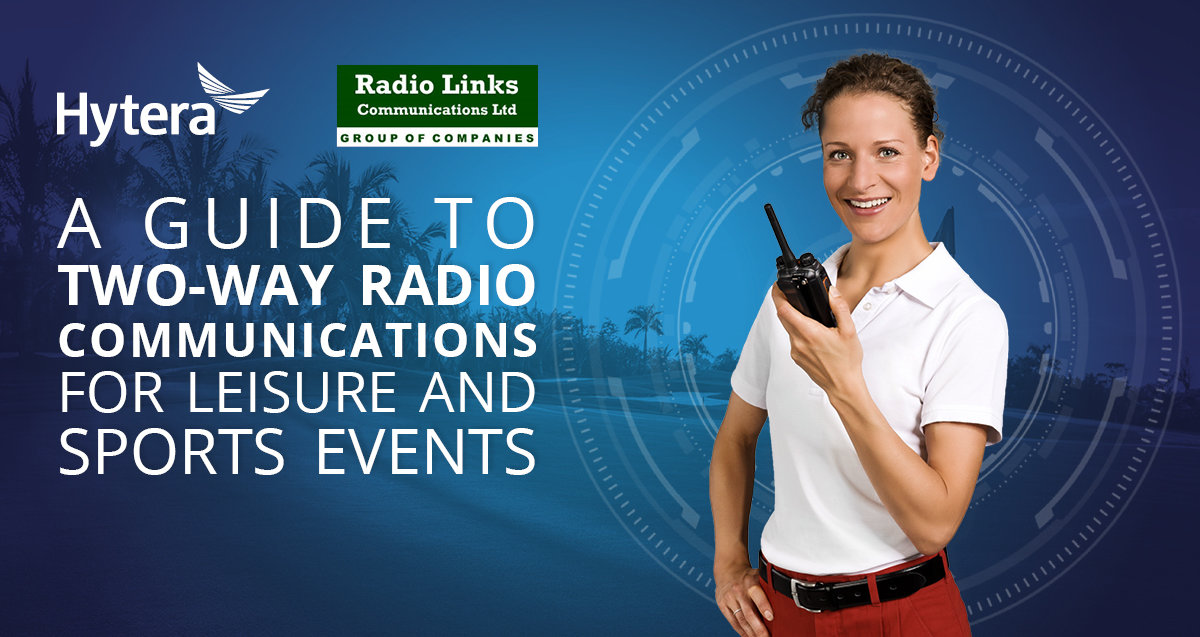 Running a major sporting or leisure event successfully takes a lot of organisation. Event managers must ensure the 'talent' is in the right place at the right time, that the sponsors are kept happy and that all the various departments on site are functioning efficiently. On top of that, they have to carefully steward the general public attending the event and keep them safe while they are there.
Communications are the key to guaranteeing any sporting or leisure event is run well and two-way Digital Mobile Radio (DMR) is by far the most popular solution. The key to providing a successful radio solution at a major event is to work with a specialist radio hire company who knows what they are doing.
Few companies know the sports and leisure events business as well as Hytera partner Radio Links Communications, their experience in the event world spans some 46 years. The knowledge gained in that time has proved invaluable when providing communication facilities to major events. Using this knowledge and experience Radio Links expanded their presence in the sporting world by setting up a dedicated events department, Onsite Communications, to provide a management package of communication facilities to event organisers.
We caught up with Radio Links operations director Chris Litchfield to find out the 'does and don'ts' of implementing DMR radio systems at major events.
Detailed brief
"The first thing we do is sit down with the customer and really work through want they want,' says Chris. "It is important to get a very good brief from the client at the start. It is also important to have a full understanding of what is required to ensure no area is overlooked which may cause a problem to the smooth running of the event.".
"We've been in this sector for a long time," he says, "so we can offer what is in effect a consultancy service. We extract the requirements from the customers and then take them through the various options available, also advising them what the costs are likely to be."
Chris adds that the key consideration is not so much the coverage design, although that is obviously important, but making sure Radio Links knows how many groups of people need to communicate with each other.
That way the company can ascertain the number of channels required, the number of repeaters needed and that all special interactions are catered for. Then it can come up with a frequency plan to apply for Ofcom licenses. "We need to have as much information as possible in advance to enable us to design the system properly," explains Chris.
Assessing customer requirements
Chris usually advises customers to appoint one key person to bring everything together on the client side, similarly Radio Links events department provides one point of contact. With knowledge of what type of job each of the client group is doing an assessment can be made on the exact radio requirements.
Radio Links can then co-ordinate all radio schemes for organisers, security personnel, stewards, traffic managers, first aiders, sponsors, site contractors such as catering and cleaning staff and so on, ensuring they have the correct type of radios, applications and accessories.
"If the customer has a requirement for multi-channel use we would recommend a window display radio, so they can see named channels, however, usually a basic non- window 16 channel radio is suitable for most applications" says Chris.
The company will undertake a full survey of the site to assess the best place for aerial positions and repeater equipment. Radio tests are also carried out to ensure there are no dead spots or areas of potential interference. "You must not assume communications are going to work efficiently, everything has to be thoroughly checked," notes Chris.
"Trees are one of the worst things for affecting radio signals. If you are setting up a mast on a golf course and did the RF survey in winter, you need to be aware how the increased foliage in summer during the event may affect the signal, particularly when wet. You have to take these things into account, as it is easy to miss those things, but that is what our experience brings."
Choosing the right equipment
"In terms of products, we major heavily on Hytera equipment," he says. "Most of our customers are happy with a DMR Tier II system. With major events we look at Hytera XPT (extended pseudo trunking) and DMR Tier III systems too. What we use depends on the level of interaction and the user groups, but sometimes it is fine to keep it simple."
"We rely a lot on Hytera RD625 repeaters as they are ideal for hire, due to the size and weight" points out Chris. "We also use rack-mounted RD985 repeaters for multi-channel systems.
Most of the sports and leisure event organisers Radio Links work with are quite happy with an 'entry-level' system. But the company often finds that once the customer has got to grips with it they then realise they would like a previously offered option of a priority channel for a key group or managers, so they can talk to each other privately.
One essential feature all clients require is the ability to get important or emergency calls through to individuals, a particular group or everyone in a broadcast call - something two-way radio is ideal at providing, unlike cellular systems.
Radio Equipment
When it comes to hand portable radios, Radio Links stocks quite a few different models on its hire fleet, although the Hytera PD665 is very popular. "It's a nice sized radio with a window display and it will support every regular accessory, especially ear pieces with built in PTT microphones," he says.
Radio Links also recommends the Hytera PD605, and the Hytera PD7 series radios which are particularly robust and ideal for events and other areas, such as the construction industry. The company recently added a large quantity of PD405s to supplement the entry-level radio fleet. "It's a nice, small handset for simple, instant communications," notes Chris.
Radio Links do use some vehicle-mounted mobile radios for their clients too. At one major tennis event it provides a vehicle-based radio system using Hytera MD655 mobile radios to coordinate the players' movement between their hotels and the sports venue.
"The design of the MD655 unit is very helpful in terms of space saving and install flexibility. We have to find a place to install the radio in the client's Jaguar Land Rover fleet. It is not necessarily installed in the front, but has to link to a power source and often we add Bluetooth for the wireless microphones – it's an excellent solution," says Chris.
In this instance, to ensure coverage between the players' hotels and the sports venue, Radio Links had to find a DMR Tier II repeater site to ensure radio contact is constant and reliable during the journey. The MD655's employed have GPS tracking which has the ability to provide real time vehicle location facilities.
Radio Links has also covered other major sports events in the past, such as the London Triathlon, where it used a linked repeater system across the cycle course to provide coverage. "Better equipment is available to us now" says Chris, "this enables us to utilise Hytera base stations networked through an IP solution. Finding the right repeater sites are also a key factor.
On-site management
Once the radio system is installed, Radio Links events division supplies engineers who set up a technical workshop on site. "We provide the customer with a personal service," says Chris. "Our experienced engineers are there to not only look after the communications infrastructure but to support our customers for the duration of the event, on call and ready to assist answering queries or making last minute adjustments to equipment, if requested. This the level of service our customers expect."
Radio Links are careful to carry out full risk assessments including installation of switch over solutions in the event of a power failure. "It is not something you can overlook," warns Chris.
"Pre-event planning is crucial to our operations, this includes all services on site declaring any frequencies their radios are operating on. Users, such as TV crews, have their own radio equipment and we ensure we are fully aware of all frequencies they are using. We liaise closely with Ofcom in this regard to ensure we have enough licenses so communications are not compromised in any way during the event" says Chris. "The success of these major sports and leisure events is frequency coordination and avoiding interference.
Due to the pressures of our events season it is important to have accurate and up to date records of where all our stock is and to assist with this Radio Links has an up-to-date stock system, which is tied into its order and processing system. It provides very good traceability and is part of our back up service should there be any queries.
So, if you want a successful sports or leisure event make sure you are clear about your communication requirements, talk to Radio Links' experts early, pre-plan everything thoroughly and use robust, reliable Hytera repeaters, radios and accessories.
For more information on hiring or buying Hytera radio solutions for sporting and leisure events contact an authorised Hytera Dealer