Thus, quality requirements always formed the basis of all decision-making in terms of production, research, development and customer relationships.
AS Bolaks has not only played a big role in the history of fish farming in Norway, they also continue to shape the future of the Norwegian fish farming adventure. And as front-runners in their industry, AS Bolaks has made worker safety an equal priority. That is why AS Bolaks invested in Hytera PD785G digital radios for their employees, who supply the Norwegian and international markets with large amounts of high-quality salmon and salmon roe.
The Challenges
Previously, AS Bolaks used mobile phones to try and communicate across their operation. However, regular smartphone devices were not reliable in the often challenging working conditions, which is problematic in the case of an emergency, for example if a staff member were to fall in the water.

"In the case of an emergency, you want to get in contact with your co-workers very quickly, because every second counts. You don't have the luxury of waiting for someone to maybe pick up the mobile phone. When you fall into the cold water you just want to press one button and get help."
ROAR LEKSEN – QUALITY MANAGER AT AS BOLAKS.
Furthermore, mobile phones have a relatively slow response time to initiate a call. This was an issue as many employees often sail alone on the sea and require instant communications for safety and wellbeing. In the event of an accident, unreliable or delayed communications could have fatal consequences.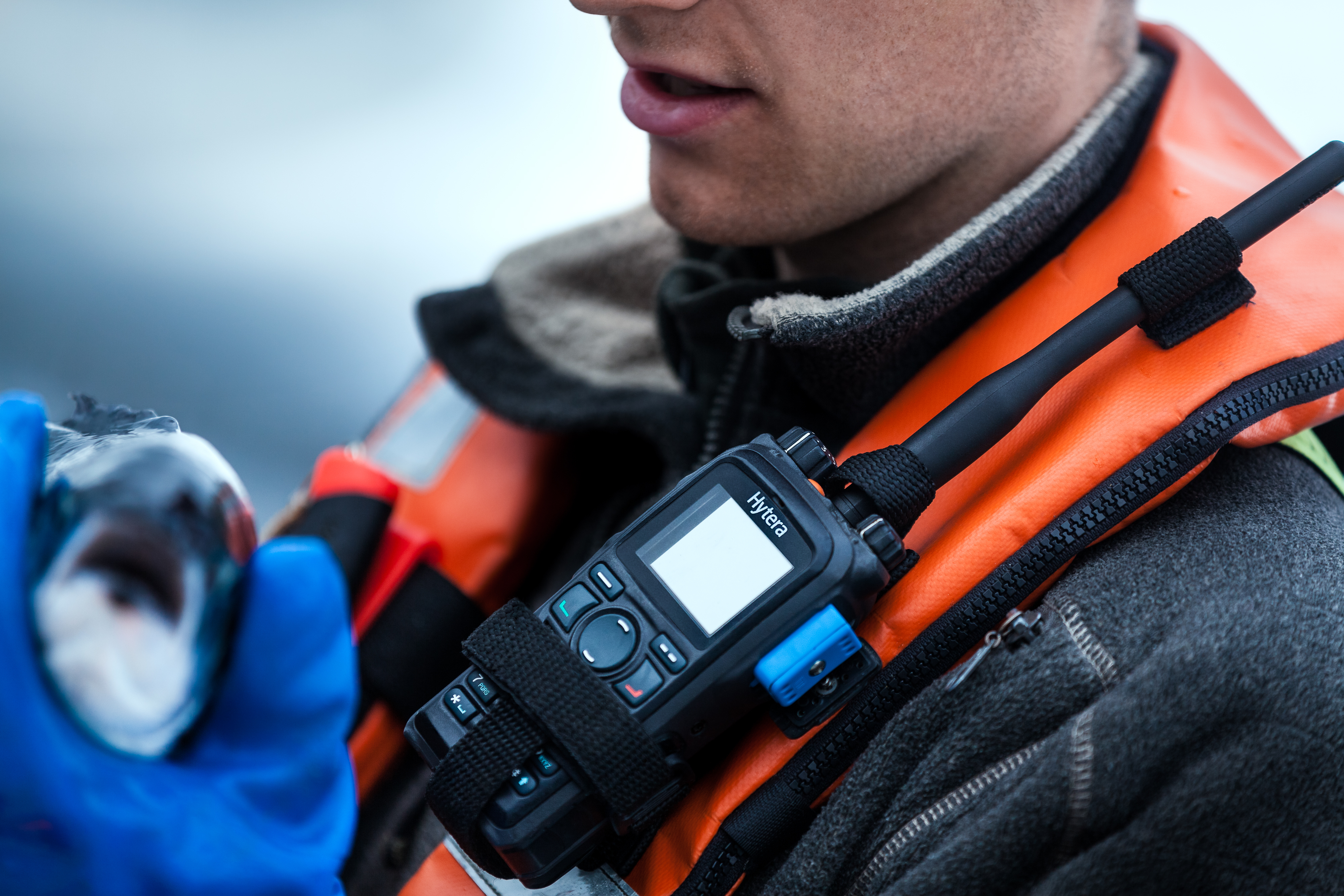 The team required a reliable, efficient communication handset to be by their side supporting them at all times. That is why AS Bolaks had to act swiftly, working with Ebutikken, who in close cooperation with their Hytera authorised dealer Mobinet (part of Wireless Communication) provided the expertise to understand and deliver a suitable solution.

The Solution
The implementation of Hytera radios gave the employees at AS Bolaks an obvious operational advantage with instant collaboration as well as an improved sense of security, as it became possible for the employees to contact their co-workers within seconds. At the same time, the employees now have a perfect digital signal that gives them a clear sound no matter where they are within the coverage area. Moreover, the Hytera radio is waterproof IP67 and has an automatic lone worker alarm setting that pre-alarms every 20 minutes to ensure the worker is still active, moving to a full emergency alert if there is no response on the device. In addition, Ebutikken developed a small water sensor for both fresh and salt water which generates an alarm when submersed in a man overboard incident. The final Hytera PD785G solution ensures that the workforce are always connected and the additional safety features offer peace of mind through automation, improving incidence response rates were a co-worker to get in to trouble.
"If an employee falls into the sea and the radio comes in contact with the water, the alarm goes off automatically. It's just ideal for us as we – first and foremost – prioritise the safety of our employees. And actually, it has already happened once that an employee fell into the ocean, which set the alarm off. Luckily, there were no serious injuries, but it's a relief to know that the alarm works when needed. Basically, the Hytera radio has increased our level of security and improved our communication."
ROAR LEKSEN – QUALITY MANAGER AT AS BOLAKS.