The Best Two-Way Radios for Security staff
A Digital Mobile Radio (DMR) will provide a security guard with both an essential tool for the job and a critical safety device, whether guarding a single entrance or supporting a large event. The radio allows security personnel to keep in regular touch with controllers and fellow team members. Instant push-to-talk (PTT) technology provides immediate voice communications in the event of an emergency and safety features such as Lone Worker and Man Down panic alerts and GPS location services keep security staff safe.
Learn more about radios designed for security staff and help identify the best specification, dimensions and durability for your security situation.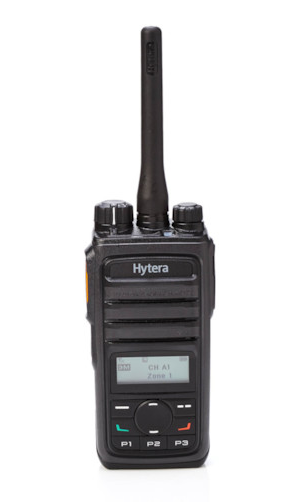 Best for: Affordability and Flexibility
The PD565 mixes safety and usability, offering a wide variety of features including pre-programmed text messaging, lone worker and man down functionality, support for digital and analogue channels and a robust, IP54 dust and waterproof build. Learn more about Waterproof Radios.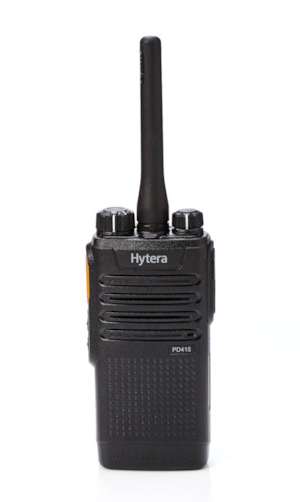 Best for: Asset tracking
The built in RFID reader of the PD415 handheld radio enables security staff to control asset management, track individual objects without scanning directly and provide radio tagging and allocation whilst also providing the complex functions expected by security staff.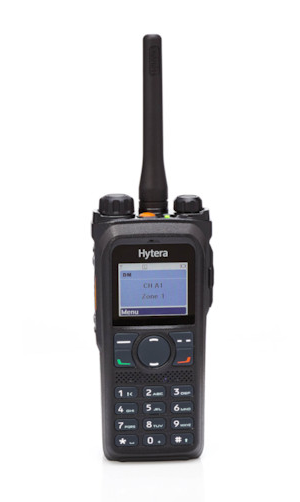 Best for: Advanced features and audio quality
Professional and versatile, the Hytera PD985(G) is the ultimate handheld digital two-way radio for security staff. Full duplex calling, increased coverage, wireless Bluetooth connectivity and IP68 waterproof durability makes for a radio that can be truly relied upon.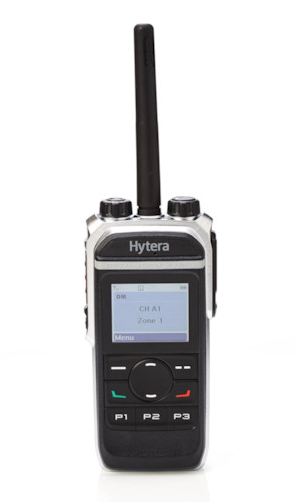 Best for: Long battery life for long shifts
The Hytera PD665 is a compact, high quality and efficient handset which uses the latest TDMA technology and upgradeable advanced Lithium-ion batteries to provide up to 20 hours of talk time, enough for a long shift in remote conditions.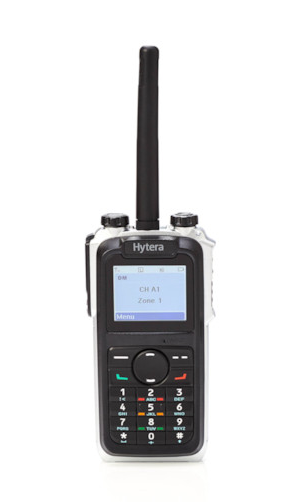 Best for: Covert operations and compact dimensions
Slim and lightweight, the Hytera X1p handheld digital two-way radio offers the perfect combination of ruggedness, versatility and refined design with LCD screen and keypad to enable advanced covert communications.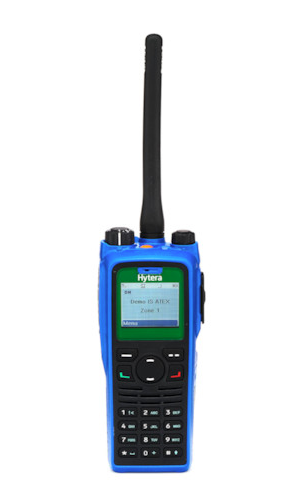 Best for: Potentially explosive, highly dangerous environments
The PD795IS has been designed to comply with the highest 'ia' standards set for intrinsically safe devices, avoiding damage, battery loss or failure whilst providing worker safety features and clear communication as standard.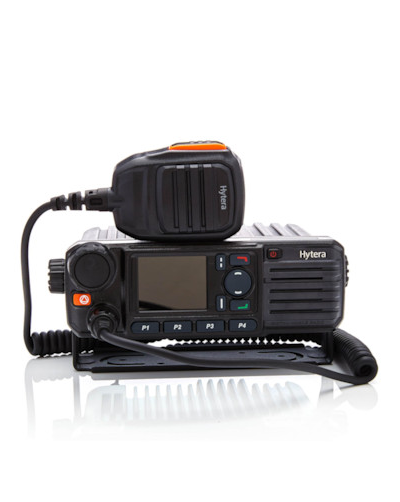 Best for: Security vehicles and command desks
The MD785 delivers professional communication in a mobile unit, with highlights including text message functions, automation of actions and expansion through Tier III DMR XPT trunking.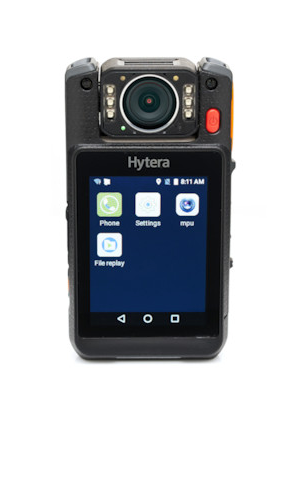 Best for: Sound and video
The lightweight VM780 bodycam can capture, store and share video, audio and images of incidents and evidence. The camera and remote speaker microphone allows communication over 3G, 4G and Wi-Fi and emergency features protect staff.

How do security radio features work?
Hytera radios can support a wide range of worker safety features including an emergency 'panic' alert button, Lone Worker, Man Down and GPS for location-based features. The alarms can come through as a voice, text or tone alarm.
Alerts are sent across the whole radio system by the device that has triggered the emergency, along with the identity of the person issuing the alarm. GPS allows controllers and colleagues to quickly locate the security guard in trouble and provide assistance.
These safety features are particular relevant to security personnel on lone patrol and help employers meet duty of care Health & Safety Regulations.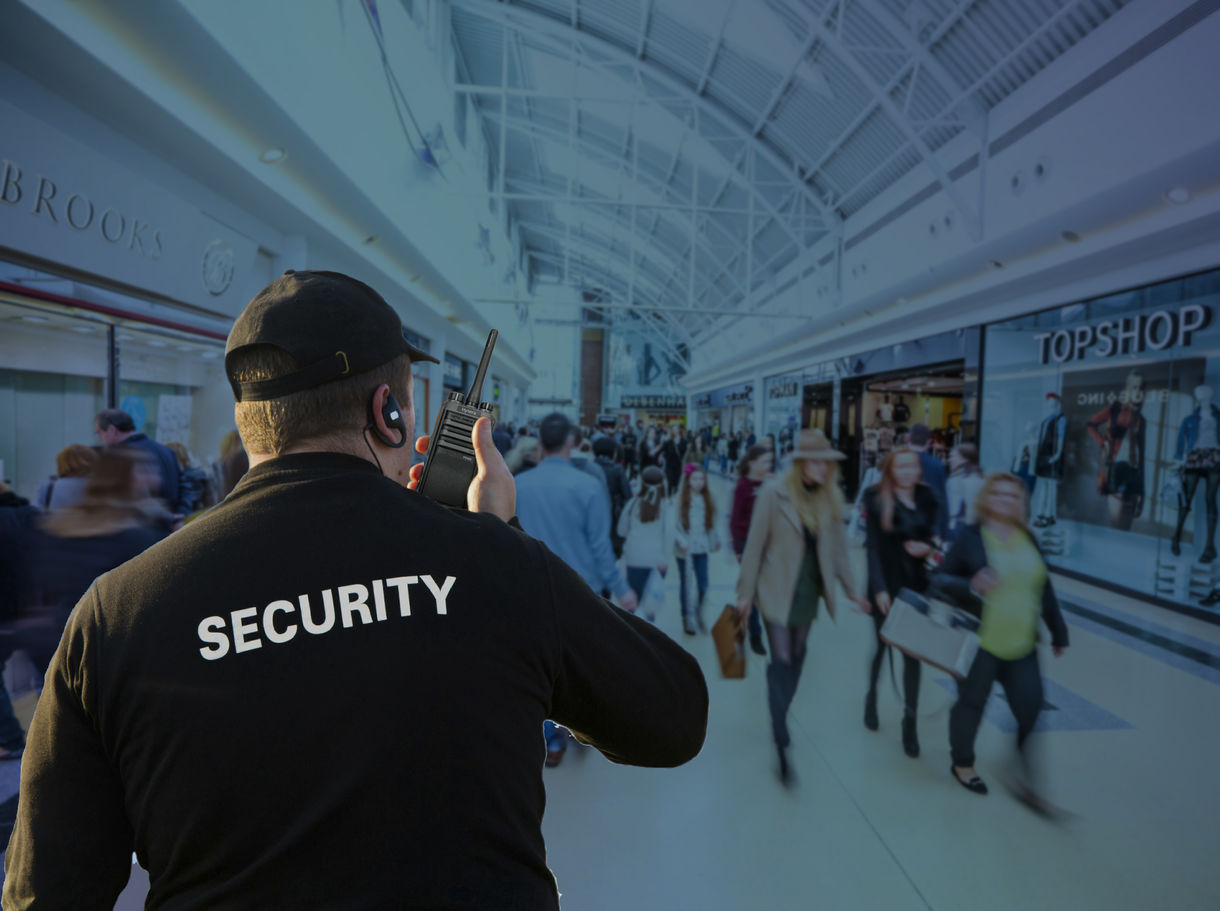 Selecting robust and rugged security radios
Customers also need to consider what degree of ruggedness is appropriate for their security staff. Users operating within buildings may not need a radio with a high IP certification against dust and water intrusion, but may still require a high certification against vibration and shock from knocks and drops.
If you want to start with a lower tier Hytera hand portable then the PD505 and PD565 come with the emergency 'panic' alert button and Lone Worker feature. The PD485(G) offers a lower-tier radio with GPS and Bluetooth option, while the PD415 offers an integrated RFID reader supported with the intuitive Hytera Patrol Solution for simple assets tagging and tracking. These radios are IP54 rated against water and dust intrusion and are very popular security radios for indoor use, but may not be the best option for outdoor operation depending on the harshness of the environment the security guard is working in.
If you are after the additional Man Down and GPS safety features and applications, as well as emergency button and Lone Worker provided by the PD 6 and PD 7 series, then you need to choose the (G) versions of the PD605, PD665, PD685, PD705, PD755 and PD785. These higher tier radios all come with a very high IP67 rating and work on DMR Tier 3 trunking networks. The wide range of features and ruggedness make these some of the best security radios for the price point on the market today.
However, for a truly top of the range security radio, Hytera offers the PD985(G), which is has an IP68 rating and again has all the safety features as standard, as well as full duplex calling, voice recording and support for Bluetooth 4.0.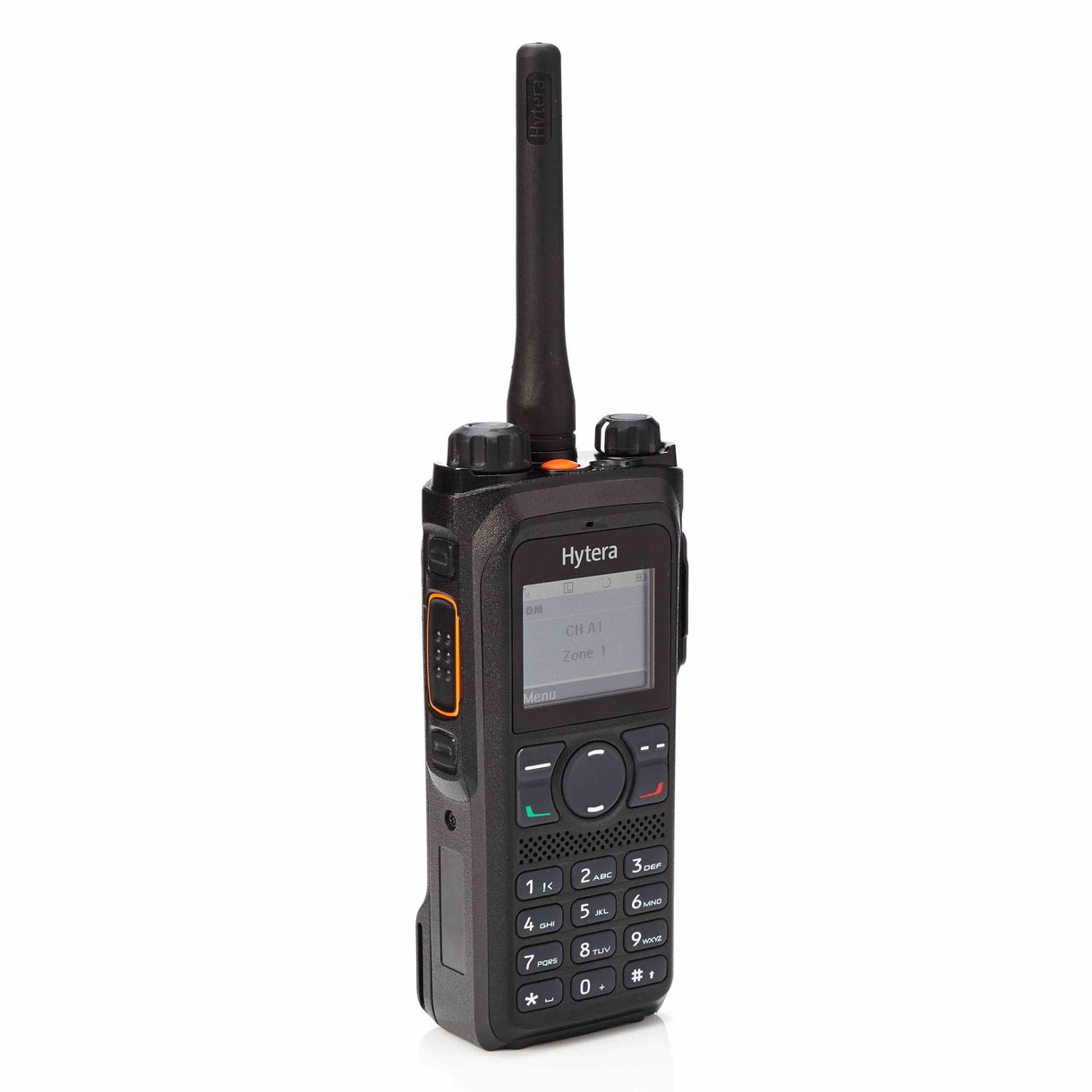 Intrinsically safe ATEX Radios for dangerous environments
For security personnel working in potentially explosive environments such as construction sites, petrochemical and oil & gas plants, Hytera offers several intrinsically safe ATEX radios. The PD715Ex, PD795Ex, PD715IS and PD795IS come with GPS and all the security features as standard.
The IS models are the only DMR hand portables to meet the ultra-stringent 'ia' certification, meaning the radio circuit has three protective measures, allowing for the occurrence of two faults during operation without risking user safety. The terminals can be safely used even in Intrinsically Safe Zone 0 (an area with very high levels of hazardous product present continuously) as well as Zones 1 and 2.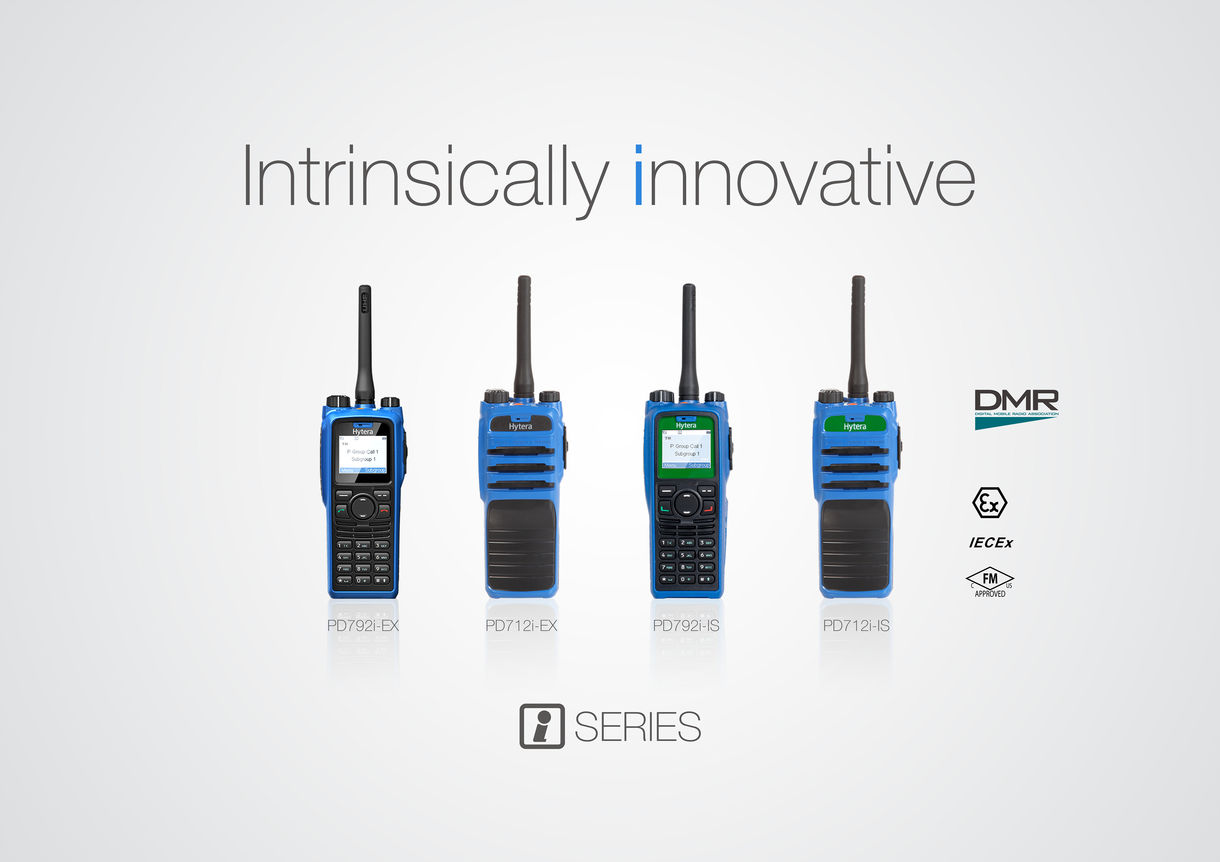 Covert and discreet security radios
If you want a discreet radio solution for covert security personnel, or just something small, slim, light and stylish for front of house security personnel guarding hotels and entertainment venues, then the X1p (keypad and display screen) and X1e (no keypad or screen) are undoubtedly the radios you need.
Despite their small size (just 20mm thick) and weight (only 240g) the radios still pack a punch. They are extremely rugged (IP67) and they come with a rich range of features, including GPS positioning and tracking and integrated Man Down and Lone Worker.
The radios are Bluetooth enabled as standard to support a range of covert wireless audio accessories and they support advanced encryption technology. The X1p also features a secondary microphone and tactical emergency button to allow the user to conceal the colour display.
Finally, if you need a mobile radio for desk or vehicle mounting, then the MD785(G) offers the perfect solution. It comes with an emergency button and Lone Worker features and is IP54 rated.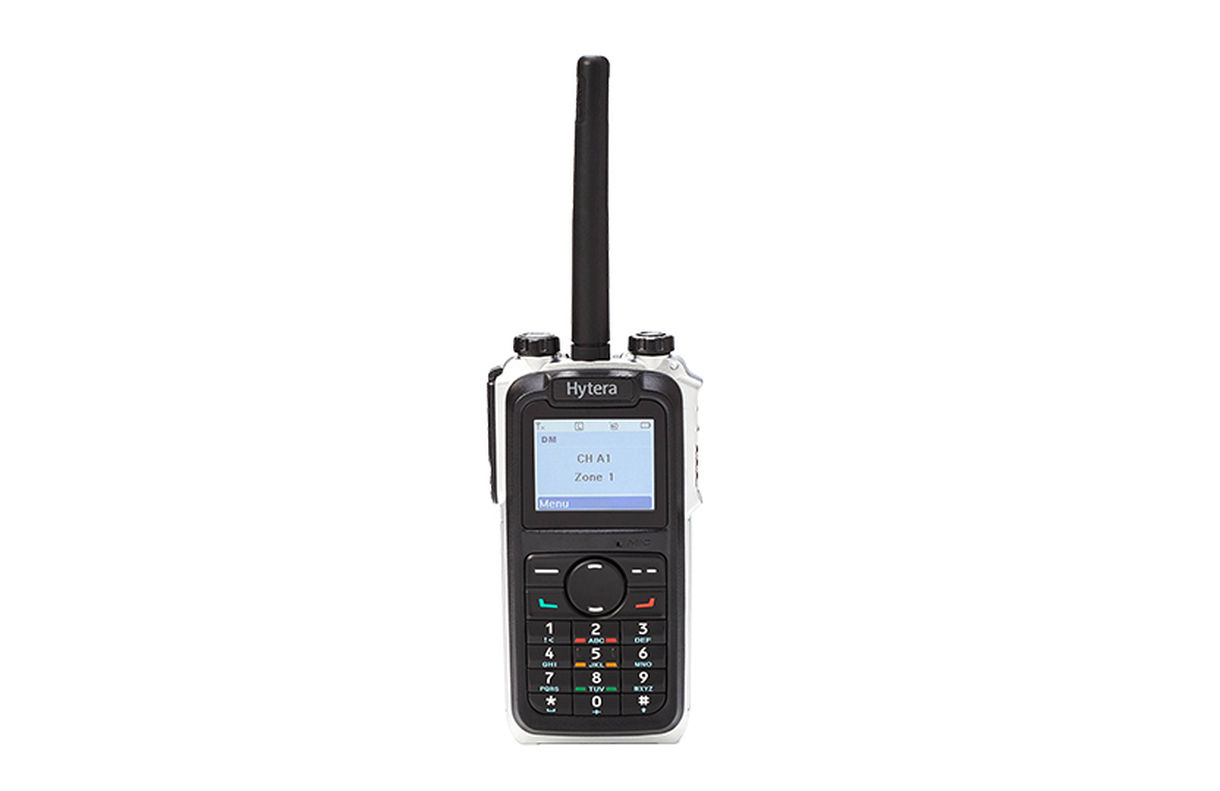 Capture the Truth with Hytera Bodycams
Bodycams and Accessories
The Body Worn Cameras from Hytera are tailored to capture, store, and share video, audio, and image evidence in the field. It integrates a body camera with a remote speaker microphone and allows you to perform video dispatch and command over 3G/4G/Wi-Fi, make voice calls, and initiate an emergency alarm in mission critical conditions. From the entry level VM550D to the top of the range VM780, there is a model to suit all budgets and requirements.
Security personnel often work long shifts, potentially remotely, so it is vital that their radios have a long enough battery life to do the job. The use of two-slot TDMA technology delivers a battery life of up to 40% longer than the analogue equivalent on a single charge. In addition, the use of Lithium-ion battery technology offers an increased talk time per charge. This allows Hytera digital radios to be used for up to 14 hours with some models lasting up to 16 or even 19 hours.
Hytera has a large number of wired and wireless audio accessories in its portfolio, including common and specialist earpiece sets, speaker microphones and micro surveillance earpieces for covert operations. It is important to ensure the choice of Hytera radio can support the particular types of audio accessories required. In addition, Hytera provides a range of antennas, batteries, radio chargers, car kits and carrying equipment such as belt clips, lapel clips and wrist straps. Bodycams can also be integrated with DMR radios to provide a record of any incident.
For more information and any of the devices mentioned or for more aspects to consider when using two way radios and upgrading your communications, read our guide to Two Way Radio Considerations for Security Personnel.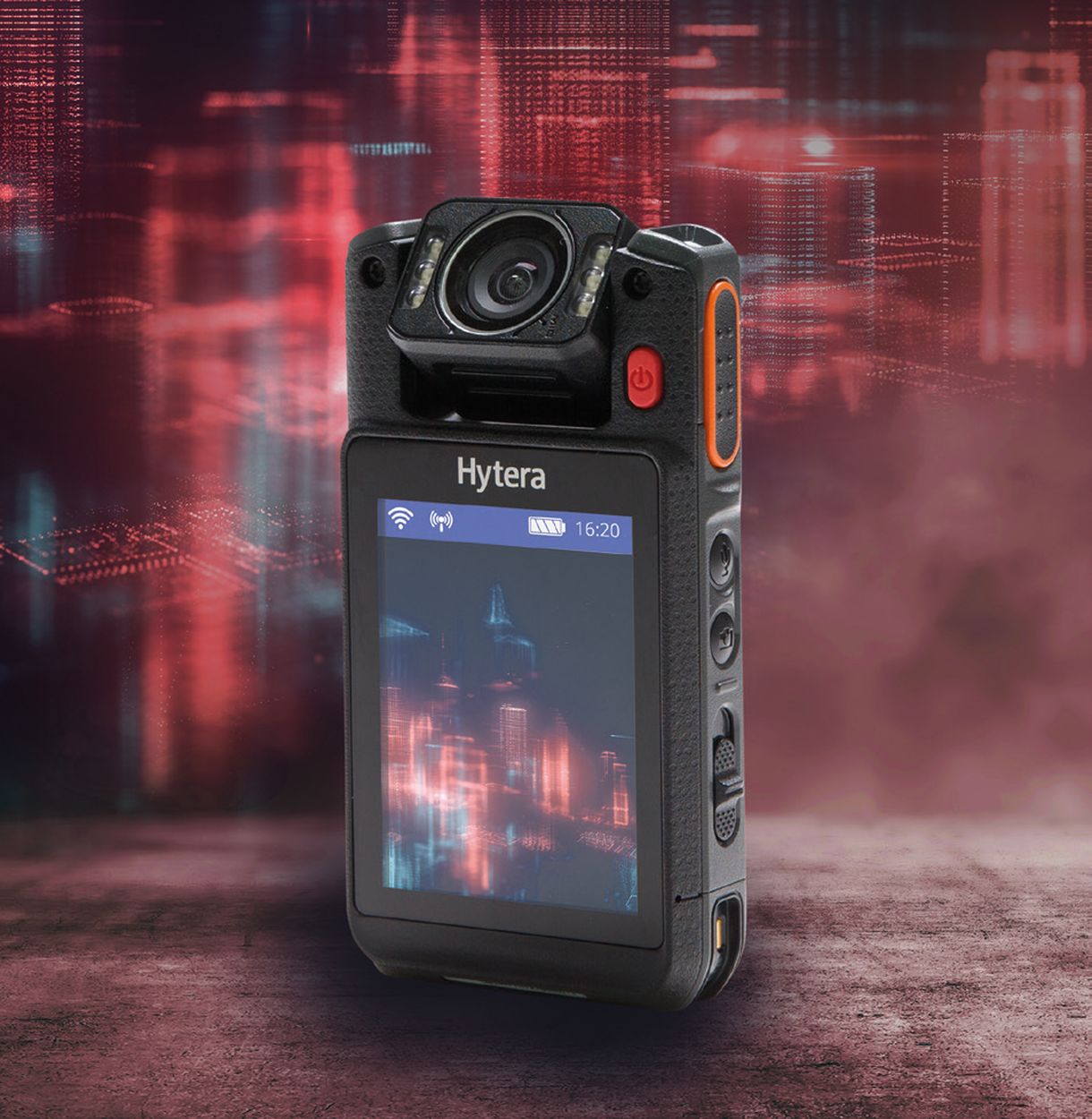 Want to learn more about the essential features of a security radio?
Click here to read the full article