Hytera is proud to be a Gold Sponsor of BAPCO 2023, the UK's leading public safety event
BAPCO continues to be the UK's most important event for the public safety technology sector with its platform for professionals to exchange and learn about the latest innovations and developments.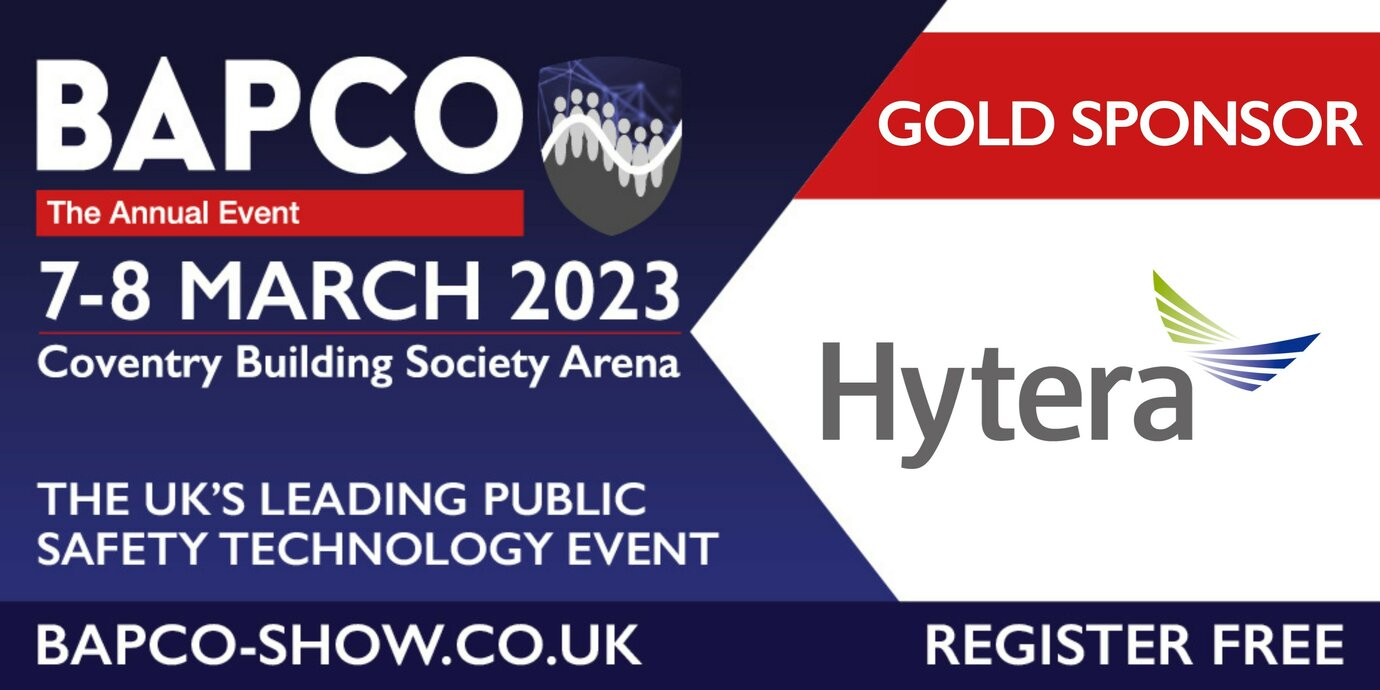 Hytera Communications, a leading global provider of communications technologies will showcase the latest PMR & LTE Convergence Solutions, and Emergency Communication Solution, at this year's BAPCO event held March 7th to 8th 2023 at the Coventry Building Society Arena, UK.
BAPCO's Annual Conference and Exhibition continues to bring together the UK public safety communications sector to source the latest equipment and systems, develop important business relationships, and generate new business opportunities. This year Hytera presents a theme titled 'Mission Critical Connections start with Hytera' which is aimed at demonstrating decades of successfully connecting teams when it matters the most with innovative communications solutions for the fire, public safety, ambulance, and emergency service sectors. This year Hytera celebrates 30 years of commitment and dedication to key industries and markets and continues to drive innovation excellence.
At the Hytera booth, visitors could experience the H series DMR radios with new models such as the HR655, the new generation compact DMR repeater designed to expand the communication range. This HR655 comes in two variants namely, the HR655 25W IP54 version for indoor installations and the HR655 10W IP67 option suited to outdoor/portable applications. The new generation HM655 and HM685 entry-level professional DMR mobile radios provide reliable voice and data communication in both vehicles and desktop installations.
Hytera will also be showcasing Hytera HyTalk Push-to-talk over Cellular solutions, including the Service Operation Platform, HyTalk Dispatcher, the Multimedia Recording & Playback System (MRPS), and a wide range of devices including PoC radios PNC360S, PNC380D, PNC560, MNC360, dual mode rugged radios PDC680, PDM680.
The expanded range of Bodycam devices will also be on display and includes the VM690 Pro, VM580D, VM750D, and VM780. These come with state-of-the-art technologies and functions like Micro Gimbal Stabilization, Starlight Night Vision, Super-wide-angle Camera, and Video live streaming. The Emergency Ad-hoc Communication Solution featuring fast deployment, on-site command and multiple interconnections will also be presented at the event as well.
With professional, industry-leading technology and innovation capabilities, Hytera is committed to continuous innovation, driving intelligent and integrated communication solutions that so many industries depend on for reliable smart communications.
Visit Hytera's booth at D30 to discover solutions aimed at delivering on professional communications designed to give emergency responders access to technology that delivers on voice, video and data solutions for enhanced situational awareness and increased safety.
Hytera is helping frontline teams build safer and more efficient experiences.
Hytera's Panel Session at BAPCO 2023
7th March, 13:30-14:15
Presented by Chris Cant, Head of Product Management (Hytera Europe)